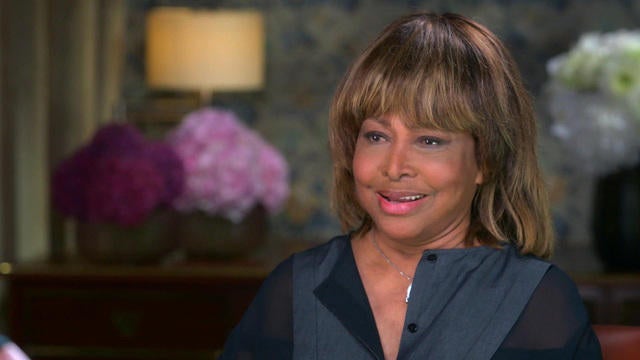 Tina Turner on love at first sight, sexiness on stage, and divas
Rock and roll legend Tina Turner does not miss performing. "I became tired of it," she told "CBS This Morning" co-host Gayle King. "It was just one party. It was traveling all the time, never being at home. When I retired, I said, 'Enough of Tina now! I don't want to hear any more. I want to retire. want to go in my garden. I want to shop, I want to do things that people that's not a star do!"
---
In Part One of Gayle King's interview with Tina Turner, which aired on CBS' "Sunday Morning" October 14, the singer talked about her relationship with Ike Turner, the death of her son Craig, and finding serenity in retirement in Switzerland.
---
At 78 Turner has published a new memoir, "My Love Story" (Atria Books, an imprint of Simon & Schuster, a division of CBS). After more than 50 years in the spotlight, she has given up her U.S. passport, and now calls Zurich, Switzerland her home.
"They love me here, 'cause I'm not a diva," she said.
"You're not a diva?" asked King.
"No, no, no, I'm not, I never wanted to be. I mean, I know the divas, I have met some of them, and I just move the other way."
"Do you miss living in the United States?"
"No, because when I lived in the states, they didn't give me the freedom that the other countries gave me. Maya Angelou came to me at one of Oprah's gatherings, I said, 'You know, America just never really liked me.' She says, 'No, while you were with Ike.'"
"Ike" is Ike Turner. Tina says she endured years of emotional and physical abuse until their rocky marriage ended in 1978. In 2007, Ike died of a drug overdose.
Asked what she felt when he died, Tina said, "Oh nothing, I'm just felt happy he's off the planet. 'Cause then, I didn't know when he would show up at my door, or when he would show up, period. And after he died, it was like, 'OK, now he's gone.'"
Tina was 46 when she fell in love with German record producer Erwin Bach in Germany back in 1985. They got married five years ago.
Upon first seeing Bach, she told King, "It was a body reaction. It was my heartbeat, and I was shaking. Erwin was only 30 years old. I think I was probably starting to age, But I was still Tina with the big hair. I thought, 'Oh, my gosh, what a good looking man!' But I didn't think he was young; I didn't think I was old. At that moment I just felt, oh, I felt love."
Tina details that love story in her new memoir. She also reveals the philosophies that guided her one-of-a-kind career.
She writes that she is sexy without being sexual. "I think what I was trying to say then, on stage I was, I implied sexuality without being sexy with the body. You never saw any dance movement [that was] provocative, provoking."
"You also say you didn't play for the men in the audience, you played for the women," said King.
"When the women sat there and gave me that side-look that they didn't like me – I was attractive for the men, I think, at that time – I thought, 'I have to find out how to get those women on my side.'"
"So you wanted them to know, 'I don't want your man'?"
"Yeah, I was trying to say to them in my performance, 'I'm here for you. I'm here not just for the men.'"
King also brought up one of Turner's trademarks. "I just have to say something about the legs. 'Cause I would sit there with my mouth open looking at your legs going, 'Good lord.'"
"I think it was the dress," Turner said, "The length of the dress and the shoe that made a good leg!"
BOOK EXCERPT: Hear Tina Turner read the prologue from "My Love Story"
Thanks for reading CBS NEWS.
Create your free account or log in
for more features.