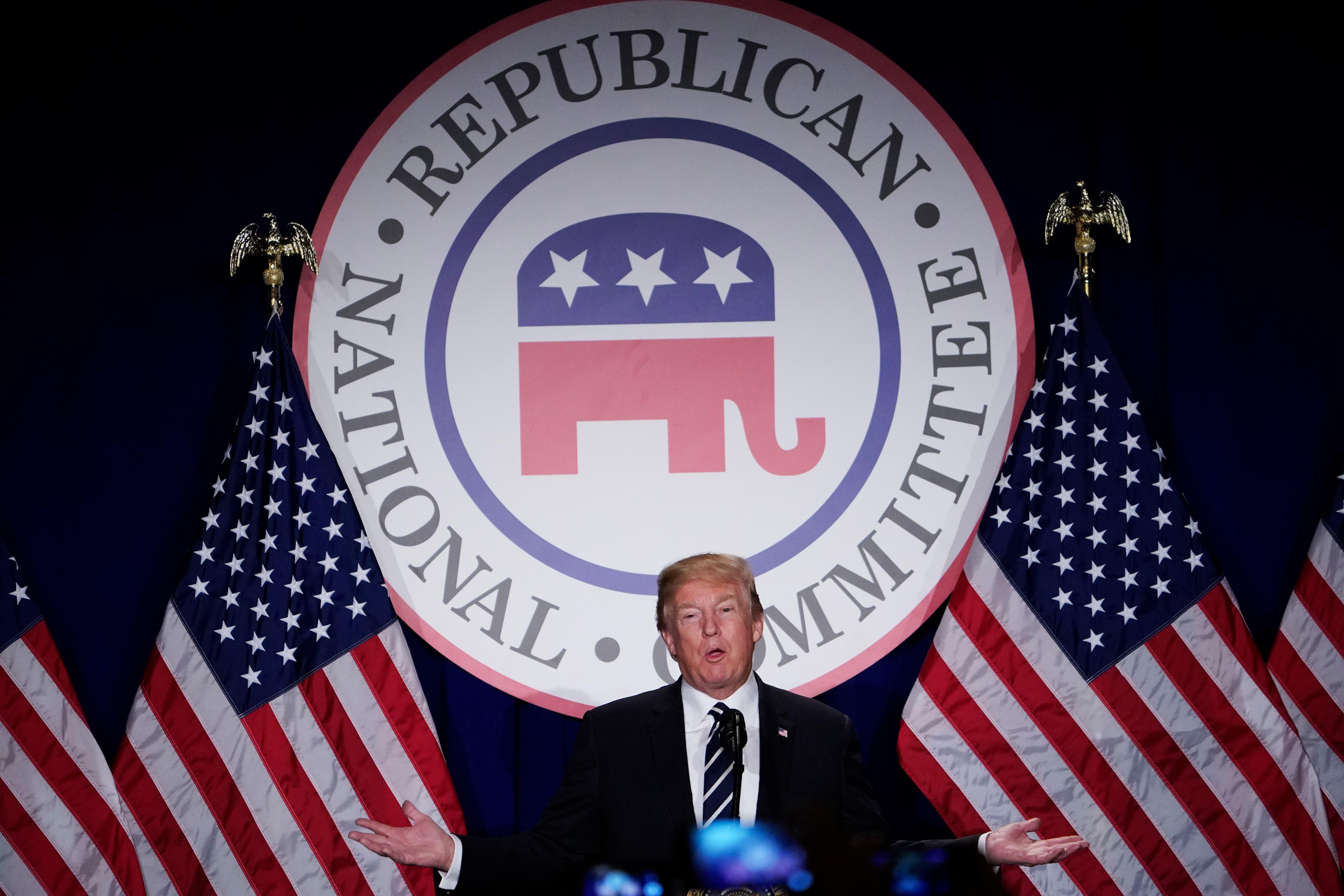 This week in politics: RNC breaks another record, builds on fundraising advantage
The Republican National Committee raised $14.2 million in July -- the most it has ever raised in that month in a non-presidential year -- bringing its total haul for the cycle to $227.2 million. Despite historic odds and voter enthusiasm favoring Democrats, the RNC is finding record-setting support among its donors, according to numbers shared first with CBS News. The RNC raised more in July of this year than it did in 2010 and 2014 combined.
"We've used our unprecedented grassroots support to build the biggest field program we've ever had to defend our House and Senate majorities," RNC Chairwoman Ronna McDaniel said in a statement to CBS News. "History might be against us, but we're making sure every voter knows we're the party of results. All the Democrats have is resistance."
After transferring 8 million dollars split evenly between the National Republican Senatorial Committee (NRSC) and the National Republican Congressional Committee (NRCC) in July, the RNC started August with $41.9 million cash-on-hand and no debt.
According to its last FEC report at the end of June, the RNC had more than five times as much in the bank as the Democratic National Committee.
Democrats court West Virginians with pre-existing conditions
On Tuesday, President Trump will head to West Virginia, home to one of the most competitive Senate races in the country. Republicans are setting their sights on flipping incumbent Democratic Sen. Joe Manchin's seat in a state that Mr. Trump won by nearly 42 percentage points in 2016 and where his approval rating remains high. A Gallup poll following Mr. Trump's first year in office found that he received his highest approval ratings in 2017 from West Virginians.
State Attorney General Patrick Morrisey, who is running against Manchin, is tying himself closely to the president and his policies. His campaign issued a memo this past week saying Mr. Trump's support "has a larger impact in this race than any Senate race in the country." He is welcoming the President to West Virginia with open arms.
Manchin, however, is betting that this public embrace will backfire. He and his campaign are hoping to convince West Virginia voters that a vote for Morrisey is a vote against coverage for pre-existing conditions.
In a Cabinet meeting on Thursday, Mr. Trump touted the administration's steady dismantling of Obamacare, saying, "And one of the big things is the individual mandate is gone. We got rid of that. That was from Obamacare. That was, by far, the most unpopular thing in Obamacare. We actually got rid of Obamacare, except for one vote. But we essentially have -- so we're doing it piecemeal, and it's going to be gone pretty soon."
Mr. Trump's comments came the day before Manchin's campaign released a new television ad attacking Morrisey for joining a lawsuit with state attorneys general targeting the Affordable HealthCare Act (ACA). Manchin argues that if the ACA were to be overturned, 800,000 West Virginians would be at risk of losing coverage for pre-existing conditions.
Similarly, other Senate Democrats are hoping this will be a winning message for them this fall. North Dakota's incumbent Democratic Sen. Heidi Heitkamp, who is also up for re-election in a state that Trump won in 2016, released her own television ad on pre-existing conditions last week as well, reminding voters that as a breast cancer survivor, she also has a pre-existing condition.
And on Capitol Hill, Senate Democrats, including Sens. Debbie Stabenow and Tammy Baldwin who are facing re-election this fall, held a hearing with Americans they say would be at risk of losing health coverage due to pre-existing conditions if Mr. Trump and Republicans succeed at repealing the ACA.
A new CBS News Battleground Tracker poll released Sunday found that for voters in battleground House districts, health care is the issue they may be the least willing to compromise on. Three in four say a candidate must agree with them on health care to get their vote. Health care may be more of a make-or-break issue for Democrats. Eighty-four percent of Democrats say a candidate must agree with them on health care to earn their support, compared to 70 percent of Republicans.
A CBS News poll conducted in May 2018, six months ahead of the midterm elections, found that health care tops the list of most important issue for voters, ahead of the economy -- and by two-to-one voters say they've been hurt, not helped, by the GOP's changes to the health care laws.
What you should know before Tuesday, August 21: Primary Overview
There are two primaries on Tuesday, August 21: Alaska and Wyoming.
House primaries
The Democrats need to flip 23 Republican-held districts to take control of the House of Representatives this fall, and CBS News does not race either of the two House primaries on Tuesday as competitive.
Incumbent Republican Rep. Don Young is running for reelection in Alaska's one at-large House seat. On the Democratic side, candidate Carol Hafner is running in the Democratic primary. She is garnering the most attention because she doesn't live in Alaska and has never been to the state, but filed to run. She is campaigning for the seat online against challengers Dimitri Shein and Alyse Gavin. Gavin is well-known for her work in advocating for more education funding. Shein is an advocate for a single payer Medicare-for-All health care system.
In Wyoming, incumbent Republican Rep. Liz Cheney, who is the daughter of former Vice President Dick Cheney, is running for re-election and faces a primary challenge from former cowboy Rod Miller.
Senate primaries
In Wyoming, incumbent Republican Sen. John Barrasso is expected to advance and win reelection this fall. He has been endorsed by President Trump.
But Barrasso has his toughest opponent in a Republican primary in a long time. Businessman Dave Dodson, who does not have much in common with President Trump, has attacked Barrasso for his ties to corporations and Washington, D.C. In an interview with the AP, Dodson said he never thought he'd be involved in politics, but he is "mad" with its current state. Barrasso also has refused to debate Dodson.
Gubernatorial primaries
There are gubernatorial primaries in both Alaska and Wyoming.
In Alaska, the Republican gubernatorial primary is very competitive. It's a crowded field, with seven candidates in the race. The frontrunners are former state Sen. Mike Dunleavy and former Lt. Gov. Mead Treadwell. According to polls, Dunleavy is leading. Mark Begich, the former Democratic senator and former Anchorage mayor, is also challenging incumbent Gov. Bill Walker, who is running as an independent.
In Wyoming, six candidates are competing for the Republican gubernatorial nomination, including businessman Foster Friess, state treasurer Mark Gordon, and attorney Harriet Hageman. The seat is expected to stay in Republican hands.
Thanks for reading CBS NEWS.
Create your free account or log in
for more features.