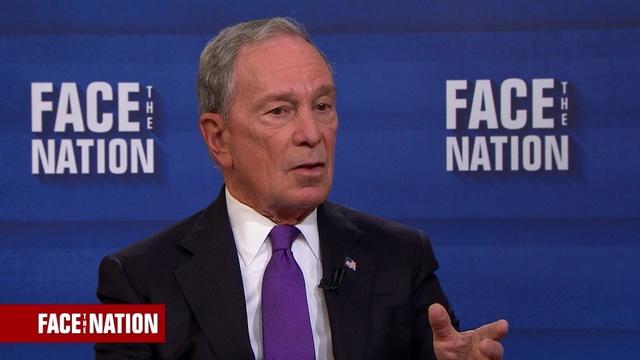 "There's no leadership" on gun reform, says Michael Bloomberg
In the wake of nationwide walkouts and demonstrations since the Parkland, Florida school shooting calling for stricter gun laws, former New York City mayor and billionaire philanthropist Michael Bloomberg expressed hope, but little optimism, for new federal restrictions.
"I think there's no leadership on keeping guns out of the hands of criminals, minors, and people with psychiatric problems, which this country should be ashamed that we're not doing," Bloomberg told "Face the Nation" moderator Margaret Brennan.
For years, since his tenure as New York's mayor, Bloomberg has been outspoken in calling for legislation to combat gun violence. He has backed Everytown for Gun Safety, which has pushed for changes to background checks and limits on gun sales.
"What we're focusing on is more at the state level, and we've got 18 states that have enacted gun background checks, a 19th state that has voted for it," Bloomberg said of the group's work, adding that, "in those states, suicide rate with guns, for example, is half the national average. This really does make a difference."
The organization has spent more than a million dollars supporting organizers of the "March for Our Lives" movement that emerged out of the deadly Parkland school shooting. The group also plans significant spending to influence the upcoming 2018 midterm congressional elections.
"I think all of us have a responsibility between now and then, call your congressman, call your senator, and say we want you to do something about this. I don't want to have my child at risk. I don't want to personally be at risk from crazy people with -- should, who shouldn't have guns," Bloomberg said.
Students organized over 2,700 school walkouts Friday, after gun control legislation stalled out in Congress. The demonstration marked the 19th anniversary of the April 20, 1999 attack that left 13 dead at Columbine High School in Littleton, Colorado.
Momentum has slowed on federal gun reforms, aside from a March announcement that the Trump administration would propose a federal regulation change that could ban bump stocks.
"After Parkland, and there have been a number of these cases, where after this we say, 'that's enough, it's never going to happen again.' And it does happen again," said Bloomberg.
"God help us if it just keeps going on. We just got to stop the carnage," he added.
---
Margaret Brennan's interview of Michael Bloomberg will air Sunday on "Face the Nation." Click here to check your local listings.
For the latest updates, make sure to follow "Face the Nation" on Facebook, Twitter and Instagram.
Thanks for reading CBS NEWS.
Create your free account or log in
for more features.