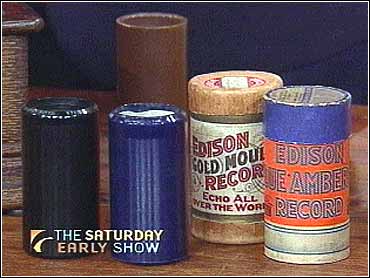 The Worth Of Wax Cylinders
Before CDs, before LPs, even before 78s and 45s there were wax cylinders. And The Saturday Early Show's Collectibles Expert Tony Hyman says some of these music makers could be valuable.
---
First introduced by Thomas Edison in the 1870s, the typical cylinder is black or blue and about four inches long and two inches in diameter. Most of them are worth less than $5, but some can be worth a $100 or more.

Cylinders that are brown, pink, green or orange, or bigger than two inches, can be worth up to $200. Cylinders by opera singers, historical speeches, and blue cylinders with numbers over 5000 can be worth up to $500.




Find out about other collectibles described by The Saturday Early Show's Tony Hyman in the Collectibles Archive or visit Tony Hyman's Web site.

If you think you have a collectible worth a lot of cash, send an email to sat@cbsnews.com with "What's It Worth?" in the subject line. Or write to "What's It Worth?" The Saturday Early Show, 514 West 57th St., 6th floor, New York, N.Y. 10019.

Cylinders are fragile and are subject to damage from mold or from changes in temperature. Just moving a cylinder from the barn to the house during the winter could destroy it. And cylinders that are warped or badly scratched have no value at all.

Don't try cleaning or playing cylinders. Different types of cylinders require different types of needles and you can ruin them with one play with the wrong needle.

My advice: Sell every cylinder you own as fast as you can.

And the machines? Any cylinder player will have some value, even for parts. Complete, original machines, especially those with outside horns, are worth from $300 to more than $5000 for certain rare models.

Be careful when handling or moving cylinder phonographs; there are often loose parts that get lost or damaged which can drastically decrease the value of your phonograph. Cranks, lids, horn support arms, reproducers and horns are often missing and can be very hard to replace.

Cabinets designed to hold cylinders can be even more expensive than the phonographs themselves. Those with rounded fronts are most desirable, and can be worth as much as $2500.

Though cylinder cabinets originally had pegs to hold the cylinders, these have often been removed. If the drawer bottoms or shelves have rows of small holes or circles, then chances are it is a cylinder cabinet and worth some real money.
---

For more information and appraisals of cylinder machines and records as well as 78rpm records and record players, Hyman recommends expert, collector and auctioneeKurt Nauck. Visit his
Web site, or e-mail him at nauck@78rpm.com.

Thanks for reading CBS NEWS.
Create your free account or log in
for more features.