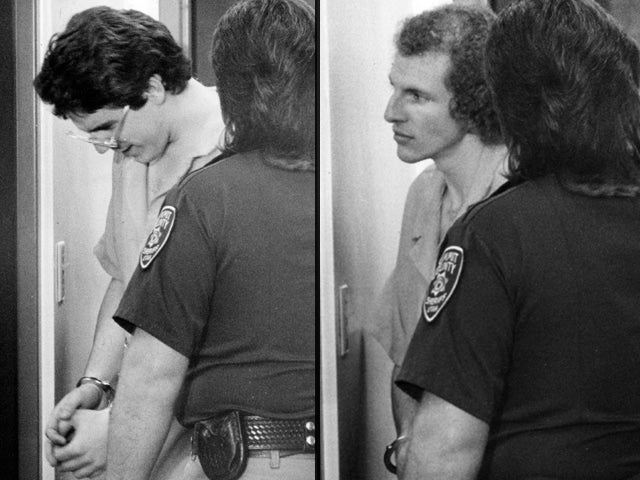 The Tiede Case - Two killers, two outcomes. Justice served?
(CBS) It's a rare crime, but the type of crime that strikes fear in our hearts. Absolute strangers break into a home. The family is held hostage at gunpoint. A young woman watches helplessly as her mother and grandmother are murdered before her eyes. And the violence escalates without any provocation from the victims.
The Tiede sisters share their story of survival on "48 Hours Live to Tell: Three Days Before Christmas".

The crime took place in a remote family cabin in Oakley, Utah. The two men who murdered Beth Potts and Kaye Tiede also shot Kaye's husband, Rolf, and left him for dead. They doused him with gasoline, set a fire, and took off with two hostages: 20-year-old Linae Tiede and her 16-year-old sister, Tricia.

The men were caught red-handed after a high-speed chase. Both were parolees who walked away from a halfway house. They stood together in court as a multitude of charges were read, but then their cases went their separate ways through the justice system. There were different lawyers, different juries, different procedures. Von Taylor ended up being sentenced to death; Edward Deli got life.
According to the surviving victims, the two men participated equally in the crimes - so why did they end up with different fates? It's not uncommon for one suspect to turn on another in order to get a break. That's not what happened here. Neither man cooperated. The investigators had to piece the evidence together themselves. They believed they had two ironclad cases. One especially chilling piece: a video shot by Deli with the Tiede family's camera while the men laid in wait. In it, an armed Taylor gleefully rips open the family's Christmas presents.
Taylor pleaded guilty to two murders. In exchange, the other charges were dropped. But he still had to go before a jury who would decide his sentence: life in prison or death. He testified, but judging from the transcripts, he did himself no favor. He was argumentative and had convenient memory lapses. He remembered pointing a gun, but not shooting it. "It happened so quick, I don't know," he testified. He showed little remorse. The jury sentenced him to death.
Edward Deli chose to go to trial. His attorney argued that it was Taylor who did all the shooting and he subjected the Tiede sisters to grueling cross examination. The verdict: second-degree murder - which meant the death penalty was no longer an option. The family was stunned: how could this man not be held fully accountable for what happened that day? The jurors said there was one holdout. The rest realized that a hung jury would mean subjecting the family to yet another trial so they compromised and convicted on the lesser offense.
While Deli seems to have accepted his fate, Taylor has repeatedly appealed his sentence. In his third trip to the Utah Supreme Court, his current attorney claims that the autopsies show that Taylor is "factually innocent" - even though he admits firing the first shots. He says that the fatal wounds came from Deli's gun and that Linae has been inconsistent in her accounts. The state disputes all this and is defending the sentence. Taylor remains on death row.
So, was justice served? It was in that both men were removed from society immediately after the crime. It is highly unlikely that Deli will ever get out of prison. But - thanks to that holdout juror - he still has his life. Anti-death penalty advocates point to this case as an example of how arbitrary capital punishment can be. But - so far - the fates of these two men have not been all that different. Like Deli, Taylor has spent the past 21 years behind bars. Linae and Tricia vow to be there when he is executed. They'll have to be patient. According to an assistant attorney general, they are not at the end of the process. Even if Taylor loses at every juncture, he'll probably be around for several more years.

Reporting by Gail Zimmerman, 48 Hours Mystery producer

Thanks for reading CBS NEWS.
Create your free account or log in
for more features.