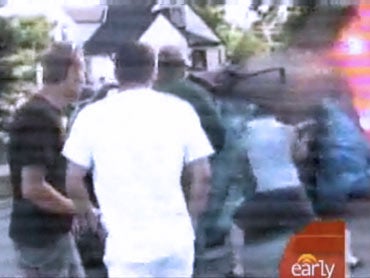 The Odd Truth, Sept. 16, 2004
The Odd Truth is a collection of strange but factual news stories from around the world compiled by CBSNews.com's Brian Bernbaum.
Taking A Seat Out Of Crime
CEDAR RAPIDS, Iowa - Rick Fisk took crime sitting down. Or at least he sat on a would-be thief until authorities arrived.
Fisk, 52, came home Tuesday morning to find a woman standing in his foyer, police said.
Julie Dye, 34, who was holding items from the house, fled when she saw the 6-foot-2, 280-pound Fisk, police said.
Fisk ran after Dye, tackled her in the front yard and sat on her.
"When they don't want to go to jail, they are a handful," Fisk said. "I told her, 'Just relax, it's the first step to get your life together."'
Fisk's phone was out of reach so he sat on Dye and yelled for help.
After 20 minutes, a neighbor heard him yelling and called 911.
Dye was charged with second-degree burglary. She also was charged with third-degree theft for a Sept. 2 incident in which police say she stole money from someone.
She was being held Wednesday on $19,500 bail.
Father Of The Year
FAIRFIELD, N.Y. - A central New York man faces child endangerment charges after his two-year-old daughter got drunk.
State police say the girl was treated Sunday at a hospital for a blood alcohol level of .14 - nearly twice the legal limit for an adult.
Troopers say Eric Carney of Little Falls was at a friend's house when he gave his daughter a taste of beer. He says she probably drank more on her own while he wasn't looking.
When he returned the toddler to her mother, she noticed that something was wrong. She took the girl to Little Falls Hospital, where doctors determined the child was intoxicated.
The girl was treated and released into the care of her mother.
Troopers say an order of protection has been issued against Carney to keep him away from his daughter.
Drunk Man Drives 18 Miles The Wrong Way
VANCOUVER, Wash. - A man drove 18 miles in the wrong direction on Interstates 5 and 205 before State Patrol troopers stopped his car. No one was injured.
Around 2 a.m. Monday, troopers received 911 calls from motorists saying a maroon minivan was traveling south in the northbound lanes of I-5 near La Center, Trooper Mike Kesler said.
Troopers caught up with the van near the junction of Interstates 5 and 205, and finally pulled it over on I-205 after using lights and sirens, Kesler said.
The 30-year-old Vancouver driver, who smelled of alcohol, said he didn't know he'd been going the wrong direction, Kesler said.
He was booked into the Clark County Jail for investigation of driving while intoxicated, reckless driving and not having a valid driver's license. His blood-alcohol level was measured at 0.177, more than twice the legal intoxication threshold of 0.08, Kesler said.
Sri Lanka 'National Handball Team' Disappears In Germany
MUNICH, Germany - They looked suspicious to begin with and doubts grew when the 23 "players" of the "Sri Lanka handball national team" disappeared from their lodging in southern Germany.
The Germans thought they were hosting Sri Lanka's national team; Sri Lanka sports officials say there is no such team.
Whoever they are, the Sri Lankans arrived in Germany on Thursday, played in a small tournament and lost all their games and then disappeared Monday from their hotel in Wittislingen just before they were supposed to start a tour of seven Bavarian communities.
"We've informed border posts," said a police official in nearby Dillingen, who did not want his name used.
But the police are not officially looking for the 23 Sri Lankans since they have visas valid until next month.
"We don't know where they are," the police official said Wednesday.
Police found a letter in English left behind in their lodgings, thanking the local club for its hospitality and saying they had left for France.
"Maybe they wanted to leave a false trail," the police official said. Authorities think the "handballers" could have dispersed around Germany looking for jobs.
In Colombo, Sri Lanka, Sports Ministry secretary S. Ranugge said he had no official information because the tour was not approved by the ministry nor any official has accompanied the team.
S. Ranugge said there was no registered federation for handball in Sri Lanka and therefore the tourists may have made their own travel arrangements and cannot be called Sri Lanka's national team.
Good Timing, Good Samaritan
SALEM, Ore. - Jeff Datwyler found lots of loot in the litter.
A few weeks ago, Datwyler thought he was just being conscientious about picking up a stray envelope on the streets of Salem.
But then he opened up the envelope - and found a check for $15,000.
"I thought, 'Man, this is unreal,"' said Datwyler, Salem's urban design coordinator. "I knew someone would be missing it big time."
Datwyler to the check to the bank, where staff figured out it belonged to retiree William H. Goods.
At that exact moment, Goods was at another bank preparing to deposit his $15,000 check there, unaware that it was missing.
"I got a call from the credit union saying they'd found it," Goods said. "It happened simultaneously. Just as I was reaching for it from my pocket, the phone rang."
"I'm sure thankful there are honest people," he said.
World Record Whoopee Cushion Bid
WATERLOO, Ontario - The marching band will have some accompaniment on September 25th at University Stadium in Waterloo, Ontario.
Sitting cheek to cheek, thousands of fans at a Wilfrid Laurier University football game will be asked to participate in an unusual world-record bid.
Their task will be to park their buns - simultaneously and in harmony - on whoopee cushions during the game between the Laurier Golden Hawks and the McMaster Marauders.
That's 7,000 rear ends on 7,000 whoopee cushions at once.
If they do it, they'll go down in the Guinness Book of Records.
The current record for flatulent fanfare belongs to 1,372 people who performed the feat in Britain.
The university and the Kidney Foundation are hoping the stunt will help raise awareness about organ donation.
Dog Shifts Car Into Gear, Coasts Down Hill
WHITEHORSE, Yukon Territory - One dog's bark was worse than his brake. The Royal Canadian Mounted Police say a dog left in a truck managed to shift it into gear and it coasted down a hill. A man in Whitehorse, Yukon Territory, called police after he seeing the truck roll by, with a black Lab behind the wheel. The RCMP found the truck in the middle of a road, blocking traffic, with the dog still in the driver's seat. No one was hurt and there was no damage. A tongue-in-cheek release from the RCMP says the canine knocked the truck into gear while celebrating the Canadian victory in the World Cup of Hockey.

Thanks for reading CBS NEWS.
Create your free account or log in
for more features.