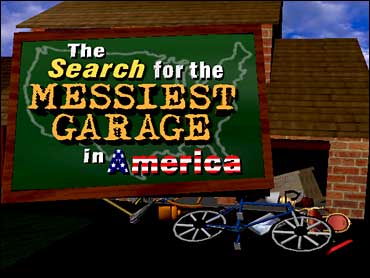 The Messiest Garage? No More!
Six weeks ago, The Saturday Early Show teamed up with Country Living magazine to launch "The Search for the Messiest Garage in America."
It was found in Cherry Hill, N.J., at the home of John and Cheryl Murphy and their five children.
Viewers e-mailed about 400 letters and several thousand pictures to go with them, but this letter from Cheryl Murphy caught searchers' eyes:
I am writing this on behalf of myself and my five children, in hopes that we can express our wish to have my husband, their dad, (get) the garage makeover.
First of all, we hope you can tell by the pictures that our garage does most certainly qualify for one of, if not the messiest garage in America. But more importantly we want to tell you why you should pick our Dad's garage above all others.
Now to be quite honest, the kids and I have other priorities besides the garage. But our husband and dad, John Murphy Sr., loves his garage. He would spend every free moment of his time pining away the hours in that garage. He likes to fix things, work on projects, watch NASCAR, too many things to mention in that garage.
He really enjoys cars, classic cars, hot rods, he even a couple of years ago went as far as to treat himself to an old car he wanted to refurbish. The problem then was that it wouldn't fit in the garage. But the poor car is much worse than when it got here. Between the elements and all the minor incidents it has had with bikes, scooters and skateboards, it is a wonder it still stands.
But all along, John has never complained. When we all dump our junk in his garage, our dirty sneakers and cleats in his sink to scrub, he never complains. John is the most wonderful father/stepfather in the world. We have had quite a difficult past year, add that to all that is expected of him daily, working more hours than we can count, coming home to help with dinner, drive everyone where they need to go, attending every single kid's meet, game, competition, school event, cooking breakfasts for the kids and the half dozen friends they have sleeping over, or building atoms for school projects.
He is under a lot of pressure, he is the sole caretaker of all of us and we all depend on him emotionally and financially. He has never let us down. Not once.
When the kids and I saw this…mentioned on The Early Show last week, we knew we had to (get) it for him. He never asks for anything for himself. Everything is for me and the kids. But the garage is his "place," his solitude. Seeing him happy would make every one of us happy. This would help us to give him something for all that he has done and continues to do.
Now I know this essay was supposed to be about a garage, and how it got as messy as it is. But I think that is probably self-explanatory. We have 10 people and three golden retrievers living under one roof. That's a lot of junk!
Thank you.
Cheryl Murphy
Christian Sparacio 15
Dominic Sparacio 13
Brooke Sparacio 11
Alysa Murphy 11
John Murphy Jr. 5
John says the reason a nice garage matters so much to him is that when he was growing up in Ireland, he spent hours in the garage with his dad, working on cars and bikes. He wants to do the same with his sons.
Nancy Soriano, editor-in-chief of Country Living Magazine. is helping to unveil the new improved garage on The Saturday Early Show.
John and Cheryl Murphy and their five kids have way too much stuff to stash.
As John says: "Everything from commercial tires to bikes to Christmas decorations to tools."
This family loves anything on wheels but has collected so many bikes, you have to wonder where they came from. As Cheryl says: "Their friends' bikes find homes here, too. Yeah, free storage!"
And since nobody can find the outlets in the garage, motorized "pocket rockets" get re-charged in the living room. Cheryl says she has muddy bikes coming through her kitchen, which she never expected.
Containing the chaos was always high on John's to-do list, but somehow it never got done.
Explains Cheryl, "He 'cleans' it by rearranging it every month." John chimes in, "It makes me feel like I'm getting rid of stuff. Ha, ha!"
The one thing that has never been in the garage is John's baby: a 1948 Plymouth, though it has had, in John's words, "a couple of bikes and skateboards hit off of it."
And while the hot rod is one casualty of the clutter, the Murphys fear there could be more.
"We have lost kids in there occasionally," deadpans John.
"They've come out, though," adds his wife.
Enter the clean-up experts! 1-800-GOTJUNK, a national chain, volunteered to help the Murphys find the floor, and so began the archaeological dig through six years' worth of trash and treasures.
There were quite a few memories buried among the ruins, including the "Kramer" portrait from the old sitcom "Seinfeld."
"Kramer," recalls Cheryl. "That was a first Valentine's Day gift to John from me. But he didn't live with me, so I didn't have to look at it, actually."
The editors of Country Living helped the Murphys figure out what to keep and what to toss.
A typical question asked by Jennifer Vreeland, the magazine's senior editor for special projects: "Do we really need four water sprayers?"
Later, Vreeland reports, "They were finding things they'd been looking for for months, so it's really going to be about getting all those tools and bikes and electrical cords organized."
It took a few hours and a lot of elbow grease, but finally the Murphys had what they desperately wanted: A clean garage and a fresh start.
---
Here are the various companies that donated their goods and services to help renew the Murphy garage:
Thanks for reading CBS NEWS.
Create your free account or log in
for more features.