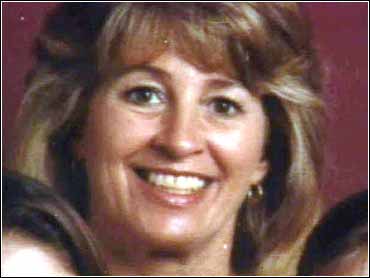 The Enemy Within: Missing
In July 1998, 49-year-old Vicki Robinson was a real estate agent and active in her church. By all accounts she didn't have an enemy in the world.
"If I was sick, she was the type of person who'd be like, 'Let me bake you some cookies and bring over some homemade chicken soup,'" said her best friend, Deb Englert.
Robinson, divorced, lived in a quiet Tampa neighborhood with her two teen-age daughters.
The youngest, Valessa, was 15 when her mother disappeared. "My mom was the best person in the world," she said. "Nobody can replace her, nobody. You can't replace a person like that."
Said Robinson's other daughter, Michelle, "We all had a special friendship that a lot of mothers and daughters don't have."
"I wish that I could see her right now and give her a big hug and say,'I love you, Mom, I love you,'" Valessa said. "I wish I could do that but I can't."
Vicki Robinson's boyfriend, Jim Englert, was the first to notice she was missing and persuaded the police to break into her home. "Vicki was always positive, cheerful and vivacious, just a joy to be around," he said.
Englert notes the bed was unmade in Vicki's bedroom: "Vicki would not leave and leave the bed unmade. She was very tidy and kept the house always in immaculate condition."
Then there was a far more disturbing discovery: "And then her van was determined to be missing, as was her daughter, Valessa Robinson, who was age 15 at that time," said Major Gary Terry from Florida's Hillsborough County Sheriff's Office.
Police then realized they were dealing with a missing mother and daughter.
Robinson's credit union discovered that her bank card was being used and security cameras had recorded the transaction.
Police were able to identify the young male using Vicki Robinson's ATM card. It was Adam Davis, then 18, the boyfriend of her daughter, Valessa. His friend, Jon Whispel, had been seen with him. A search began for the two.
But where were Vicki and Valessa Robinson? Vicki Robinson's parents figured they were being held hostage somewhere.
"We thought we'd be getting a ransom note," said Robinson's father, Art Klug.
"All I could think of was, 'Well they've got Vicki someplace tied up,'" said Donna Klug. "It never dawned on me that they'd hurt her."
But then police heard from an anonymous caller who claimed to have heard from Davis: "They hit her mom; she got knocked unconscious; and then they said that they killed her."
The caller said Vicki Robinson was dead. But Valessa was apparently alive.
Police didn't know what to believe: Was Valessa a hostage or an accomplice?
All along Vicki Robinson's credit union had been tracking the teens' whereabouts through her ATM card. But the police kept missing them.
Five days after Vicki Robinson had vanished, activity on the card showed Valessa, her boyfriend Davis nd Whispel were in Texas traveling west.
According to Sheriff Bruce Wilson, most of the trouble he sees in Pecos County, Texas, takes Interstate 10. So in July 1998 when he heard car thieves were headed his way, he made sure he was first on the welcoming committee. He was on the lookout for two 19-year-olds who had stolen a van in Tampa, Fla. The van's owner - Vicki Robinson - hadn't been seen since.
"Foul play was feared," Sheriff Wilson said.
Once the teens spotted the sheriff, they took off.
"(We) turned on the sirens," Sheriff Wilson recalled. "It was apparent that they were going to run."
"I told my deputy to start shooting out their tires. And when he done that, they lost control of the van," he added.
Davis and Whispel were in the van, as expected. And so was Vicki Robinson's 15-year-old daughter, Valessa.
"We had to jerk them out of the car," Sheriff Wilson recalled. "They (weren't) getting out."
Within minutes, Sheriff Wilson realized Valessa was not a hostage: "I saw a girl that was very much there because she wanted to be and probably a girl that took just as big a part or a bigger part than the two boys," he said.
Find out what hours later Davis, Whispel and Valessa told police had happened to Vicki Robinson.
The Enemy Within: Main Page
C
Thanks for reading CBS NEWS.
Create your free account or log in
for more features.