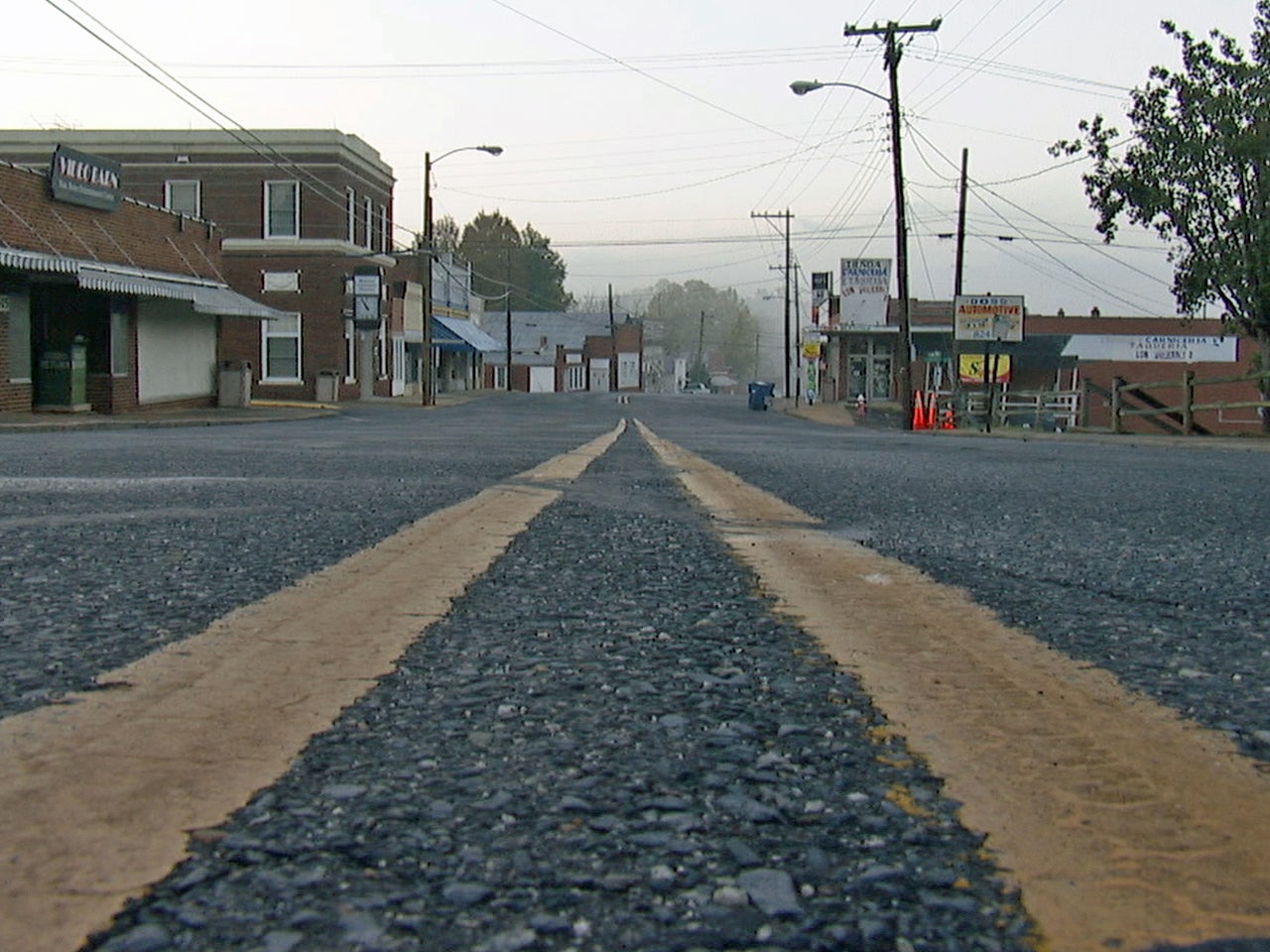 The death and life of Asheboro, N.C.
The following script is from "The Death and Life of Asheboro" which aired on Oct. 28, 2012. Scott Pelley is the correspondent. Robert Anderson and Daniel Ruetenik, producers.
This week before the election there is a lot of arguing about the slowest recovery America has ever seen. We went to North Carolina, a state that went for the president last time but is swinging toward Mitt Romney now. And we found the story of the economy in the death and life of Asheboro.
Asheboro grew up on manufacturing, its factories filled with generations of families who built their town near Purgatory Mountain. But in 2008, Asheboro was named one of America's fastest dying towns. The folks there were never going to quit, but they are still struggling. Why are we stuck somewhere between recession and recovery? No one better to ask than those who live around Purgatory.
In Randolph County, there's no escaping the second election since the great recession. Nonstop, the TV promises a better day or warns of a worse one. Folks around here have seen a lot of both.
Those days start with the signature sound of Asheboro at the Acme-McCrary textile company. It opened the year that some of its workers helped put a Republican in the White House, William Howard Taft. It was 1909. One hundred and three years later, Bill Redding runs the place.
Scott Pelley: At its peak how many employees did you have?
Bill Redding: About 2,000.
Scott Pelley: And today?
Bill Redding: Six hundred.
To see why it's so hard to stitch together a recovery, look at the ladies hosiery business. It's been torn to shreds by cheap imports. Redding has kept the mill going two ways. One, a great idea. He took a chance on a new product: Spanx shapeware which became a sensation. And two, he moved 600 jobs to Honduras.
Scott Pelley: The workers who are less-skilled in Honduras working for you, how much less are they making than the people who work on this floor?
Bill Redding: Considerable.
Scott Pelley: Fifty percent?
Bill Redding: I probably don't wanna answer that.
Scott Pelley: Okay. But it's a considerable difference?
Bill Redding: Oh, yeah.
Scott Pelley: And it's what keeps your business in business?
Bill Redding: That's true.
Scott Pelley: What would've happened if you'd dug in your heels and said, "No, I'm keeping 1,200 jobs in this plant in Randolph County?"
Bill Redding: I think we would probably not exist.
You don't have to look far to see what he means. This mill, in the nearby town of Ramseur, was wiped out, with every job gone, a thousand of them. We couldn't help but notice this in the demolition: "Please have a safe drive home, we want to see you tomorrow." Remember when driving was the biggest threat to workers? When tomorrow didn't come, there was no future for Ramseur's main drag. Shops shuttered right after the plant and Amelia Hill, one of the last holdouts will close her diner this coming Thursday.
Amelia Hill: All the businesses are gone. They've just faded out. Moved. I mean you can't survive. There's no way. There's no surviving.
Scott Pelley: You've been thinking about your retirement, and you've been saving money, I understand for a long time?
Amelia Hill: Right.
Scott Pelley: Have you been spending some of that savings to keep the doors open?
Amelia Hill: I've had to, I sure have. Don't want to dig any deeper in it.
Scott Pelley: Today the only full-time employees are you and your daughter?
Amelia Hill: Right. Right.
Scott Pelley: You're gonna lay off your own daughter?
Amelia Hill: I'm gonna lay off my own daughter.
They turned the bank into a town museum. It's open two days a month which is more than its neighbors.
Scott Pelley: These were all the people who came to the cafe and sat at the counter and drank coffee in the afternoon, right--
Amelia Hill: Right. Right.
Scott Pelley: These were your people?
Amelia Hill: Those were my people.
Scott Pelley: And now you're one of them.
Amelia Hill: And now, I'm one of 'em.
Scott Pelley: We couldn't find a better example of what's happening to American manufacturing than this plant on a hilltop in Randolph County. This used to be a textile plant. They started building it in 1949. They built the last addition on it in 1995. But the plant closed and now they're tearing half of it down. The manager told us that they just can't find a buyer who has enough employees to need this much space.
In the year 2000, there were 17 million Americans who were working in manufacturing. Now there are just over 12 million. That's five million jobs lost in manufacturing in just the last 12 years. But you can also see, rising from the debris of the recession, is a new economy in Asheboro.
Klaussner Furniture was forced to lay off half its workers, lost to Chinese imports. Now it's holding on to the others by exporting to China. Klaussner Furniture is expensive in China but, turns out, the growing Chinese middle class thinks the "Made In America" label is a status symbol.
"Made In America" is an advantage for the Technimark company which has created 800 jobs here. It makes plastic products including iPhone covers. They're growing because they can deliver a customer's new product in two weeks when it can take two months to ship the same thing from China.
Up the road in Kernersville, even the abandoned tobacco barns are turning a new leaf -- not with one big company moving in, but dozens of new entrepreneurs who are setting up shops. A lot of them were down on their luck and had no choice but to cook up a new idea.
Jenny Fulton: I grew up on pickles. My grandmother used to make pickles. We'd--we always had pickles in the house, and I love 'em.
Jenny Fulton and Ashlee Furr were laid off stock brokers. They poured their savings into Miss Jenny's Pickles.
They're in more than 500 stores, some of them in China, and soon to be in Mongolia.
Scott Pelley: They like pickles in China?
Jenny Fulton: They're in 40 stores, and they're on the shelf--
Scott Pelley: Forty stores in China?
Jenny Fulton: Yes, sir. Beijing, Shanghai, Kunming, Shenzhen.
Scott Pelley: Why did you decide to expand into China?
Jenny Fulton: Well I'll tell you what happened, I said, "Ashlee, 2011, we're gonna export to one country. I don't care what it is. Because 95 percent of the world lives outside of the United States.
To reach them she went to a seminar and heard about the U.S. Export-Import Bank -- the government's credit agency for foreign trade.
Jenny Fulton: And I sat right behind Fred, who's the president of the Export-Import Bank. And so when he got done speaking, I went running outside to the car, because I saw a group of gentlemen standing there. And I said, "Who's driving Fred?" Guy said, "Me, Chris." I said, "You're my new best friend. Get him to eat these pickles before he gets on the plane because I want to export this year."
Scott Pelley: You got some pickles to the driver of the head of the Export-Import Bank?
Jenny Fulton: Yes, sir. And, and we exported that year.
Scott Pelley: Pretty good trick.
Jenny Fulton: Ya gotta think out of the jar, you know? If you're selling pickles, you better be creative. What's made us successful is what's made every American company successful, and that's hard work. And not taking no for an answer. If somebody tells me, "No," Scott, I say, "Okay that means timing's not right. But you'll want my pickles."
Scott Pelley: No means go?
Jenny Fulton: It does, at the right time. But, you know, we're not too pushy. You know, I believe it or not. I know you laugh, but--
Scott Pelley: Really? Ah, well, I'm glad to hear that.
Jenny Fulton: What I do is I drip on you, and I don't let you forget me, OK?
Here they call that gumption and it's forced unemployment from 13 percent, near the highest in the nation, to just about nine and a half. The jobs are coming, just not fast enough. And no family is a better example of that than the Berrys.
Bobby Berry lost his factory job three years ago. He's worked here and there, but mostly they've lived on his wife's pay and benefits. Sugar Berry's been at the same steady job 27 years at a plant that makes wire for steel-belted tires.
This month, Bobby got a job when the malt-o-meal cereal plant expanded with 50 new workers. The Berrys had two paychecks again -- until the letter came.
Scott Pelley: This is the letter that you received from the company. "This layoff is a result of the company's decision to cease operations at the Asheboro wire plant, which will result in the closure of the entire plant and the termination of the employment of substantially all of the plants employees, approximately 310." When you read those words, what did you think?
Sugar Berry: It can't be. I, I said it couldn't happen whenever we were sold, but I guess I should have expected it coming.
They were sold to a Korean firm. The jobs maybe headed to Vietnam.
Scott Pelley: So, one step forward, one step back.
Sugar Berry: Uh huh. (affirm)
Scott Pelley: It seems like the rest of the country.
Bobby and Sugar Berry: Yeah.
Scott Pelley: What's that last day gonna be like? You worked there nearly 30 years.
Sugar Berry: I just don't know. Some of those people, I'll probably never see again and we've been together all these years, raised our families together and cut up together and been mad at each other. And, you know, I don't know. I don't want it to come.
Not long ago their son Matt might've followed them into a plant. But instead he's at Randolph Community College learning high-tech manufacturing. Many of his classmates are in their 30s and 40s. Some of them can thank the government for recent increases in tuition assistance, and others in the county have survived on extended unemployment benefits. But with Election Day coming, many have lost patience with predictions of a recovery they don't quite see
Scott Pelley: When you see those ads, what do you think?
Bobby Berry: I just lost confidence in all of 'em to tell you the truth. I mean, you know. They'll make these promises around election time and then it seems like, you know, after it's over with, nothing. So, you know, I don't even know if I'll vote.
Scott Pelley: Sugar, what do you think?
Sugar Berry: It shouldn't be that we're trying to one-up either side. It should be that we're working together for the American people. And you have not seen that at all. Whoever's got something on the floor, the other's gonna do whatever they can do to veto it, or be against it instead of doing what's right for the American people.
Around Purgatory Mountain, jobs lost by the thousands are being reinvented by the hundreds. There is considerable doubt that another election will do very much about that. Folks around here believe that if there is to be a brighter tomorrow they'll have to build it themselves.
Thanks for reading CBS NEWS.
Create your free account or log in
for more features.