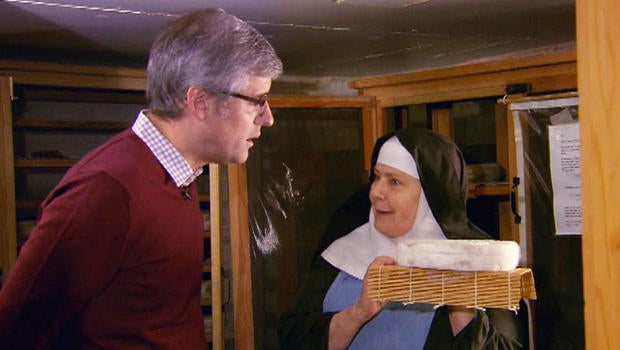 One taste of her cheese and you might be tempted to say "Holy Cow!" Mo Rocca tells us why:
Seven times a day, the Benedictin Nuns of the Abbey of Regina Laudis gather for prayer and the singing of the Psalms.
This is their way of communing with the Lord. So is the work they do in this cloistered community in the Connecticut town of Bethlehem.
Although she might deny it, the "Big Cheese" among the 38 sisters is Mother Noella, a revered international authority on traditional cheesemaking. A 2002 PBS documentary dubbed her "The Cheese Nun."
Rocca asked, "Did you eat a lot of cheese growing up?"
"No, we didn't," Mother Noella replied. "I think we probably had provolone."
Born Martha Marcellino, she entered the abbey in 1973, a college drop-out. "I went to Sarah Lawrence," she said, "because it was the most radical school in the country.
"I didn't even know cows before I came here," she continued. "When you join an abbey, you get to try many things you never would have done. And I happened to fall in love with a cow named Sheba, and then learned to make cheese."
Today, the dairy that began with Sheba's arrival in 1975 helps the abbey remain self-sustaining.
Sister Jean Paul serves the cows their breakfast -- and vice versa. "Every morning I take my cup of coffee to my cow, and I squirt milk straight into the coffee," Sister Jean Paul said. "And it makes it foamy."
Like a cappuccino! "We call it the cow-puccino," she added.
In 1977, Mother Noella started making raw milk cheese, but her early efforts didn't quite slice it. So she prayed for a teacher.
"I was praying for an old French woman to teach me, but a young one came," she said. "And her grandmother taught her how to make this cheese."
"So in a sense your prayers were answered," said Rocca.
"Oh, they were definitely answered."
What's made here is called Bethlehem Cheese. Wheels of it age in the abbey's tiny cheese cellar. Mother Noella showed Rocca a young cheese, "made only four days ago, so you wouldn't want to eat this now. It would be rubbery."
It's the science behind cheesemaking that excites Mother Noella, who in the late '80s, earned her Ph.D in microbiology from the University of Connecticut. She did her doctorate on the fungus Geotrichum candidum.
A Fulbright scholarship then took her to France, where she explored the cheese caves of Auvergne, and became an expert on how different fungi change the consistency and flavor of cheese.
"Geotrichum creates great flavors, and reduces bitterness," she said.
"Love your fungi!" Rocca said.
Today, younger nuns, like Sister Teresa Benedicta, and Regina, an intern, learn how to separate the curds from the whey, and to press the curd by hand and wrap them.
"They're nicely swaddled," said Sister Teresa. "Baby Cheesus-es!"
Joking aside, Mother Noella sees in a wheel of cheese a world beyond our own.
"When I look through a microscope, and see the wonder, I see God in those microorganisms," she told Rocca. "It puts you in touch with God's creation. And for me, it also can be very sacred. The motto of Benedictins is: 'Work and pray.' And for us, our work is also a prayer."

For more info:
Thanks for reading CBS NEWS.
Create your free account or log in
for more features.