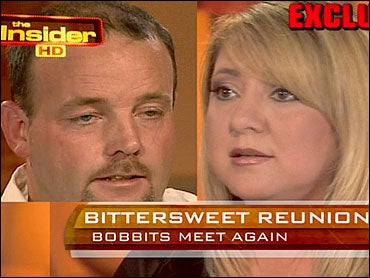 Next month marks the 16th anniversary of an incident that rocked the nation, sparking two trials and countless late-night jokes: Lorena Bobbitt's castration of her then-husband, John Wayne Bobbitt.
Now, the two are facing off again, on "The Insider," and the show's host, Lara Spencer, offered a sneak peek on The Early Show Friday.
"You can imagine," Spender told Early Show co-anchor Maggie Rodriguez, "there was some tension in the room. Needless to say."
It was a reunion few thought would ever happen.
"It was a life and death situation, what I was going through, since I was bleeding to death," he says now. "There was so much blood that I was losing. ... It was one of the most terrifying things I ever went through."
"At one point," she says, "I thought I was going to be in jail, that I was going to be spending the rest of my life in jail."
Lorena also says, "I don't remember what happened the night of the incident, because I was insane, I was crazy, call it whatever, but I was temporary insane."
And it was her then-husband who drove her to that point, she adds, saying, "I'm never going to forget what you did to me. ... You drove me crazy. You drove me insane. It's ridiculous. No woman should go through what I went through."
But for John -- there are still many unanswered questions.
The biggest one?
"I want to hear her say it. I want to hear the real reason why she did it."
Spencer told Rodriguez that, in "The Insider" airing Friday night, "He finally explains what's happened to him since. A lot of people wonder, does everything still work? (The severed organ was found and reattached). He talks very candidly about that. ... When you put a woman in a room and a man in a room and she's cut off his manhood, you can bet that there are sparks.
"It started out very, very aggressive," Spencer continued, "and, surprisingly, I would have thought that he went in there raging. It was her -- Lorena is so angry at him. She says that he drove her crazy, literally.
"But by the end of it, there was closure. And they both really were thankful that we had done it."
According to "The Insider":
Lorena cut off more than half of John Wayne Bobbitt's penis as he slept on June 23, 1993, after he had returned drunk from a night of partying and allegedly raped her. He was tried and acquitted of the spousal rape charge in 1994.
After assaulting her husband, Lorena left the apartment, with the severed penis. After driving a short while, she rolled down the car window and threw it into a field. Realizing the severity of the incident, she stopped and called 911. After an exhaustive search, the penis was located, packed in ice, and brought to the hospital where John was.
The penis was re-attached during a nine-and-a-half hour operation.
Lorena was taken into custody.
During the trial, the couple revealed details of their volatile relationship and the events leading up to the assault. Lorena asserted that John sexually, physically, and emotionally abused her during their marriage. She also said John flaunted his infidelities, and forced her to have an abortion. Several witnesses provided testimony supporting Lorena's claims. Lorena's defense attorneys maintained that John's constant abuse caused Lorena to eventually "snap," as she was suffering from clinical depression and a possible bout of post traumatic stress disorder due to the abuse.
John denied the abuse allegations. However, when he was cross-examined, his statements often conflicted with known facts, severely weakening the prosecution's case.
After seven hours of deliberation, the jury found Lorena "not guilty" due to insanity causing an irresistible impulse to sexually wound her husband. As a result, she couldn't be held liable for her actions. Under state law, the judge ordered Lorena to undergo a 45-day evaluation period at a mental hospital, after which she would be released.
In 1995, after six years of marriage, Lorena and John divorced.
Thanks for reading CBS NEWS.
Create your free account or log in
for more features.