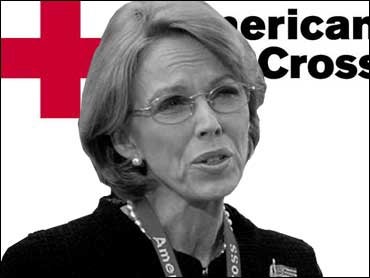 The Battle Inside The Red Cross
In part three of her report on the American Red Cross, CBS News Correspondent Sharyl Attkisson looks at the festering power struggle inside the charity that ultimately forced out its president.
---

The tragic events of Sept.11 heightened a bitter power struggle inside the Red Cross, centering on the millions in donations pouring in for terror victims.

Ordinarily, national disaster donations go into the charity's National Disaster Fund. Though chapters are supposed to be self-sufficient, they can dip into the fund when they need a little help. Sometimes, apparently, they need a lot. Last year alone, chapters dipped into the National Disaster Fund more than 3,000 times.

Some at Red Cross headquarters were afraid the National Disaster Fund was becoming a "leaky piggy bank" for chapters. And there's no routine follow-up to make sure they're spending the money the way they say they are. Even the Red Cross' own auditors can't always tell.

For example, money given to the Boston chapter was "not easily traceable," according to a Red Cross audit report. And National Disaster funds were allegedly stolen in a million-dollar embezzlement at the Hudson County, New Jersey chapter.

All reasons why, when the terrorists struck, then-president of the Red Cross, Dr. Bernadine Healy, moved quickly to keep Sept. 11 donations separate from the National Disaster Fund, and put them in a new account the chapters couldn't touch called the Liberty Fund.

In a September 2001 news conference, Healy said "this will not be commingled with moneys in our other disaster relief funds."

That may have been her downfall. Chapters that felt the Sept. 11 money should've gone into the National Disaster Fund, where they'd have access to any leftovers, went ballistic. They complained to the chapter-dominated Red Cross board.

Healy's decision prompted one board member to fire off a blistering memo.

"My phone has been ringing off the hook with chapters" angry about the Liberty Fund. Creating a separate fund "is unacceptable ... I have no intention of ignoring this."

A few weeks later, Healy was forced out. The Red Cross said leaving was her idea, but her face told the story.

In October 2001, David McLaughlin, chairman of the Red Cross board, announced Healy's resignation during a news conference at Red Cross headquarters in Washington.

During the news conference McLaughlin tells employees "I don't say it's the best thing for the Red Cross, but I think Dr. Healy thinks it's the best thing." Healy shakes her head "no," and when she tries to speak, McLaughlin cuts off the news conference.

A CBS News consultant, Healy wouldn't be interviewed for this report.

Today, the Red Cross's chief financial officer says there's no danger that chapters will misspend money from the National Disaster Fund because they have policies in place proving they are trustworthy. And he denies there have been any internal concerns.

"There has never been any high-level of concern at all about the disaster relief fund," Campbell says. "That disaster relief fund is there as a vehicle to fund major disaster operations and to assist chapters in funding local operations."

The Red Cross pledges "complete transparency."

"Our records are an open book," says Campbell.

However, they wouldn't let CBS News see which chapters get how much money from the National Disaster Fund. They did say it's mostly small amounts going to small chapters and totaled $5 million last year.

But information obtained by CBS News shows that chapters actually pulled more than twice that amount from the National Disaster Fund; many of them big chapters getting from $10,000 to more than $100,000.

Sen. Charles Grassley, R-Iowa, is investigating the Red Cross.

"The inability and unwillingness of them to give you that information, it kind of leaves the impression that maybe there's something there to cover up," Grassley says.

The behind-the-scenes power struggles are one reason some in Congress are pushing for more oversight of the Red Cross and its chapters. They say the charity that's done so much good on the outside risks bleeding to death fighting its own internal battles.
---
Part One:
Disaster Strikes In Red Cross Backyard
Part Two: Red Faces At The Red Cross

Thanks for reading CBS NEWS.
Create your free account or log in
for more features.