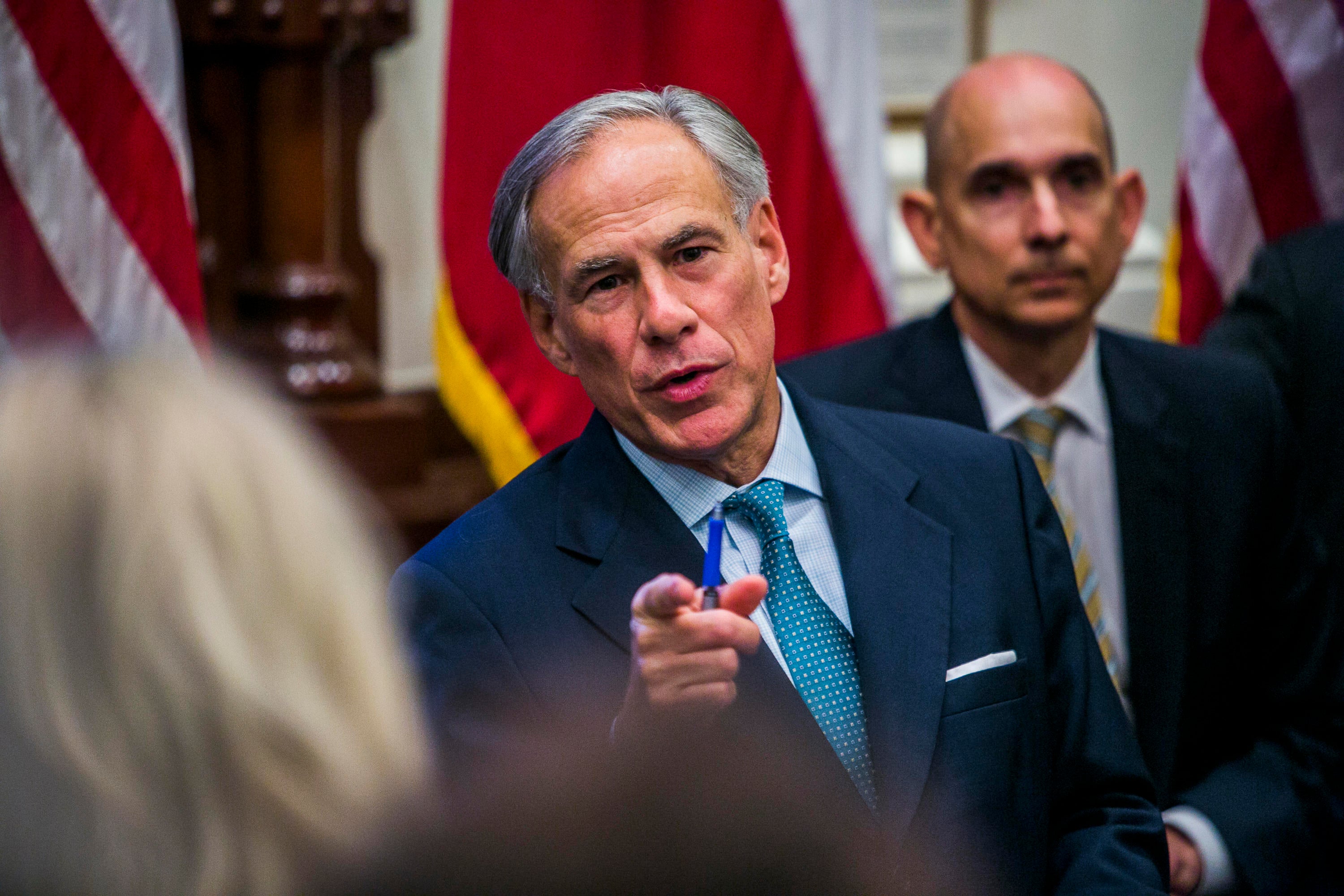 Texas gov. unveils school safety plan in wake of Santa Fe shooting
DALLAS -- Texas Gov. Greg Abbott has recommended dozens of strategies to make schools safer in the wake of the deadly shooting at a Houston-area high school, including increasing the presence of law enforcement officers at schools. The Republican and staunch gun-rights supporter released a 43-page report that also included suggesting more mental health screening for students.
A handful of the recommendations involved gun safety in Texas -- a state that embraces its gun-friendly reputation and has more than 1.2 million people licensed to carry handguns. Abbott said funding for some of the recommendations will be aided by federal grants, though others require state lawmakers to weigh in.
"We all share a common bond: And that is we want action to prevent another shooting like what happened at Santa Fe High School," Abbott, who is campaigning for re-election, said during a news conference Wednesday at Dallas school district headquarters.
He also said he wants to arm teachers and put requirements on parents to keep guns away from children 17 and younger. And he recommended a law to remove students who threaten teachers or students, CBS DFW reports. He also recommended $20 million to expand the "Twitter Program" and "I Watch Texas" app for students to report people, according to the station.
"Texas will expand a program that uses mental health screenings to identify students at risk of committing violence, and then connects them with professionals for counseling. It is used currently at 10 independent school districts with great success," Abbott said.
He was quick to remind that his stance on the Second Amendment remains unwavering. "I can assure you I will never allow Second Amendment rights to be infringed," Abbott said. "But, I will always promote responsible gun ownership. That includes keeping guns safe, and keeping them out of the hands of criminals."
Abbott's recommendations and remarks come a day after students returned to Santa Fe High School for the first time since the May 18 shooting that killed eight students and two substitute teachers, and critically wounded a police officer.
The recommendations were made following three days of mostly closed-door meetings that Abbott quickly organized last week with school districts, shooting survivors and groups on both sides of the gun-control debate, among others.
So far, the governor has ignored calls from a handful of lawmakers from both parties to call the Legislature into special session to address gun laws -- a sharp contrast to the response in Florida following the February high school shooting there that killed 17 people. Florida lawmakers, who were already in session, passed a gun-control package three weeks later, thanks in part to a lobbying campaign led by student survivors of the attack.
Texas lawmakers aren't scheduled to meet until January 2019. And unlike the students in Florida, several students at Santa Fe High School have been vocal opponents of increased gun control, including some who were invited to meet with Abbott last week.
Students who had classes in the area of the shooting were the first allowed back into the school Tuesday, followed by the rest about two hours later. All students then gathered for a two-hour assembly honoring the victims, and counselors were available.
Abbott visited the campus Tuesday, privately speaking with students, parents, teachers and staff, and presented first responders with an award for their actions.
Authorities have charged a 17-year-old student, Dimitrios Pagourtzis, with capital murder in the attack. He's accused of using a shotgun and pistol that belonged to his father.
The suspected shooter also had explosive devices, including a molotov cocktail, that were found in the school and nearby, said Abbott, who has called the assault "one of the most heinous attacks that we've ever seen in the history of Texas schools." Police found pressure cookers and pipe bombs around the school, a law enforcement source told CBS News around the time of the shooting.
Pagourtzis is jailed without bond.
The family of one of the students killed in the attack has filed a lawsuit against Pagourtzis' parents.
Thanks for reading CBS NEWS.
Create your free account or log in
for more features.