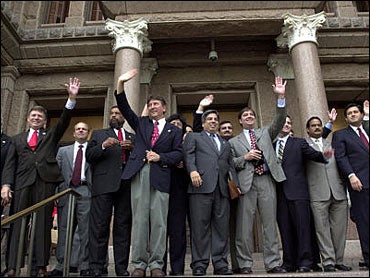 Texas Dem's Flight And The FAA
Transportation Secretary Norman Mineta has ordered a review of the Federal Aviation Administration's role in helping U.S. House Majority Leader Tom DeLay track the plane of a Democrat who joined a walkout from the Texas Legislature.
The review is the second federal agency inquiry into how Texas Republicans handled a Democratic walkout aimed at killing a congressional redistricting bill that would likely hand the GOP four additional seats. The Homeland Security Department has also announced an investigation into how its resources were used.
A staffer for DeLay, R-Sugar Land, had requested information on the location of state Rep. Pete Laney's airplane for two dates, and FAA staff provided the information, a spokesman said Friday, speaking on condition of anonymity.
The plane information is routinely available, the FAA spokesman said, but the department's general counsel will still conduct an internal review as to whether employees acted appropriately.
Jess Fassler, an aide to Rep. Martin Frost, D-Arlington, said he had spoken with general counsel Kirk Van Tine who told him that he would seek to "resolve inconsistencies."
DeLay said he welcomed efforts to "set the story straight."
"In their desperation, liberal Democrats invented and peddled a story that I debunked," DeLay said Friday in a statement.
Van Tine referred a call for comment to the agency's public affairs office. The spokesman there would only confirm the review.
The hunt for state lawmakers who fled to Oklahoma last week also has triggered a grand jury investigation by Travis County District Attorney Ronnie Earle in Austin, the Texas capital.
Earle confirmed Friday that his office is investigating the Texas Department of Public Safety's destruction of documents relating to the search.
The Homeland Security Department investigation and the FAA review come amid charges by state and national Democrats that DeLay used federal resources for political purposes. DeLay denied those accusations, but acknowledges that his office contacted the FAA to track Laney's plane.
"I asked a staffer to contact the FAA for publicly available flight information that any member of Congress gets from FAA — or you can get it off the Internet — as to the whereabouts of a certain plane, of a certain tail number," DeLay said Thursday.
DeLay said there was nothing untoward about gathering the information to assist Texas House Speaker Tom Craddick.
"You have a situation where the speaker of the Texas House is looking at all options available to him trying to figure out what his options are and what actions he can take and he's calling anybody and everybody he knows to get that information. We got the information he asked for," DeLay said.
Craddick said last week that the location of Laney's plane was important because it tracked the missing Democrats to Oklahoma.
The Bureau of Immigration and Custom Enforcement's Air and Marine Interdiction Coordination Center helped out as well. The center, a division of the Homeland Security Department, had been led to believe the plane was in trouble, missing or had crashed, according to a statement. The center is an anti-terrorism and anti-smuggling agency.
Homeland Security has refused to release transcripts and recordings of conversations related to the search for the Democrats. Department Secretary Tom Ridge told Congress that it is conducting a "potentially criminal investigation" and could not release the information right now.
DeLay also said he contacted the Justice Department to ask whether that agency's FBI or U.S. Marshals could help in the search. He was told they could not.

Thanks for reading CBS NEWS.
Create your free account or log in
for more features.