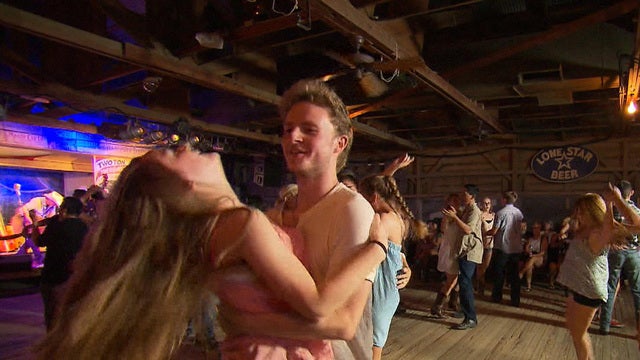 Could it be last call for Texas' dance halls?
Dance halls in Texas were the hearts of their towns. But the tradition and popularity of the honky tonks are dwindling, CBS News' David Begnaud reports.
If you two-step your way through The Broken Spoke in Austin, you'll meet James White, the local rhinestone cowboy.
"I'm old enough to be a legend," White said.
He's been greeting guests five nights a week since he opened the place in 1964.
"It's a true mom-and-pop operation. I tell people that my wife's the working half of the family and I'm in charge of BS and PR, and we ain't going to change nothing," White said.
Nowadays, the 76-year-old honky tonk pioneer compares his Broken Spoke to the Alamo, a dance hall, once in the middle of nowhere, now sandwiched in a sought-after city.
"I said, 'Well I'm not leaving,'" White said. "I'm ain't changing nothing. I'm going to be just like I've always been."
That country charm is what's allowed The Broken Spoke to roll on, but elsewhere across Texas, in mostly rural areas, historic dance halls are endangered.
"Many of them have actually disappeared either through lack of interest or support, fallen down, burned, turned into barns and other things," said Deb Fleming, president of Texas Dance Hall Preservation, Inc.
Fleming said the heritage of Texas can be traced back to the dance hall.
"With the immigration of the Europeans that came into Texas, they built a church, a community center, which could be used as a dance hall, was a dance hall," said Fleming. "All these different cultures that came into Texas and then melted together over the years, that's the history of Texas."
Fleming's said dance halls are still romantic, with great stories.
"Every hall has a story, and every person that's danced in a hall, has grown up in a hall has a story," Fleming said.
Twin Sisters Dance Hall is surviving. It's the oldest dance hall in Texas, one hour west of Austin. It opened to the public in 1870. George and Nelda Vogel have waltzed there for 66 years, but they say they don't dance there enough.
Dwindling attendance and performer royalty fees has led to tough times for the owners. Jake Penrod is one local musician who is affordable. He started his career in a dance hall.
"If the kind of music that I play is going to survive, this is where it's going to carry on," Penrod said.
It's estimated that 1,000 dance halls were built in Texas between the late 1800s and the early 1900s. Now, just 400 are still standing, and only two operate daily, Luckenbach Dance Hall in Luckenbach, Texas, and Gruene Hall in New Braunfels.
Rockabilly band Two Tons of Steel hasn't missed a Tuesday night performance at Gruene Hall in 20 years. Liz Jensen has shown up early for the last 18.
"I've come here over the years and seen mothers with their sons teaching them to dance, and then a few years later you see them here with a date. It's just like a family," Jensen said.
And the famous family members are endless. Many still play there, like Willie Nelson, who has his own window entrance.
Gruene Hall manager Shane Roch has worked there on and off for 15 years. They still dust the floors with cornmeal so it's easier to slide as you dance at the 6,000 square foot open air dance hall. Michelle Simmons will teach you how to swing.
If only it was as easy to preserve Texas' decaying dance halls. James White is the example of what is needed: People with an undying passion, willing to save what's left one two-step at a time.
"I Band-Aid this place together 'cause it's got heart and soul," White said. "And no matter who it is, nobody has to tell them where they're at. They know darn good and well they're not at Carnegie Hall."
For more, visit Texasdancehall.org
Thanks for reading CBS NEWS.
Create your free account or log in
for more features.