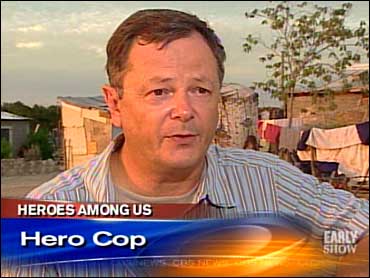 Texas Cop Crosses Border To Saves Lives
Minutes from the Texas-Mexico border, Bob Decker inherited an extended family. He wasn't looking to change lives.
The people who lived in a poor community south of the border, weren't looking for a Houston cop to save the day, but that is just what happened.
Like millions of Americans, Decker was introduced to Mexico's resorts and tourists when he went on vacation in Cancun. But five years ago, while on vacation, he literally made a wrong turn and saw poor Mexican neighborhoods called colonias for the first time. He couldn't turn away.
"I don't come here to help these people, make no mistake about it," Decker, who works as a police officer in Houston, told The Early Show. "I come here because of what these people do for me."
Decker began working overtime on weekends, taking that extra income to an orphanage just across the border from Del Rio, Texas, in Acuna, Mexico. It's a 350-mile commute. People magazine named him one of the "Heroes Among Us."
"The fact that one guy just working part-time jobs could feed and pay for the shelter and clothing of 24 children just stunned me," Decker said. "And I thought about the money I had thrown away in a lifetime. And I thought, 'Man, if can do this much with just that, think what I could do if I got a couple more families involved.' "
Decker founded an organization called Paper Houses across the Border, named for the fragile shelters where people live.
"Very often when I'm alone and I'm walking around here it's like being a policeman back in the '70s in Baltimore, Md., walking a nightshift footbeat out in the middle of no-man's land in the middle of the ghetto," he said.
Decker is also working with store owner Jesus Sunday to build a new home for recovering addicts.
"My future is to get back on my feet, get back with my son, my family and start all over again," recovering addict Jorge Guzman said. "He's a wonderful person, he has an angel inside I think. Believe me."
"There are so many Americans that come to Acuna. So many Americans and this is the first time that you see someone that really cares for your people in town," Sunday said.
At a local grade school, Decker has raised money for a new cafeteria and he's already doubled the number of students getting hot meals.
"Bob helps us with medicine for sick kids, and helps us with glasses for kids who need them," principal Sergio Zamarripa said.
Zamarripa said Decker also provides medicine for sick students and glasses for kids who need them.
Last year Decker's mission deepened when he became close to the Vargas family and their cancer-stricken son, Oscar.
"Right after we buried Oscar, I was out in the colonias and I added to my repertoire of questions when I ask people what they need, 'Do you know of any sick children?' " Decker said.
Now with a network of volunteers and zero overhead, Decker's family, and his purpose, grow each day.
"I was lost when I came to the colonias but boy, I got found here," he said.
To learn how you can help Decker, visit his organization Paper Houses online.
Learn more about the People magazine series here.
Thanks for reading CBS NEWS.
Create your free account or log in
for more features.