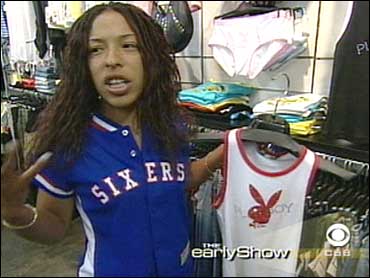 Teens Loving Playboy Bunnies?
It's safe to say that the people at Playboy don't shock easily. But even they were caught off guard by the popularity of their merchandise among teenage girls. Suddenly, they want to wear clothes made by the company that gave women's clothing a bad name.
They seem to be multiplying like, well, bunnies: shirts, jewelry, underwear and more all with the famous rabbit ears. The symbol of world's best-known girlie magazine is catching on with girls.
CBS News Correspondent Tracy Smith talked to some teens about their wardrobes and found out they all have clothing with the Playboy bunny on it. One has a belly ring, another a shirt and another underwear.
But this isn't exactly the market Playboy had in mind.
Christie Hefner, Playboy CEO says, "To tell you the truth, we were surprised to cross over to the teen market." That is: "Pleasantly surprised."
It should be no surprise that the trend grew out of the music industry: Playboy logos have been spotted on people like J.Lo and Jay-Z -- and that' s just the Js.
What do the parents think?
Stephanie Knezevich says, "My mom likes it. She really doesn't care."
Stephanie Blakovich says, "My dad hates it. He thinks I'm too young to wear it."
When you think of Playboy, what do you think of?
Sex!
But Playboy says that's not the idea.
When asked what the Playboy bunny says about the girl who's wearing it, Christie Hefner says, "I think it says she's self confident. I think it says that she is defining her own image and that she has the confidence to wear the rabbit head."
Of course, not every shopper feels the same way.
Asking some people on the street about what comes to mind when seeing a girl who wears it, 16-year-old Sierra says, "It just reminds me of someone who wants to take their clothes off. That's what the ad is for, that's what it's for."
A woman says, "I think no one under 21 should wear Playboy because at 18, you really don't know your sexual preference yet."
One thing parents will say is that Playboy is marketing to kids. So Smith asked Christie Hefner: Is Playboy marketing to kids?
"No. We've been asked to design for children, and we've passed, because we think the brand has a principal value as a brand for grownups," she answers.
And some grownups agree.
A man named Urion says, "I like the little ears on the pockets and whatnot."
Perhaps not surprisingly, the clothes are a hit with guys. Urion notes, "Hugh Hefner did a good job. Did Playboy send you in here? No."
But he doesn't have a teenage daughter.
And in case you were wondering, Playboy also designs clothing for men.
Thanks for reading CBS NEWS.
Create your free account or log in
for more features.