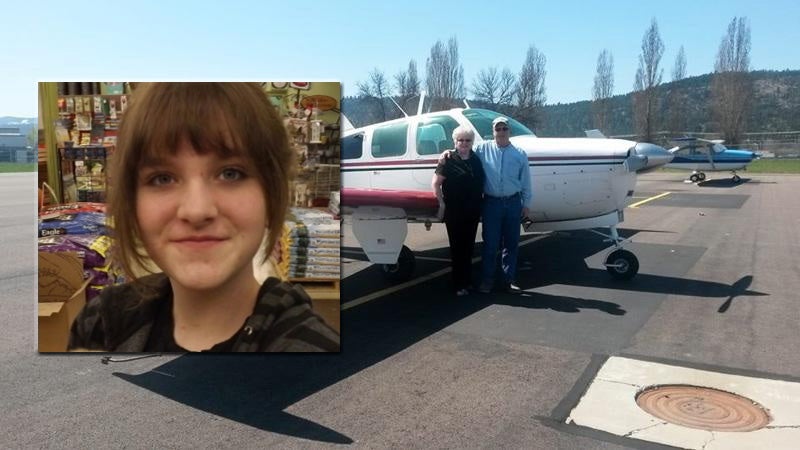 Washington teenager appears after weekend plane crash
SEATTLE -- A teenage girl in Washington walked out of the woods and waved down a driver saying she is the girl from the plane crash that happened over the weekend, CBS Seattle affiliate KIRO reports. The girl was identified as 16-year-old Autumn Veatch who went missing over the weekend in a plane with her step-grandparents.
The driver dropped the girl off at a store in Mazama, Washington and she was treated by an EMT who works there.
The girl had been "walking for a couple of days," Okanogan County Sheriff Frank Rogers said Monday afternoon to The Associated Press. She was being taken to a local hospital and she seemed to be in stable condition, he said. Rogers wouldn't comment on the status of the other two people aboard the plane.
Hospital officials said they were awaiting test results on Veatch and say she is suffering from dehydration and rhabdomyesis, a rare breakdown of muscle tissue, CBS News reported.
CBS Montana affiliate KPAX reports, while information is still preliminary, Veatch told the driver she had been in a plane crash and had suffered some burns.
"We're not going into the status of the grandparents. She was the only one who walked out," Rogers told The Associated Press. "She just said they came out of the clouds, and it crashed."
A plane took off from Kalispell, Montana on Saturday and dropped off the radar near Omak, Washington reports KIRO.
The Civil Air Patrol pilots are heading to the area near Omak in the Cascades to search for a missing plane. They were grounded most of Monday morning due to weather conditions.
"This is a particularly rugged area and right now the weather is not cooperating but we're hoping that it clears up," said Lt. Col. Jeffrey Lustick, Civil Air Patrol, to KIRO.
Lustick said on Saturday, a red and white Beech 35 plane was supposed to land in Lynden, Washington. It was flying in from Kalispell, Montana. But, the plane never arrived, and volunteer pilots started searching near Omak on Sunday, but didn't find anything.
"Since it is rugged with steeps hills lots of trees and canyons, there's kind of a logical flow of how you might fly from Kalispell to Lynden, so we're using that along with information from local pilots in the area on where this aircraft could be," said Lustick.
Veatch and her step-grandparents, Leland and Sharon Bowman, were on board that plane.
"I had a bad feeling about it when they told me what was going on," said David Veatch, the teenager's father.
David Veatch told KIRO he only found out his daughter was on the plane when he got a call that the plane was missing.
"I really don't like those smaller planes. I've been on them before. They're scary. They don't feel safe," he added to KIRO.
Lustick said the last cellphone pings from the three passengers were picked up on Saturday near Omak.
"We are not ruling out hope for these individuals and we are very hopeful that these individuals will be found and there's still plenty of time for that," said Lustick.
Thanks for reading CBS NEWS.
Create your free account or log in
for more features.