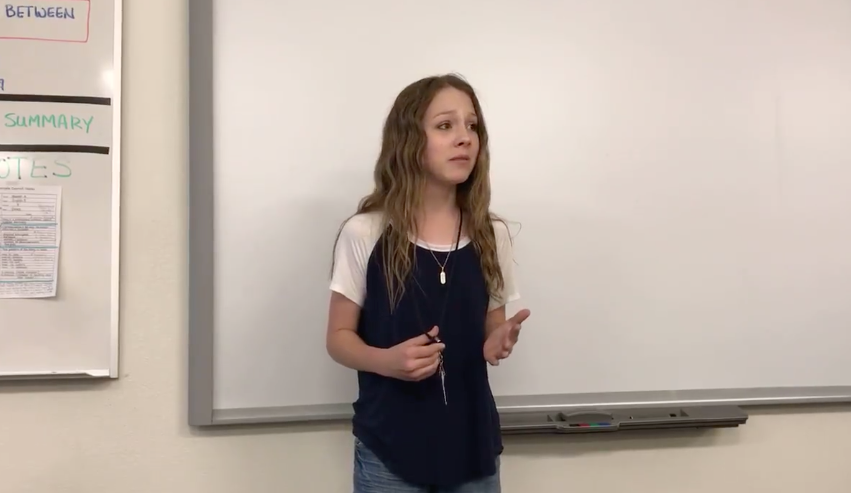 13-year-old girl's inspiring monologue on peer pressure goes viral
Arizona seventh-grader Olivia Vella choked up as she stood in front of her class last week, delivering a powerful six-minute monologue about the reality of being a teenage girl today.
The 13-year-old openly discussed the struggles young people face during those "awkward" middle school years. The peer pressure to look and act a certain way, the bullying, all the challenges of transitioning into adulthood.
"Pick out an outfit that will fit in with the latest trends and won't make you the laughing stock of the school. More than you already are," she said during her presentation, which was shared on Queen Creek Middle School's official Facebook page. "Put on some makeup so you can actually show your face in public so you can be a little bit pretty."
The presentation left her class speechless, and the internet in awe. The video of her presentation online has garnered more than 140,000 views as of Tuesday afternoon.
Vella said she decided to tackle the issue for her writing class' final assignment — which required students to select a topic they feel passionately about and compose their own slam poems pertaining to the topic — after getting bullied for getting good grades.
"She came to me one day and said, 'Mom, next year I just want to be dumb. Because I want to be like those other girls, I want them to like me.' And it broke my heart," said Olivia's mother, Molly Vella, told CBS Phoenix affiliate KPHO.
After talking over her feelings with her mother, Vella realized everyone is special in their own way. There is no such thing as "normal."
"Popular isn't always a good thing," Vella declared in her poem. "You tell yourself, I just want people to like me. I just want to be accepted. But skipping meals and marking up your wrist isn't going to fix that."
Not once did Vella stutter or lose her train of thought throughout the entire presentation.
And it made a big impression on viewers.
"That was so gut-wrenching and yet beautiful and inspiring at the same time. Extremely powerful words and how it was all memorized without a flaw or stammer or 'um.' I'm in awe!" one woman commented on the Facebook post. "I've always been impressed with this sweet girl. She and all these other middle school kids are definitely enough and so very great as they are."
"Wow! Some amazing youth are out there," another added. "Hopefully her peers are listening and really hear her message."
After reading hundreds of Facebook comments and hearing feedback from teachers and peers at school, Vella felt a sense of comfort and solidarity.
"People I don't even know would say, 'Hey, Olivia, I really liked your monologue and I feel the exact same way.' And it was really eye-opening because I, for most of the time, thought I was the only one that felt this way and I was crazy for feeling it," Olivia told KPHO.
While she knows it won't put an end to bullying or peer pressure, she hopes teens, specifically young girls, will take a moment to listen to her message.
As she put it: "Society is wrong. You are loved. You are precious. You are beautiful. You are talented. You are capable. You are deserving of respect. You can eat that meal. You are one in 7 billion. And most of all, you are good enough."
Thanks for reading CBS NEWS.
Create your free account or log in
for more features.