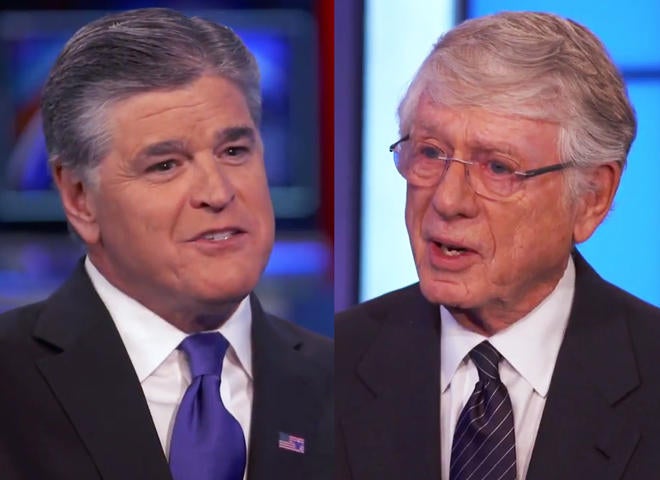 Hannity to Koppel: "Do you think I'm bad for America?"
NEW YORK -- In a report that aired on CBS' "Sunday Morning" about the polarization of politics and the media in the Age of Trump, "Sunday Morning" special contributor Ted Koppel charged Fox News host Sean Hannity with contributing to the increased antipathy toward opposing viewpoints that is prevalent in America.
Hannity made no qualms about presenting his own conservative agenda, but objected to Koppel characterizing his viewers as not being able to discriminate editorial content from news.
"We have to give some credit to the American people that they're somewhat intelligent and that they know the difference between an opinion show and a news show," Hannity said. "You're cynical."
"I am cynical," said Koppel.
"Do you think we're bad for America? You think I'm bad for America?"
"Yeah."
"You do? Really?"
"In the long haul I think you and all these opinion shows --"
"That's sad, Ted. That's sad."
"No, you know why? Because you're very good at what you do, and because you have attracted a significantly more influential --"
"You are selling the American people short."
"No, let me finish the sentence before you do that."
"I'm listening. With all due respect. Take the floor."
"You have attracted people who are determined that ideology is more important than facts."
In a series of tweets, Hannity later accused CBS of offering "Fake Edited News."
Thanks for reading CBS NEWS.
Create your free account or log in
for more features.