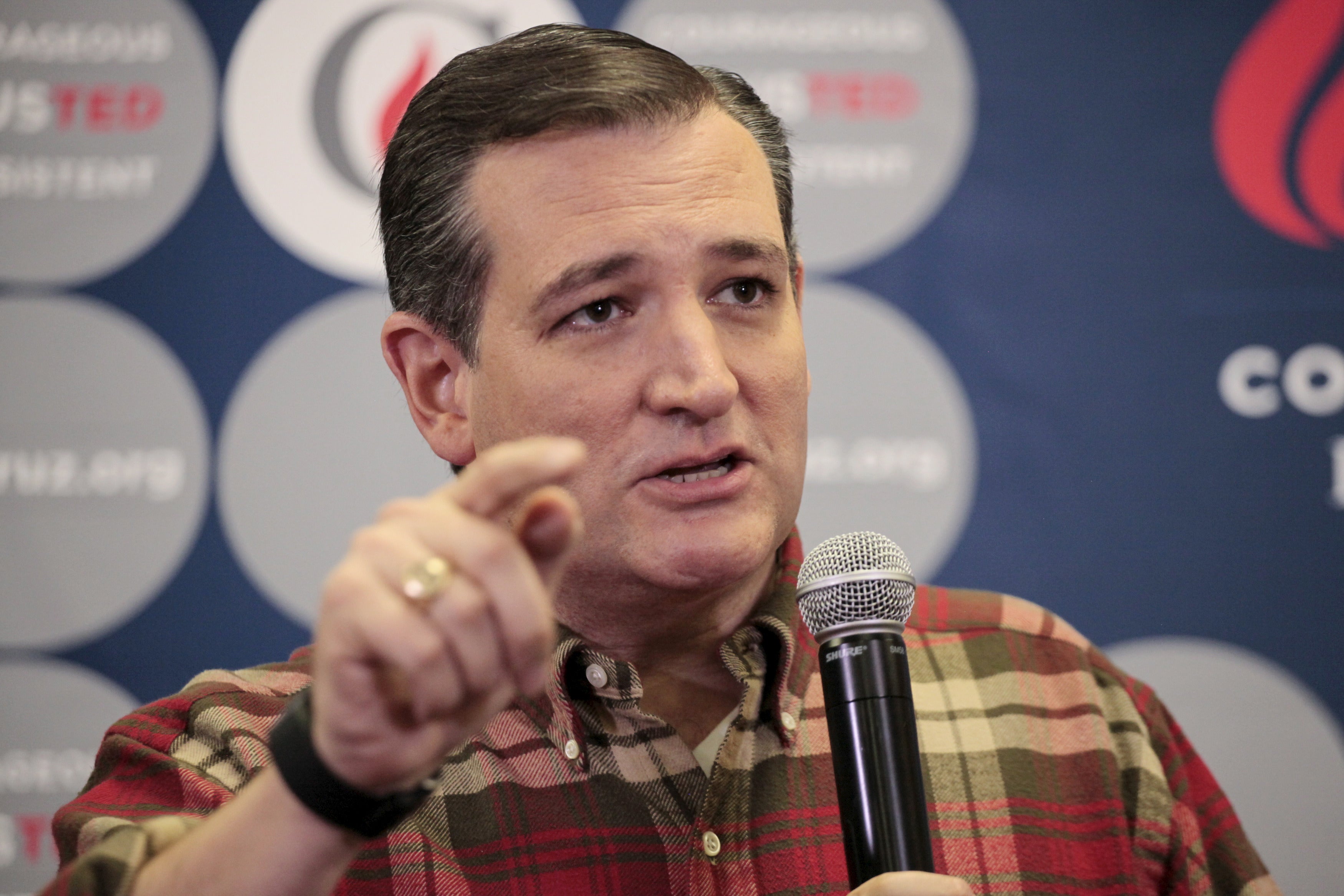 Ted Cruz draws links "gun-free zones" and mass shootings
Republican presidential candidate Ted Cruz blamed the Obama administration for failing to prevent the San Bernardino rampage at a campaign rally in Johnston, Iowa. "Why on earth did Obama Administration not know this ahead of time and stop them before they carried out thi terror attack?" Cruz asked incredulously on Friday, citing emerging details about the two attackers' travels to Saudi Arabia and communications with individuals on a terror watch list.
The firebrand Texas Senator also rejected criticism from Democrats and others for holding his campaign event at a gun store in the wake of the San Bernardino attack.
With paper targets and rifles on the wall behind him, Cruz told reporters before the rally began, "It is very concerning that the Obama administration has failed to adequately secure the residence where hundreds of bombs" were made where Syed Farook and his wife, Tashfeen Malik, planned their attack, referring to the media's remarkable Friday tour through the San Bernardino attackers' residence. He went on to say "it makes no sense whatsoever. The FBI should have secured that location and should be scouring it for evidence."
"Folks in the media ask at the behest of Democrats, isn't it insensitive for us to do a Second Amendment rally following this terror attack?" Cruz said with his voice rising as he used the media as a foil -- a favorite tactic -- and then declared, "Let me tell you something: I don't really view our job as being sensitive to Islamic terrorists!" to cheers from the audience.
Daily Show host Trevor Noah had lambasted Cruz on Thursday night over the rally.
"Fourteen people just lost their lives in a shooting, and Ted Cruz's first thought is, 'Oh, that reminds me, gotta send out my invites to my gun party. Yeah, that seems like something you'd only do if you were an asshole."
Wearing a flannel shirt and jeans instead of his trademark blazer, the Texan didn't shoot any guns at the packed rally held in the store conference room, but made up for it in a fiery embrace of Second Amendment gun rights.
"You know California has among strictest gun control laws in the country. Brady Center gives 5 states an A- for being the very toughest on taking the constitutional rights of citizens," Cruz said referring to the San Bernardino attack, "Yet what do Democrats say? These gun control laws, we need more of them."
"Has anyone in this room noticed shooting after shooting after shooting happens in so called gun-free zones?"
The Texas Senator linked the sites of mass shootings to so-called "gun-free zones," declaring to the crowd, "look if you're a lunatic ain't nothing better then having a bunch of targets you know that are going to be unarmed."
Cruz, who is surging in the polls, continues to campaign in Iowa on Saturday before heading to Greenville, South Carolina for events on Monday.
Thanks for reading CBS NEWS.
Create your free account or log in
for more features.