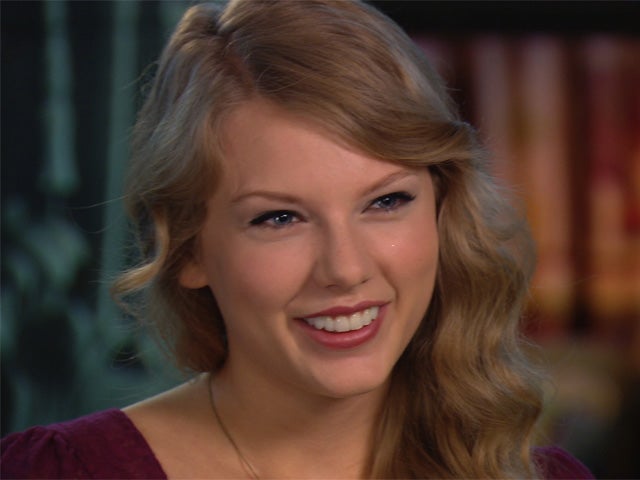 Taylor Swift: All grown up
Ever wonder where songwriters get their ideas? For Taylor Swift, the inspiration for her heartbreaking song "Never Grow Up" was moving into her own apartment from the security of her parents home, she tells Lesley Stahl on 60 Minutes Overtime.
"I walked into this apartment after I bought it and thought, 'Oh man, this is real now,' " Taylor tells Lesley Stahl. "We're all getting older, and soon my parents are going to be older, and then I have to think about grownup things."
In some ways, Taylor Swift started thinking grownup things relatively young: she had her first hit album when she was just 16. "This child has basically grown up before our eyes," Lesley tells Overtime.
Among the issues Taylor has had to learn to manage in a few short years: her fans. She is mobbed by admirers wherever she goes, but unlike many stars, she doesn't try to hide from them. Whether it's the fans she meets before her concert, or the fans lying in wait in the coffee shop near her home, Taylor is happy to stop, hug, and sign. "It's like 20 seconds of you day to get a picture with someone," she says. "You can, you know, stop for a minute."
"It's Taylor's tireless courting of her fans that may be key to her success," Lesley says in her 60 Minutes piece, "Taylor Swift,"produced by Shari Finkelstein. "Remarkably, she spends an hour before every show, meeting and greeting and charming."
To learn what else goes on backstage, check out our Overtime piece "Behind the scenes at a Taylor Swift concert." As you'll see, Taylor must be Swift during her concerts, with quick costume changes and mad backstage dashes. But she always finds time to write a special lyric on her arm before the concert.
To learn more about the inspiration behind Taylor's songs, check out "Taylor Swift: 7 ways boyfriends make you sad" on Overtime. As you'll learn, Taylor Swift says there are seven ways a boyfriend can make you feel sad - and all are emotions that she draws on in her songwriting.
Thanks for reading CBS NEWS.
Create your free account or log in
for more features.