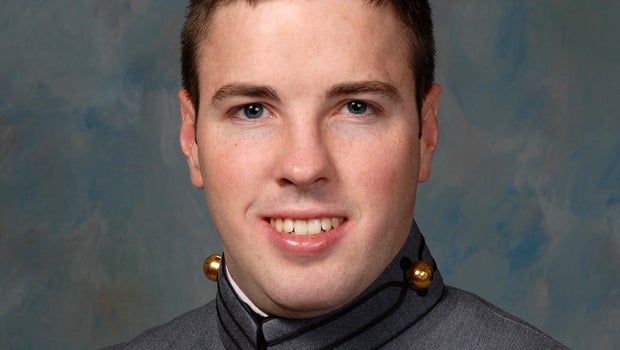 Father opens up about U.S. vet slain in Israel stabbing
NASHVILLE, Tenn. -- A Vanderbilt University graduate student stabbed to death in Israel during a school trip was exploring what to do with his life as a civilian after graduating from West Point and serving tours of duty in Iraq and Afghanistan.
Taylor Force's father said Wednesday the 28-year-old business student was an avid skier and guitar player who loved horses and ranch life after a childhood in Texas.
Force died Tuesday during a school-sponsored trip to learn about startup companies overseas. In a letter notifying students, faculty and staff, Vanderbilt Chancellor Nicholas Zeppos called the stabbing a "horrific act of violence" but provided no details.
Stuart Force, Taylor Force's father, said in a telephone interview his son graduated from the U.S. Military Academy at West Point in 2009, following in the footsteps of his grandfather.
Force served in the Army from 2009 to 2014 and then took about a year off after active duty. He lived in Lexington, Kentucky, before moving to Nashville to attend Vanderbilt.
Force was finishing his first year of business school and wasn't yet sure what he was going to do when he graduated.
"He just wanted to further his education and explore more of the civilian side of life," Stuart Force said.
Taylor Force had been making friends and having a great time at school, and he was very excited about the trip to Israel, his father said.
Stuart Force said it would be an understatement to say he was immensely proud of his son.
"He really fit it all in," Stuart Force said. "He lived really large."
Asked about a favorite memory, Stuart Force asked for a moment to compose himself before describing a recent family trip: "We were all on vacation after New Year's, and I got to spend it with my son and daughter. I went skiing on my 65th birthday with my son."
In the Army, Force had been based at Fort Hood, Texas, as a platoon leader and fire support officer, among other duties. Force graduated high school at the New Mexico Military Institute in 2005 and was an Eagle Scout.
At West Point, Force was a member of the ski team and received a bachelor's degree in engineering and industrial management. The military said Force achieved the rank of captain and served in Iraq from September 2010 to August 2011, and in Afghanistan from October 2012 to July 2013.
Along with Force, a dozen Israelis, civilians and police officers, were wounded in knife and gun attacks that authorities in Tel Aviv said were carried out by Palestinians.
In addition to the attacker who killed Force, three other Palestinian assailants were shot and killed in the day's rash of violence, the latest in a wave of near-daily Palestinian assaults on Israeli civilians and security forces that erupted in mid-September.
Zeppos said in his letter that the other 28 students and four Vanderbilt staffers on the trip were safe. The university is arranging for their return to the United States.
"This horrific act of violence has robbed our Vanderbilt family of a young hopeful life and all of the bright promise that he held for bettering our greater world," Zeppos wrote.
Thanks for reading CBS NEWS.
Create your free account or log in
for more features.