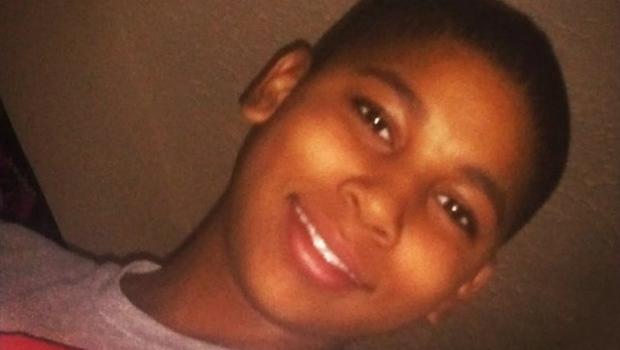 Tamir Rice grand jury declines to charge officers
CLEVELAND - A grand jury declined to indict a white rookie police officer in the killing of 12-year-old Tamir Rice, a black youngster who was shot to death while carrying what turned out to be a pellet gun, a prosecutor said Monday.
Cuyahoga County Prosecutor Tim McGinty said it was "indisputable" that the boy was drawing the weapon from his waistband when he was gunned down -- either to hand it over to police or to show them that it wasn't a real firearm. But McGinty said there was no way for the officers on the scene to know that.
He called it "a perfect storm of human error" but said no crime was committed.
Rice's family released a statement through their attorney saying they were saddened but not surprised by the grand jury's decision. Their statement called into question McGinty's hiring of an "expert" who only supported the officer's assertions, as well as allowing the offices to read prepared statements the grand jury without cross examination.
"It has been clear for months now that Cuyahoga County Prosecutor Timothy McGinty was abusing and manipulating the grand jury process to orchestrate a vote against indictment," the Rice family statement reads.
McGinty said during Monday's press conference announcing the grand jury decision that the mother of 12-year-old Rice was "broken up" when she learned that two officers wouldn't be charged for their roles in his shooting death.
McGinty says "it was a tough conversation" with Tamir's mother. Tamir's family had pushed for charges against the officers. Tamir's family has filed a federal civil rights lawsuit against the two officers and the city.
Tamir's family condemned the decision but echoed the prosecutor in urging those who are disappointed to express themselves "peacefully and democratically." Barricades were set up outside the county courthouse in Cleveland in case of protests, and about two dozen people gathered in the cold rain at the recreation center where Tamir was shot, some holding signs with photos of the boy and others killed by police in the U.S.
Protesters peacefully walked the streets of downtown Cleveland Monday evening and late Monday night, reports CBS Cleveland affiliate WOIO-TV.
CBS New York reports that protesters rallied in Washington Square Park and marched across the Brooklyn Bridge on Monday night.
Protesters reported on Twitter that they rallied with signs and held a moment of silence for Tamir in Washington Square Park.
In explaining the decision not to bring charges, McGinty said police radio personnel contributed to the tragedy by failing to pass along the "all-important fact" that the 911 caller said the gunman was probably a juvenile and the gun probably wasn't real.
Assistant Prosecutor Matthew Meyer said it was "extremely difficult" to tell the difference between the fake gun and a real one, since the orange tip had been removed. And he said Tamir was big for his age - 5-foot-7 and 175 pounds, with a men's XL jacket and size-36 pants - and could have easily passed for someone much older.
Before police arrived, the youngster was seen repeatedly drawing the gun from his waistband and pointing it at other children, Meyer said.
"There have been lessons learned already. It should never happen again, and the city has taken steps so it doesn't," McGinty said.
Among other things, the Cleveland police department is putting dashboard cameras in every car and equipping officers with bodycams.
Also, the Cleveland police department reached a settlement with the U.S. Justice Department earlier this year to overhaul its use of force. The settlement was prompted in large part by a car chase that ended with the killing of a couple in a 137-shot barrage of police gunfire.
The Department of Justices released a statement late Monday saying they will continue with an independent review of the Rice shooting that is underway would "continue our independent review of this matter, assess all available materials and determine what actions are appropriate, given the strict burdens and requirements imposed by applicable federal civil rights laws."
Tamir was gunned down by patrolman Timothy Loehmann within two seconds of a police cruiser skidding to a stop near the boy outside a city recreation center in November 2014. Loehmann and his training partner, Frank Garmback had responded to a 911 call about a man waving a gun.
Tamir was carrying a borrowed airsoft gun that looked like a real gun but shot nonlethal plastic pellets. It was missing its telltale orange tip.
A video of the shooting captured by a surveillance camera provoked outrage nationally, and together with other killings of black people by police in places such as Ferguson, Missouri, and New York City, it helped fuel the Black Lives Matter movement.
Meyer said Monday that Tamir was seen in surveillance footage repeatedly drawing the gun from his waistband and putting it back there the morning before officers arrived. He was also seen pointing the gun at other children.
A 911 caller said "the guy" with a gun was probably a juvenile and the gun was probably fake. Meyer said a dispatcher didn't relay that to the officers.
The rookie officer who fired at Rice, Loehmann, told investigators he repeatedly ordered the boy to "show me your hands" then saw him pulling a weapon from his waistband before opening fire.
Previous reports concluded that Loehmann shot Rice within two seconds of opening his car door. The new analysis determined it happened even faster, within less than a second, according to a recent review by California-based shooting reconstruction expert Jesse Wobrock.
With the patrol car windows rolled up, Rice could not have heard commands to show his hands, Wobrock added.
"The scientific analysis and timing involved do not support any claim that there was a meaningful exchange between Officer Loehmann and Tamir Rice, before he was shot," Wobrock said.
Wobrock said comparing the location of a bullet hole in Rice's jacket with the location of the wound on his body indicated that the boy had lifted his arm - with his hand in his pocket - at the moment he was shot.
Two other experts who previously reviewed the shooting for Rice's family looked at the new frame-by-frame analysis -- released by the county prosecutor -- and also concluded Rice wasn't reaching into his waistband when he was shot.
McGinty has come under fire for remarks claiming that the Rice family has "economic motives" in their continued calls for justice. The boy's mother has a federal lawsuit pending against the two officers and the city of Cleveland.
In June, a municipal court judge ruled there is enough evidence to charge Loehmann with murder and other charges in Rice's death and to charge Garmback with reckless homicide or dereliction of duty.
After the boy's killing, it was learned that Loehmann had washed out from the police force in the Cleveland suburb of Independence. Loehmann had "dismal" handgun performance, broke down in tears at the gun range and was emotionally immature, according to files. He quit the force before he could be fired. Two Cleveland police officers have been disciplined for failing to check Loehmann's personnel file before he was hired in Cleveland last year.
Thanks for reading CBS NEWS.
Create your free account or log in
for more features.