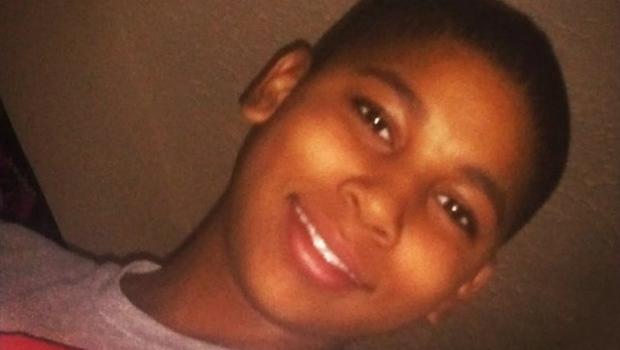 ​Cop says he told Tamir Rice to show hands before fatal shots
CLEVELAND -- A white Cleveland patrolman who shot a 12-year-old black boy carrying a pellet gun told investigators that he and his partner continuously yelled "show me your hands" before he fired the fatal shots, according to the officer's statement released by prosecutors Tuesday.
The rookie officer said that Tamir Rice didn't obey his commands and that he saw the boy pulling a weapon out of his waist band.
"I knew it was a gun and I knew it was coming out," officer Timothy Loehmann said in the statement given to investigators.
It turned out Tamir was carrying a nonlethal, Airsoft-type gun that shoots plastic pellets when Loehmann shot him twice outside a recreation center on Nov. 22, 2014. He died a day later.
A grand jury will decide if Loehmann or his field training officer should be charged criminally for Tamir's death.
Prosecutors in recent weeks released a frame-by-frame analysis of the surveillance camera footage from the shooting, along with expert reports that called the shooting justified.
Attorneys for the Rice family have asked Cuyahoga County Prosecutor Tim McGinty to step aside and allow a special prosecutor to take over the case. They called the prosecutor's presentation to the grand jury "biased" and "improper" after releasing the reports that found no fault with the officers' actions.
They said Tuesday that allowing both officers to make unsworn statements that won't be subject to cross examination "further taints these proceedings."
The statements from Loehmann and patrolman Frank Garmback describe in detail action that the surveillance video shows took about two seconds.
They were responding after a 911 caller reported that a man was waving a gun and pointing it at people. The caller told the dispatcher that the gun might not be real. The call also said the man might be a juvenile, but that information wasn't passed on to the officers.
Loehmann said he and his partner thought Tamir was going to run as they drove up to him, but Tamir turned toward the cruiser.
"The suspect lifted his shirt, reached down into his waistband. We continued to yell 'show me your hands,'" Loehmann said in the statement. "I was focused on the suspect. Even when he was reaching into his waistband, I didn't fire. I still was yelling the command 'show me your hands.'"
The rookie officer said he was getting out of the cruiser when he saw a weapon in the boy's hand coming out his waistband. "The threat to my partner and myself was real and active," Loehmann said.
He said he fired two shots and heard his partner still yelling "show me your hands" after Tamir fell to the ground.
Garmback, who was driving the cruiser, said in his statement that he wanted to keep the boy away from the recreation center and that the patrol car slid when he hit the brakes. The car didn't stop where he intended, Garmback said.
He said he saw the gun Tamir was carrying when Loehmann opened his door. "I thought the gun was real," Garmback said.
A source close to the investigation told CBS News the officers' claims that they yelled "show me your hands" have not been corroborated by witnesses.
Subodh Chandra, an attorney for Tamir's family, said Tuesday that the officers' statements were contradictory and did not make sense.
"Loehmann, for example, insists that he observed things and took action that would have been physically impossible for any human being to do in the under two seconds it took him to shoot a 12-year-old child," he said in a statement, according to CBS affiliate WOIO.
Chandra also noted that Loehmann said he issued at least three commands to "show me your hands," but that Garmback said he thought the cruiser's windows were rolled up as they drove toward Tamir.
"Neither officer explains why they left a 12-year-old boy bleeding and dying on the ground after shooting him," Chandra said.
The source told CBS News the officers never met with the County Sheriff's office in the initial phase of the investigation. The County Prosecutor's office has also never spoken directly to the officers; they have only spoken to them through their attorneys, accoding to the source.
Thanks for reading CBS NEWS.
Create your free account or log in
for more features.