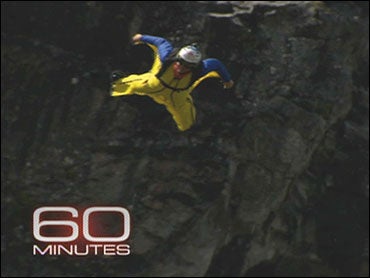 Taking Flight With The Birdmen
This story was first published Oct. 11, 2009. It was updated Dec. 16, 2009.
For hundreds of years, fully grown adults and very young children have dreamed about flying. People have made wings out of feathers and wood and jumped off buildings and cliffs in order to soar like a bird. And a lot of them have died trying.
Now, a small group of extreme sportsmen wearing specially made "wingsuits" have come about as close to flying as you can get outside the confines of an airplane, at least for a minute or two.
Some people call them "birdmen," and we first learned about them on the Internet.
The pictures we saw were so spectacular, 60 Minutes and correspondent Steve Kroft decided to assemble some of the sport's top athletes, and mount a small expedition with the latest high definition cameras to one of the most beautiful places on Earth to see what this is all about.
Photos: The Birdmen
Web Extra: "There He Goes"
Web Extra: "I'm Flying"
Going head first, one of the birdmen jumped off a cliff, soaring along the mountain's surface, and controlling his movements with the help of his wingsuit. When he whizzed by Kroft and the other jumpers - who were observing from halfway up the mountain - the sounds is not unlike that of a small jet airplane.
Kroft joined JT Holmes, an American professional skier from Lake Tahoe; Julian Boulle, a South African living in France and a skydiver and aerial photographer par excellence; and Tom Erik Heiman, one of our Norwegian hosts.
"I just love just feeling speed and watching that stuff go by," Holmes told Kroft.
During these fly-bys, Holmes said one can reach speeds of 140 to 150 miles an hour.
If you want to do this, there is no better time or place than the Romsdal valley of Norway during the summer solstice, a paradise of fjords and farms several hundred miles northwest of Oslo. Myth has it that Norway's trolls live there amidst the waterfalls and some of the tallest, sheerest cliffs in Europe.
Norwegians have been parachuting off of them for decades. Birdmen take the extreme sport to new extremes, dropping off a cliff and free falling until the air inflates the wings of their nylon suits and propels them forward.
"The dive creates the speed," Holmes explained. "And you use that speed to glide out, and, you know, fly flatter."
Gravity makes it impossible for them to go up, or even maintain altitude. For every two feet Holmes glides forward, he drops a foot. But the suit allows him to stay aloft three times longer than a skydiver.
"Within a few seconds of course, that suit, that wind is going to fill up that suit, it's going to pressurize and you're gonna have total control," Holmes said.
He told Kroft he's been flying with wingsuits for five years.
Asked what's special about the suit, Holmes said, "Mmm, you know, it's just like so many children dream. It's flying."
"You feel like you're flying?" Kroft asked.
"Well, I am flying," Holmes said, laughing. "So, yes, I do, very much, feel like I'm flying."
"Like a bird?" Kroft asked.
"Yeah. Just like a bird. A bird that can't flap his wings and go up," Holmes replied. "The birds probably laugh at us. They're probably just like, 'Look at these guys.'"
They have long grown bored of simply flying over the valleys. In order to maximize the sensation of speed, they need a visual reference point. So they fly just a few feet from the rock face.
"Sometimes you're flying so close to these cliffs, it looks like you could reach out and touch them and you are going 100 miles an hour, 140 miles an hour," Kroft noted. "There's not much margin for error there."
"It feels entirely in control. And the speed actually increases your stability and it increases your safety margin. Because with the speed that we're flying with, you can create lift. And you know you can pop up and fly away at any time. There's margin there," Holmes explained.
Asked how quickly he can turn, Holmes said, "I don't even know how to turn. You just do it. You just look where you wanna go and you just go there. And you just feel it and go."
"You're like, 'Yeah, let's go fast. This feels good. The faster I go, the more control I have.' And you just charge with it," he added.
To the extent that Holmes and the others ever get nervous, it usually comes at a time that many people might consider one of the most mundane legs of the trip, when the end is in sight.
Asked what the most dangerous part of the jump is, Holmes said, "The most important thing is to open that parachute, you know. Just that moment, when you reach back. And throw the pilot chute out there, which extracts your parachute. That's the most critical thing. I mean, if you don't do that, you're not gonna live through it."
But getting down the mountain, which only takes a minute or so, is just part of the extreme sport. The much longer and arduous part involves scaling the mountains you are going to jump off.
"How long does it take to get up to the ledge where you go from?" Kroft asked.
"This one's about an hour and a half. But, you know, some of 'em are up to four, five, six hours for the big, big mountains around here," Holmes explained.
There are no chairlifts, which explains why Holmes, Julian Boulle, and Tom Erik Heiman are members of such a small and exclusive club. You have to be a skilled climber, an accomplished skydiver and an experienced outdoorsman to even attempt to do this.
"You know, it's that first view, looking over the edge that really hits you. You're like, 'Whoa, cool. This is an amazing spot to fly,'" Holmes said.
"Money can't buy you this experience," Boulle explained. "You've got to have the passion to do your time. If you haven't done the time, you just can't get there. You can't arrive with like $10,000 and buy a wingsuit experience."
"What do you have to know? What kind of skills do you have to have to be able to do what you do?" Kroft asked.
"You need to just have some mountain sense. You know, 'How long am I gonna be? What if something goes wrong? How long is it gonna be until I can get back if the weather comes in?' You need to know yourself. 'How much water do I need to have? Can I realistically walk up this mountain for two hours? Or is that not within my physical capabilities?'" Holmes said.
It looks spontaneous, but the birdmen put together a detailed plan every time they jump.
And they almost always have help from the locals who serve as spotters, keeping them posted of weather conditions and potential problems on the ground. A birdman died there just last spring.
Asked if he ever gets spooked high up on the mountain, Holmes told Kroft, "I have, yeah. On a couple of occasions, I've had no real good reason for not jumping, but I just walk back down."
"We're trying to get people to understand that we're not crazy," Boulle said. "We just want to have fun like everybody else. And we want to share nature like everyone else. We just have our own special way of doing it."
"If you die BASE jumping it is your own fault. It is your own mistakes that makes that happen," fellow birdman Espen Fadnes explained.
"Do you think about it, I mean when you're up there on top of the mountain, you're getting ready to go. And you all shake hands and say . . . . Do you think about the possibility?" Kroft asked.
"Yeah, but we don't think like, 'I may not see you again,'" Holmes said.
"That never enters your mind? Come on," Kroft said.
"If you do crash when you're flying your wingsuit, you're gonna die. Nobody lives through that. You're just going too fast," Holmes said.
Holmes was just 15 when his dad took him helicopter skiing. Today he's one of the best in the world at it, making a living endorsing products and making movies for top-of-the-line production companies like MSP Films.
"You're a professional skier," Kroft noted. "I mean, in your day job, you could, there are any number of ways you could kill yourself in your day job. And for fun, you take on something that's maybe even more dangerous?"
"Yeah, I do dangerous things," Holmes said.
He and his best friend Shane McConkey were the first to ski off mountains wearing their wingsuits, then jettison their skis so they could fly down the mountain.
But McConkey died several months earlier. Holmes was there when the accident happened.
McConkey crashed in Italy because he was unable to release his ski bindings quickly enough so he could begin flying.
Asked how it affected him, Holmes said, "It saddened me deeply. You know, I miss my friend."
The accident got him thinking about quitting, but he didn't. "I didn't quit. At least I haven't quit yet," he said.
Near the end of our stay, we chartered a helicopter for the biggest adventure of our visit.
We were going to the top of one of the most famous mountains in Norway, Romsdalshorn. When Holmes and the others climb up, they don't even use ropes. The chopper saved us time and energy.
It was a dizzying flight, not for the faint-hearted. From the air, our landing pad looked tiny but solid, a flat piece of rock. But when we touched down, it turned out to be an unstable patchwork of stone.
"These guys said that this was like the size of two football fields. This is like the size of an NBA basketball court," Kroft observed.
"For a summit, it's huge," Boulle pointed out. "You could throw a party up here for New Year's Eve!"
"I'm busy New Year's Eve," Kroft joked.
It was early summer, but we were a mile above the valley floor and the temperature was just above freezing.
"It's kinda half the battle just getting in these things, though, you know? You kinda feel like you're climbing into the tight cockpit," Holmes said.
They had a pre-flight checklist: making sure their zippers were closed, parachutes well-packed, and there were no rips in their wingsuits. It was time to go to what they call the exit point.
Asked if he was having fun, Heiman said, "Yes, I am enjoying myself."
"I wish I could say the same thing," Kroft said. "I am not crazy about heights."
By his count, Holmes has jumped off mountains like this 125 times. But there is a bit of the first time every time he does it. "I feel, you know, kinda butterflies in my stomach and you just feel like a flow of adrenaline," he explained.
Tom Erik Heiman and his Norwegian friend Espen Fadnes were the first to take the plunge.
Holmes was pumped and fired up after their jump, ready to go.
We decided not to follow Holmes down the last few steps to the ledge where he was going to jump. And we were glad we didn't - a misstep could mean a 5,000 foot drop.
He then collected himself and took a couple of deep breaths.
"Do you ever have trouble pulling the trigger?" Kroft asked.
"No. No, I don't. But, you know, you do sometimes have trouble finding that calm moment. You know? And you're just like, 'Okay, this is about as calm as I'm going to be this time,'" Holmes replied.
"You know you step off and it's like you're an astronaut, you're just weightless. And then you start to fall and you get the wind. That's when you're gaining speed. I really enjoy that part," Holmes said. "You know, air's air, gravity's gravity. You're carving through just beautiful stuff there."
For some of these pictures in our report, Julian Boulle was our cameraman. And at one point he and Holmes were flying so close together, in such perfect formation, there was time for a birdman high-five, half a mile up at 140 miles an hour.
It was an exhilarating moment, but it wasn't the last. Over the next few days, they kept on jumping, saving the best for last.
"And you're just flying along the wall on your right, and at that point, I don't really know what's going on. Is Julian there or not? I assume he is because he's so good. And on this jump I can see our shadows, and I am like 'Oh my God, sick, he's right there. He's right there!'" Holmes said.
"Every jump is like a little mini-adventure," he added. "These are experiences that I only want to share with people that I love and respect."
"Do you think anybody else had as much fun as us today, in the entire world?" Boulle asked.
"I don't think so, I really don't think so," Holmes said.
Boulle's reply? "I don't think it's possible."
Produced by Tom Anderson
Thanks for reading CBS NEWS.
Create your free account or log in
for more features.