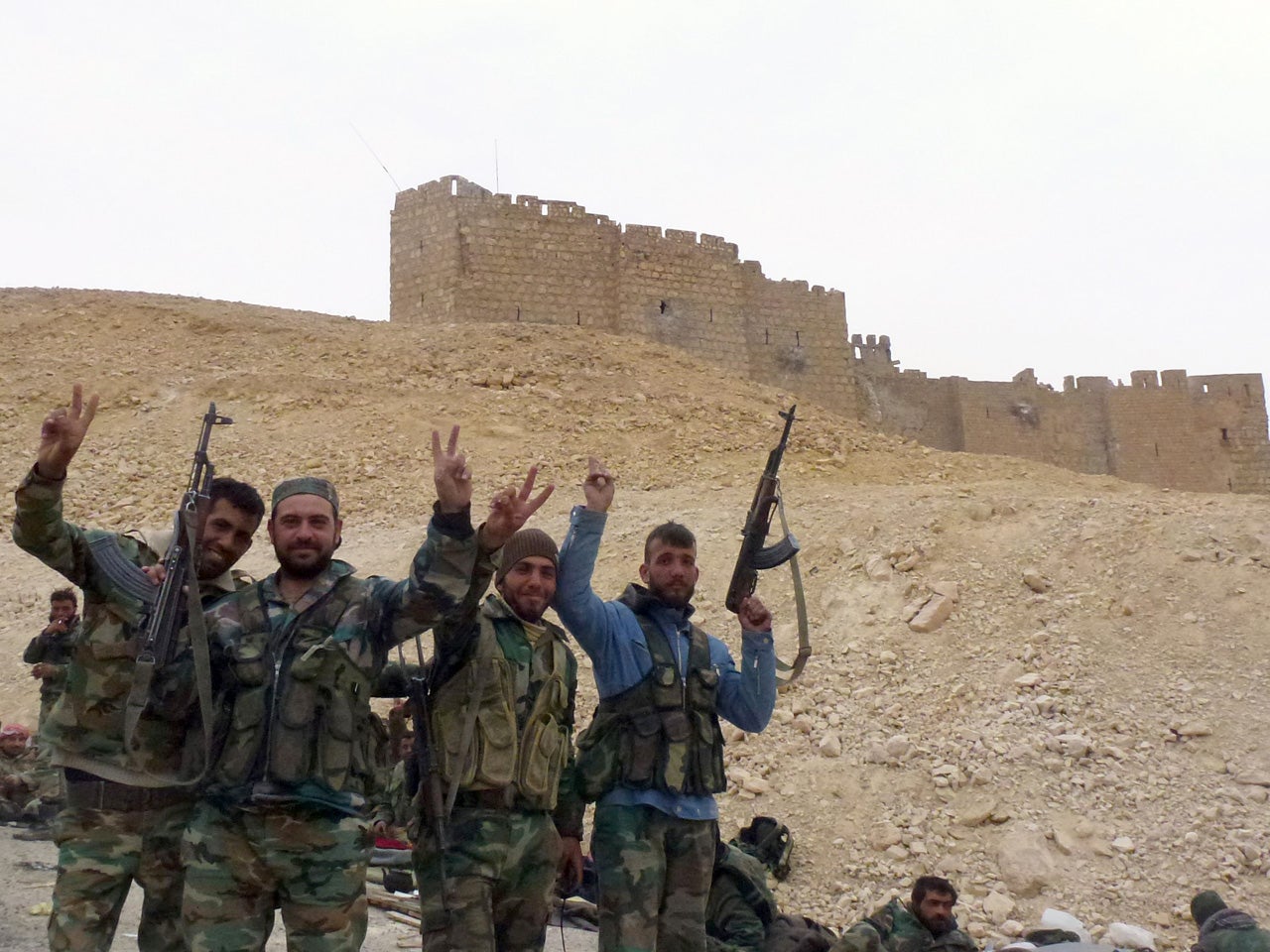 Syria's Assad tries to polish image with Palmyra's recapture
BEIRUT --The recapture of Palmyra in central Syria from Islamic State of Iraq and Syria militants puts government forces at the heart of the fight against the jihadist group - and not just geographically speaking.
For President Bashar Assad, recapturing the historic town represents a strategic political coup through which he hopes to convince the West that the Syrian army is a credible partner in combating terrorism as it ramps up the fight against Islamic State.
It is an awkward argument that the U.S. has repeatedly rebuffed. Officials in Washington are quick to point out that it was Assad's brutal crackdown on his own people that created the kind of vacuum that allowed extremists like ISIS to flourish in the first place.
An alliance between the U.S.-led coalition fighting ISIS - similar to the assistance and training provided to the Iraqi military on the other front in the war - seems out of the question.
But with the international focus now on fighting ISIS - and a partial cease-fire in place to facilitate that - there appears to be tacit U.S. approval for at least this part of Assad's offensive in Syria to continue. If that is seen to develop, it could help the authoritarian ruler survive a ruinous 5-year-old conflict that has seen half the country's population displaced.
The desert town of Palmyra, with its 2,000-year-old ruins, is an archaeological gem and a cherished landmark known endearingly to Syrians as the "Bride of the Desert." It is also a strategic crossroads linking the Syrian capital, Damascus, with the country's east and the border with Iraq.
"It's a fantastic public relations coup," said Thomas Pierret, a lecturer at the University of Edinburgh, describing Palmyra's recapture. The Syrian government recognizes the Western "obsession" with the town's ancient ruins, and "they're exploiting it and it works very well," he said.
Government forces recaptured Palmyra on Sunday, scoring an important victory over ISIS fighters who had overseen a 10-month reign of terror in the town. It dealt the extremist group its first major defeat at the hands of government forces in years.
During their stay, the extremists destroyed some of Palmyra's best-known monuments, including two large temples dating back more than 1,800 years and a Roman triumphal arch. The militants also used the ancient Roman amphitheater for public killings, including a video they released showing 25 boys with pistols shooting captured Syrian soldiers, with the colonnades in the background.
The government troops, joined by Iranian-backed militiamen, were supported by massive Russian airpower throughout their three-week offensive. When they swept victoriously into Palmyra, they emphasized the care taken by the army not to harm the archaeological sites.
Syrian officials said Palmyra would become a launching pad for operations against ISIS strongholds in Raqqa to the north and Deir el-Zour farther east - efforts that are expected to be much more difficult. On Tuesday, Syrian troops battled ISIS militants around the nearby town of Qaryatain, trying to extend their gains.
Assad said the victory was "new evidence of the effectiveness of the strategy followed by the Syrian army and its allies in the war against terrorism." Syria's U.N. ambassador, Bashar Ja'afari, offered in an interview with the Lebanon-based Al-Mayadeen to work with the U.S., and said it was time for powers including Washington to join Moscow in working with Damascus.
Unlike in Iraq, the U.S. has long suffered from the lack of reliable or credible partner in Syria. Apart from the Kurds, the Obama administration's attempts to train and partner with Syrian rebels have all ended in failure.
U.S. officials recall that Assad has largely ignored ISIS gains in Syria in recent years, focusing instead on moderate Syrian rebels he deems a bigger threat. Critics point out that Assad's forces all but handed Palmyra over to the militants in May, as officers hurriedly fled the town in the face of IS advances.
"While there can be no doubting that ISIS' loss of Palmyra represents a substantial strategic blow to their operations in Syria, this is the Assad regime's first major victory against the group-after its presence on its territory for three years," wrote Charles Lister, a resident fellow with the Middle East Institute, in an article published by the think tank.
Still, the recapture won Assad rare praise from international officials, including the UNESCO chief who welcomed the "liberation" of Palmyra and U.N. Secretary-General Ban Ki-moon, who said he was "encouraged" that Syrian government forces were now in control.
In the last year, the United States has softened demands for Assad's to quickly leave power. But the U.S. doesn't believe that Syria's civil war can truly end with Assad still running the country and has been pushing Russia and Iran to support a transition process with a timeline for Assad's departure.
Assad's latest Russian-backed offensive hasn't changed that thinking.
On Monday, State Department spokesman John Kirby described the reconquering of Palmyra as a "good thing." He quickly balanced that assessment by adding that "the best hope for the Syrian people is not an expansion of Bashar Assad's ability to tyrannize the Syrian people. We all know that over the long term, the Syrian army under his command cannot bring peace to Syria."
Kirby declined to congratulate Assad's government for the military success, and said he didn't think it would prove able to retake other parts of Syria. Assad "is responsible for the civil war that has, in fact, helped grow a group like Daesh," he said, using an Arabic acronym for ISIS.
U.S. cooperation with the Syrian army is unrealistic in the current context of the Syrian civil war. But Syrian observers say there appears to be a U.S.-Russian understanding that the combined forces of Syrian troops backed by Russia and Syria's Kurds backed by the U.S. is emerging as the best and most realistic fighting force against ISIS in the next weeks and months.
The victory in Palmyra also puts Assad in a more comfortable position ahead of negotiations that are scheduled to resume in Geneva in mid-April, making it less likely he will accept to engage in meaningful talks on a political transition.
"Now that Assad is this hero, savior of the heritage of humanity, how could you impose upon him a transition that sidelines him eventually?" Pierret said sarcastically.
Lister said having recaptured Palmyra in a widely reported military operation conducted with Russian support, "there is now no reason at all for Bashar Assad to even get close to considering a political transition."
Thanks for reading CBS NEWS.
Create your free account or log in
for more features.