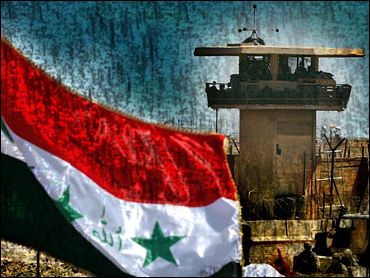 Suspected Civilian Abuser Fired
A civilian interpreter named as a suspect in the abuse of Abu Ghraib prisoners has been fired, but his wife said he has not left Iraq.
Adel L. Nakhla worked for Titan Corp. as an Arabic translator at the facility near Baghdad. He told Army investigators he was present during some of the abuses, including the now-infamous human pyramid of naked, hooded detainees.
An Army report by Maj. Gen. Antonio Taguba names Nakhla as a suspect in the Army Criminal Investigation Division's criminal investigation of the abuses at the prison.
It is unclear whether Nakhla, 49, could face criminal charges. He has hired a lawyer.
The Pentagon referred the case of a civilian worker at Abu Ghraib to the Justice Department for possible prosecution on Thursday. Officials refused to say who is involved.
Nadine Nakhla answered the door to her Washington suburb home on Friday night and said her husband was still in Iraq. She referred other questions to Francis Hoang, the Washington lawyer who is representing her husband.
Hoang, who did not return telephone messages left at his office late Friday, graduated from West Point in 1995, served as an officer with an Army military police battalion and was a top prison official at Fort Leavenworth, Kansas, according to his biography on the firm's Web site.
Wil Williams, a Titan spokesman, confirmed that Nakhla had been fired but would not give more details. Williams said military authorities had not notified the company of any possible criminal charges.
The company is not pressing the military for details, Williams said. "We're not interjecting ourselves into the investigation that the military is doing," Williams told The Associated Press.
Nakhla could be a key figure tying military intelligence to the abuses at Abu Ghraib. Top Army officials insist that the abuses by military police at the prison were not authorized. The seven soldiers charged in the abuses say military and civilian intelligence officials encouraged the mistreatment.
The New York Times said Saturday that the use of dogs to intimidate prisoners during interrogation at Abu Ghraib "was approved by military intelligence officers at the prison, and was one of several aggressive tactics they adopted even without approval from senior military commanders, according to interviews gathered by Army investigators."
The role of intelligence officers in the abuse scandal "is still under investigation," the Times points out, "and the newly disclosed documents provide further details of their involvement in abuses that so far have resulted in formal charges against the prison guards, but not the interrogators."
Nakhla worked for the Army's 205th Military Intelligence Brigade, which was in charge of interrogating prisoners at Abu Ghraib who were believed to have been involved in anti-American attacks.
He told Army investigators that military intelligence was involved in the abuse he witnessed, according to Taguba's report.
"A bunch of people from MI, the MP were there that night," Nakhla said of one abuse session, according to the Taguba report.
"They made them do strange exercises by sliding on their stomach, jump up and down, throw water on them and made some wet," Nakhla said of the naked prisoners.
He said soldiers "called them all kinds of names such as 'gays,' do they like to make love to guys, then they handcuffed their hands together and their legs with shackles and started to stack them on top of each other."
Separately, a military official said Saturday that the Army has rejected an attorney's request to move out of Iraq the court-martial of a soldier accused of abusing inmates at Abu Ghraib.
Gary Myers, an attorney for Staff Sgt. Ivan "Chip" Frederick II, said moving the trial to Europe or the United States was the only way to guarantee the safety of witnesses and lawyers. His request was rejected May 14, and the decision was reported Saturday in The New York Times.
Frederick is one of seven members of the 372nd Military Police Company, based in Cresaptown, Maryland, accused of abusing prisoners. His trial is scheduled to take place in a part of Baghdad known as the Green Zone, a heavily fortified area that houses coalition headquarters and is controlled by American forces.
Myers wrote in his request that announcing the site of the trial "is like giving targeting coordinates to the enemy," according to documents obtained by the Times.
The request was denied by Lt. Gen. Thomas F. Metz, the officer in charge of convening courts-martial in Iraq.
Army spokeswoman Col. Jill Morgenthaler declined to provide specifics on Metz's decision but said the Green Zone is "a secure place."
Myers also wrote in his request that "all meaningful witnesses" are outside Iraq. But Morgenthaler said it would be "very doable" to bring witnesses to Baghdad.
Myers did not immediately return messages left Saturday at his Washington law firm by The Associated Press.
Meanwhile, The Washington Post reported in its Saturday editions that prisoners in three of the most infamous photographs of abuse to come out of Abu Ghraib were not being softened up for interrogation by intelligence officers, but instead were being posed as punishment for criminal acts or the amusement of their jailers.
The newspaper cites previously secret documents it obtained.
"Several of the photographs taken by military police on the cellblock have become iconic," the Post says, "among them the naked human pyramid, the hooded man standing on a box hooked up to wires, and the three naked prisoners handcuffed together on the prison floor. The documents show that MPs staged the photographs as a form of entertainment or to discipline the prisoners for acts ranging from rioting to an alleged rape of a teenage boy in the prison."
The Post adds that the documents include statements by four of the seven MPs now charged in the abuse scandal: Spec. Sabrina Harman, Spec. Jeremy Sivits, Sgt. Javal S. Davis and Pfc. Lynndie England.
Arab leaders meeting in Tunis, Tunisia Saturday for their annual summit were united in outrage over the prisoner abuse scandal in U.S.-occupied Iraq, according to a draft resolution.
It includes a strong condemnation of the abuse by U.S. soldiers as "crimes and inhuman and immoral acts," saying it constitutes a "flagrant violation of human rights and international conventions. " The draft resolution demanded trials and punishment for those responsible.
Back in Iraq, accounts emerging Saturday said U.S. soldiers forced female detainees at Abu Ghraib to serve male prisoners meals after the men had been stripped bare and beaten.
One man, who identified himself only as Ghazwan, was among 454 detainees released Friday from the American-run prison at the center of an abuse scandal. He was held with his father and brother for nine months and said he spent six in "heavy quarantine."
"They were psychologically torturing us, especially in the heavy quarantines. They were abusing us inside these quarantines by beating us and forcing us to take off all our clothes. They were forcing detained women to distribute food to us while we were naked," said Ghazwan.
Public nakedness, especially in the presence of women, is considered especially degrading in conservative Arab societies.
Following the revelations of abuse, U.S. officials have said they plan to cut the facility's population in half. A U.S. official said there are now roughly 3,700 remaining detainees there.
Investigation into the abuse will "go to the top," the U.S. military has said.
Other prisoners released Friday said their treatment improved after pictures of naked prisoners being sexually humiliated came to light.
Since January, more than 4,500 detainees have been released from Abu Ghraib. Another 394 prisoners are scheduled to be set free May 28, U.S. Brig. Gen. Mark Kimmitt said.
On Friday, a convoy of at least six buses, accompanied by U.S. troops in armored vehicles and jeeps, took the latest group of released detainees from the prison on the western outskirts of Baghdad to Tikrit and Baqouba, north of Baghdad. Some were also returned to Ramadi and Baghdad.
In one Baghdad neighborhood, there was jubilant celebration in traditional Iraqi style.
Women threw chocolates and clapped their hands to live drum and horn music played on downtown streets. Men slaughtered a sheep, fired rifles into the air and wept as they embraced their returning family members.
The release came two days after Sivits, the first American accused in the scandal, was sentenced to a year in prison for sexually humiliating detainees and taking a photo of prisoners stacked naked in a human pyramid.
Sivits was sentenced on Wednesday to one year in prison, reduction in rank and a bad conduct discharge - the maximum penalty - after pleading guilty to maltreating detainees in the first court-martial stemming from the Abu Ghraib case. Three others were arraigned and deferred pleading. They will appear before a military judge on June 21.
In Baqouba, two busloads of detainees were handed over to local Iraqi police and were released shortly later. The freed detainees kissed the ground and kneeled to pray after walking out of the police compound in the city, 50 miles northeast of Baghdad.
Abdul Salam Hussain Jassim, 18, said U.S. authorities detained him for three months. He said he was rounded up with others after an explosion in a Baqouba street.
"Don't even talk about torture. They destroyed me," Jassim said of his detention. He said a family of five brothers and sisters was detained in the same block and that one of the men was beaten so badly he died two days later.
The other prisoner, Ghazwan, told the same story.
"Three brothers and sisters were detained together and brought to the prison, the two sisters are still in the quarantine and one of the three brothers was killed while the troops were torturing him," he said. "They took him to the quarantine and brought him dying to his brother's (Ali Alizzi) cell and threatened him that if he will not talk or confess, he would face the same fate."
The prisoner died in his brother's arms, he said.
Another former prisoner released on Friday, Maher Saeed, said he was tied to a car and dragged through the sand for several hundred yards.
Thanks for reading CBS NEWS.
Create your free account or log in
for more features.