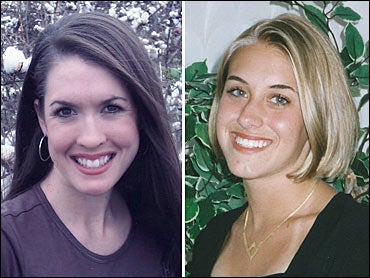 Produced by Katherine Davis
This story was originally broadcast on July 1, 2008.
Tara Grinstead, an 11th-grade history teacher in Ocilla, Ga., disappeared without a trace in October 2005. Three months later, another young woman, Jennifer Kesse, also vanished in Orlando, Fla.
There were some similarities in the cases, leading investigators to wonder: are these disappearances somehow linked?
---
Student Dana Wilder remembers feeling a sense of dread when she heard an announcement in school that teacher Tara Grinstead should report to the office.
Dana was sitting in class at Irwin County High School on that Monday, Oct. 24, 2005. "I knew something was up then. I knew Tara would just not come to school. I think it got all the student's minds worried," Dana remembers.
Besides being a beloved teacher, 30-year-old Tara was also a mentor and friend to Dana, especially when it came to Tara's passion for beauty pageants.
Just two days earlier, Dana had been at Tara's house with some other girls to get ready for a big local event in this small town, the "Miss Georgia Sweet Potato" pageant. "She was in a great mood. Which of course, whenever she did hair and makeup for any pageant girls she was in a great mood," Dana remembers.
Tara's stepmother, Connie, and father, Billy, say Tara fell in love with pageants as a teenager. Besides winning crowns, the pageant victories also fulfilled another goal for Tara: money for school.
But none of her successes meant more to Tara than winning the title of Miss Tifton in 1999. Best friend Maria Hulett says the title meant Tara could now fulfill her lifelong dream of competing in the Miss Georgia pageant. "It was, for her, more than a dream come true. It was the chance for her to be really proud of herself," Maria remembers.
Tara didn't place in the competition, but was thrilled when her friend Osjha Anderson won. Her friends say after the Miss Georgia pageant, Tara refocused on her career in education. "She wanted to be a principal. She was well on her way," Osjha says.
By the fall of 2005, she was teaching by day and taking classes by night; she applied for a doctoral program. Tara was even filling in as an assistant principal from time to time.
Everything seemed to be going so well, until that October morning.
By the time Police Chief Billy Hancock arrived at Tara's house, nobody had seen or heard from Tara for 34 hours. "When I arrived the car was parked in the carport. You could actually see it as you were pulling up," he remembers.
Hancock says the fact she had gone missing but her car was still there was "certainly a red flag."
But maybe most disturbing was a latex glove, found laying in the front yard.
Hancock noticed that inside the house everything appeared to be normal. "I walked through the house. No apparent sign of struggle, no forced entry," he remembers. "Her cell phone was in the charger by the nightstand. Her pocketbook and keys were missing."
Asked what his gut feeling was as he walked through that house, Hancock tells Van Sant, "I did have kind of a gut feeling that something was wrong."
At 11 a.m., Chief Hancock called Gary Rothwell, a special agent at the Georgia Bureau of Investigation.
Rothwell's initial impression? "It appeared that Tara may have left on her own. However, we had a glove, a latex glove that we couldn't explain. That glove indicates foul play to us."
He was also intrigued by something else found at Tara's house: a business card found wedged in the front door of Tara's home.
Investigators sealed the house, and took Tara's car and the glove in for processing. Then they started reconstructing her last known movements.
On the last day she was seen, Saturday, Oct. 22, Tara spent the day with Dana and the pageant girls at home, then went to the Miss Georgia Sweet Potato pageant that evening.
At 8 p.m., she stopped by the house of a neighbor and stayed there for a half hour before going to a cookout a few blocks from her home.
According to Rothwell, she remained at the cookout until about 11 p.m., when she left to go home. Rothwell says they found the clothes she wore at the cookout on the floor of her bedroom, leading investigators to believe that she had come home from the cookout.
But from that moment on, he says they "have no idea" what happened to her.
Hours after Tara was reported missing, Irwin County students and teachers sprang into action. "We made flyers and at 11 o'clock at night people wanted to go put these out everywhere. We all wanted Tara back. And we were willing to do whatever we could," Dana remembers.
Volunteers and local authorities joined in a massive search for the missing teacher. But in a place the size of Irwin County, finding Tara was like looking for a needle in a haystack.
So far, GBI investigator Gary Rothwell has had very few clues in the case. "There was no sign of a struggle, no sign of forced entry, there's no windows broken," he explains.
Tara's car was still in the carport, but her purse and keys were missing. It looked to investigators like Tara may have left with someone she knew. "No one in close proximity to her residence heard any screaming that night. So, if you accept the premise that she left in a vehicle. Yes, it would be likely she left in one that was driven by someone she knew," Rothwell says.
Investigators put Tara's life under the microscope and soon discovered it was not as simple as they expected. "One of the things that made this case so complicated is that she did have several romantic relationships that occurred in relative proximity to one another," Rothwell says.
Investigators first focused on her ex-boyfriend, former cop and Army Ranger Marcus Harper. "We learned that Tara and Marcus had had a relationship lasting approximately six years," Rothwell says.
It had been a stormy romance. "Their relationship had been troubled for the last two years. And during that time they both had dated other people. But Tara was absolutely in love with Marcus," Connie says.
But just two weeks before she disappeared, Marcus told Tara their relationship was over for good. Connie says Tara was "absolutely devastated."
Marcus told journalist and TV host Greta Van Susteren the last time he saw Tara was a week before she vanished when she begged him not to leave her. "She approached me crying, she was very irrational, and she told me that if she found out I was dating someone, she would commit suicide," he said.
But Osjha says this doesn't sound like the Tara she knew. "She's never said anything remotely similar to me ever any time."
Rothwell doesn't believe Tara committed suicide either. "The circumstances just don't fit a suicide. And given the search for her, we believe she would have been found by now. It's very difficult to hide your own body," he points out.
On the last night Tara was seen, Marcus says he was at a bar with friends, then rode around town until dawn with a former partner on the local police force. "Mr. Harper provided an alibi and it was essentially substantiated," Rothwell says.
And there was no history of violence in their relationship.
But Tara had been the target of a violent outburst before, ironically by one of her former students. In March 2005, Anthony Vickers, a former student of Tara's, tried to force his way into her house.
Friends say Tara had taken Vickers under her wing. "He was just kind of a troubled kid and that would be her nature," Osjha explains.
But he may have become obsessed with her. "She talked about the fact that he would call and he would rely on her and she knew it was getting too much for her. I just kept telling her, 'You know Tara, something's wrong,'" Maria remembers.
Could Anthony Vickers have been involved in Tara's disappearance? Rothwell says investigators looked into that possibility extensively but that at this point "can't draw a connection."
And remember the business card investigators had found at Tara's front door? "It was certainly a piece of evidence that we're interested in. I mean it's a business card stuck in the door of a person that's now missing," Rothwell says.
It turns out the card was left by a police officer from a nearby town, a married man. A neighbor told 48 Hours he was a frequent visitor to Tara's house.
"He had been there apparently Sunday night looking for or trying to get her to the door. And he said he did not get an answer," Connie tells Van Sant.
The man also left almost two dozen messages on Tara's answering machine the weekend she disappeared.
Asked if Tara had put herself in a position in her life where she may have created jealousies or given someone a motive to murder her, Maria says, "I think the fact that she was beautiful and other people paid attention to her would obviously make some people jealous. I think she was afraid of the possibility of someone hurting her from being angry at her, having reactions to her dating people."
None of the men the GBI were most interested in would agree to speak to 48 Hours on camera; all deny any involvement in Tara's disappearance. The GBI says although they all have alibis, nobody's alibi covers the full 34-hour period during which Tara vanished. So for now, no one has been ruled out.
For more than three years, the GBI has continued to investigate anyone and everyone Tara knew. "We've collected DNA samples from every person she might have had a romantic relationship with, interviewed them," Rothwell says.
And Tara's family and friends remain frustrated. "I believe there is a piece of the puzzle that is missing. And when that piece of information comes in, it will lead us to the answers of what happened to Tara," Connie hopes.
Ever since Tara disappeared, the GBI has refused to name any suspects in the case, and has remained tight-lipped about any evidence they have, until now: Rothwell says that latex glove could be a significant piece of evidence.
Just days after Tara went missing, Rothwell sent the glove to the GBI crime lab in Atlanta. Trace evidence specialist Larry Peterson wasn't optimistic. "It's my experience from past cases that latex gloves like this had a relatively low rate of success," he explains.
But in this case, investigators caught a lucky break: against all odds, investigators had recovered DNA-male profile DNA-from the glove.
And besides the DNA, Rothwell says they also got a fingerprint. But when they compared the DNA and fingerprint to the men in Tara's life, there was no match.
There was no match nationally, either. Still, investigators can't eliminate any of the men in Tara's life, since they might have had an accomplice. "We always have to consider the possibility of a third party. Either someone was involved in getting a third party to harm Tara or that Tara was harmed by accident and a third party was used to help cover up the crime," Rothwell says.
For two and a half years the GBI kept the DNA evidence secret, hoping they would find a match. But now they're hoping someone from the 48 Hours audience can help solve this case.
"We hope there's someone who knows something, has a person that they know was involved in this case and was withholding that information for fear that we were not going to be able to prove it. Well we'll be able to prove it. We want one of those persons, if they have that type of information, to come forward," Rothwell says.
---
If you have any information, please contact the Georgia Bureau of Investigation.
As astonishing as it seems that someone could disappear without a trace, and that a stranger might be involved, shortly after Tara disappeared, the GBI learned of another case of a beautiful young woman who vanished, this one in Orlando, Fla., exactly three months after Tara disappeared. The similarities were eerie.
Asked if there could be a link between the cases, Rothwell says, "Possibly. It's something we really, really need to consider."
Even as a child, people were drawn to Jennifer Kesse, says her mother Joyce. "She walked into a room and people noticed her. She was just so vibrant and really full of life," Joyce remembers.
By the time she was in her twenties, her father Drew says Jennifer had blossomed into a beautiful young lady, and her career as a financial analyst was taking off.
Her family and friends say she was very practical when it came to safety; she regularly used what she referred to as "safe phone calls." "She would always be on the phone with somebody walking from the store to her car, her car to home," Joyce explains.
By January 2006, 24-year-old Jennifer seemed to have everything going for her: she had bought a brand new condo in Orlando, had been promoted at work, and there was a new man in her life.
Rob Allen, a 32-year-old Englishman, lived two and a half hours away in Fort Lauderdale. The couple had been dating for a year and saw each other every other weekend. "We'd communicate four, five, six, seven times a day, every day. She became my best friend," Rob says.
In January 2006, Rob and Jennifer took a vacation to St. Croix. "It was just perfect," Rob remembers. "A lotta cocktails. A lotta sun. A lotta beach. We had an awesome time. We joked we should just stay there and just not come back to the real world."
But the real world was about to intervene: they flew back from vacation on Sunday, Jan. 22, and Jennifer stayed at Rob's Sunday night. "She'd left my house at six Monday morning and then drove straight to Orlando and had a full day at work," Rob says.
That evening, Jennifer spoke to Rob again. It would be the last time they would talk.
The first clue something was wrong came the next morning when Jennifer failed to show up for a meeting at work. Her co-workers at Westgate Resorts couldn't reach her on her cell phone or at home, so they called her parents.
Joyce called the manager of Jen's apartment complex. He went to her unit - Jennifer wasn't there, and neither was her car.
Jennifer's parents and her brother Logan raced the two hours from their home in Bradenton, Fla., to Jen's condo. Asked what he saw when he went inside, Logan tells Van Sant, "Clean apartment. Shower was wet. Blow dryer out. Clothes on her bed. Other than that, the apartment was completely normal."
Just like in Tara's case, there were no signs of forced entry, and no signs of a struggle. Jen's luggage was still in the front hall, untouched. But her purse, her keys and the cell phone, which she always kept with her, were missing.
Detectives checked for activity on her ATM card and "pinged" her phone to pinpoint its location. There was no response. At 7 p.m., police Sergeant Roger Brennan says they entered her into the system as a missing person and issued an alert for both Jennifer and her car.
"The key thing we were trying to do at this point, starting from 8 on is to find Jennifer's car, Jennifer, her phone, her property. So we started with her car," Brennan recalls.
Police soon learned when Jennifer was on vacation, her brother Logan and some of his buddies from out of town had stayed in her condo. One of his friends left a cell phone there. Could Jen have left her condo after she hung up with Rob at 10 p.m. to try to mail the cell phone?
Less than an hour after Jennifer was declared "missing," Sgt. Brennan started searching the streets of Orlando, looking for Jen and her car.
---
If you have any information, please contact CrimeLine.
Once police learned of Jennifer's concern for safety, they realized she wouldn't have gone out at night alone to mail that cell phone. They now believed she must have been abducted the next morning.
"Her condo was just as if she'd gotten ready for work and took off out the door for work," says Orlando homicide Detective Joel Wright. "And since her door was locked and there were no signs of forced entry, a good deduction would be that she did make it at least out the door."
The next day, detectives interviewed family members and boyfriend Rob. "They started asking me if you'd had an argument with her, or if you'd had disagreements or you'd done something to her. I mean, it was kinda nerve-wracking," he remembers.
But nothing raised suspicions, and Rob's alibi checked out. He was at work two and a half hours away in Fort Lauderdale that day and his cell phone was pinging down there.
"I would consider Rob not a suspect," Wright says.
Meanwhile, huge numbers of volunteers and police were looking everywhere for Jennifer.
Two days after Jennifer's disappearance, investigators got a major break in the case when her car was spotted at a housing complex just a mile from her condo.
Luckily, there were security cameras nearby. When police checked the tape, they watched as someone pulled her Chevy Malibu into the lot. Then,
(video) from Jennifer's car and calmly strolls away as if on an afternoon walk.
This person is the main suspect in Jennifer's abduction, and should be easy to identify. But because the security cameras only take a photo every three seconds, his face is obscured on the surveillance footage.
Investigators can't even say for sure if the person is a man or a woman - all they know is it's someone 5'3" to 5'5" tall.
"Now the clothing looks to be maybe someone who is a painter or some type of worker," Wright remarks, commenting on the clothing.
The inside of Jennifer's car provided more frustration for investigators and her family: there was no sign of a struggle, no blood, no identifiable fingerprints except for Jennifer's.
But there was one item found that bothered detectives: a DVD player.
That DVD player hadn't been stolen. Asked what that tells him, Sgt. Brennan says, "It didn't appear that it was a robbery. Didn't appear that it was a car theft. It didn't appear that it was a carjacking."
Bloodhounds were called in to track any scent from Jennifer's car. Brennan says one of those dogs essentially tracked back to her complex.
Could Jennifer's abductor be someone who lived in her own complex? Detectives discovered there was extensive remodeling going on, including some work in Jennifer's own unit, and Jennifer had complained to her family that some of the workers were making her feel uncomfortable.
Asked what she said, Joyce says, "They would stop and stare. …Leering stares is what she would say."
"Were these guys mostly day workers?" Van Sant asks.
"It was large groups of crews that had traveled together. And many of them were staying right there in several of the units in the complex itself," Wright says.
In fact, of the 447 units in Jennifer's complex, only 250 were occupied at the time, and workers were allowed to live in the empty units. But Brennan says tracing these people is "extremely difficult."
Police could not search all of the units in Jennifer's complex because many were privately owned. They also couldn't count on getting any reliable forensic evidence from Jennifer's condo. "Anywhere from a half dozen to two dozen people were in the condo over the course of the first 24 hours," Brennan says, explaining that that contaminates the crime scene.
At this point, the best clue in Jennifer's disappearance remained that grainy video.
Almost three years after Jennifer's disappearance, her family and friends are still looking for her, and Orlando police are still looking for the person in that surveillance video. "We were hoping that somebody would come forward and say 'Oh yeah, that's my boyfriend' or 'That's my cousin.' But that didn't happen," Brennan says.
Detectives have followed up on more than 1,000 tips in all 50 states, but so far nothing.
For Jennifer's best friend Lauren and her boyfriend Rob, it's like living in a constant state of limbo. "You don't know if you can grieve because you haven't truly lost them and you can't heal because you haven't found them. You wake up every day hoping that's going to be the day you'll get an answer," Lauren says.
"My life's on pause right now. It's like as the time progresses, it doesn't get any easier," Rob says.
Losing Jen has left Rob wondering about a life they could have had, and wrestling with things left unsaid. Asked if he had fallen in love with her, Rob says, "I never admitted that to her but that's something that I struggle with. Just the fact that those three simple words, that I never got to the chance to say that before this horrific event happened."
In Ocilla, Ga., the unsolved case of Tara's disappearance now hinges on finding a DNA match to that glove found outside her home.
"The one thing this case is not is cold," says GBI investigator Gary Rothwell, who says the Grinstead case file has grown to become the agency's biggest active investigation.
Rothwell - who believes this case will be solved - and his team are hoping for a breakthrough. They are in Orlando, Fla., meeting for the first time with detectives in the Jennifer Kesse case.
"We're comparing notes, looking to see if anyone in their investigation pops up in our investigation," Roger Brennan comments.
But after three hours behind closed doors, it's clear they aren't getting the answers they were hoping for. "Their case appears much more likely to involve a stranger abduction, whereas we can't make that conclusion," Rothwell explains.
---
Two beautiful, beloved women - for everyone touched by the disappearance of Tara and Jennifer, hope now rests on a DNA match, or someone, somewhere, who will have the courage to share what they know with police.
"Someone has to do the right thing?" Van Sant asks Jennifer's father Drew.
"Yes, and it's time. It's been time. And it's time right now," he says.
"I really want to see justice take place for Tara. I want the person who's responsible he held accountable for it," Tara's stepmother Connie says.
"We'll never give up," Jennifer's mother Joyce vows. "We will never give up the hope of finding her and bringing her home."
---

In Georgia, investigators have compared the DNA of 150 men to the DNA on the glove outside Tara Grinstead's home. There was no match.
In Florida, a task force of 12 top investigators is pursuing new leads in the disappearance of Jennifer Kesse.
Tara Grinstead Case: If you have any information about Tara's disappearance, please contact the Georgia Bureau of Investigation.
Tipline: 1-800-597-TIPS.
---
Jennifer Kesse Case: If you have any information about Jennifer's disappearance, please contact CrimeLine.
Tipline: 1-800-423-TIPS.
Thanks for reading CBS NEWS.
Create your free account or log in
for more features.