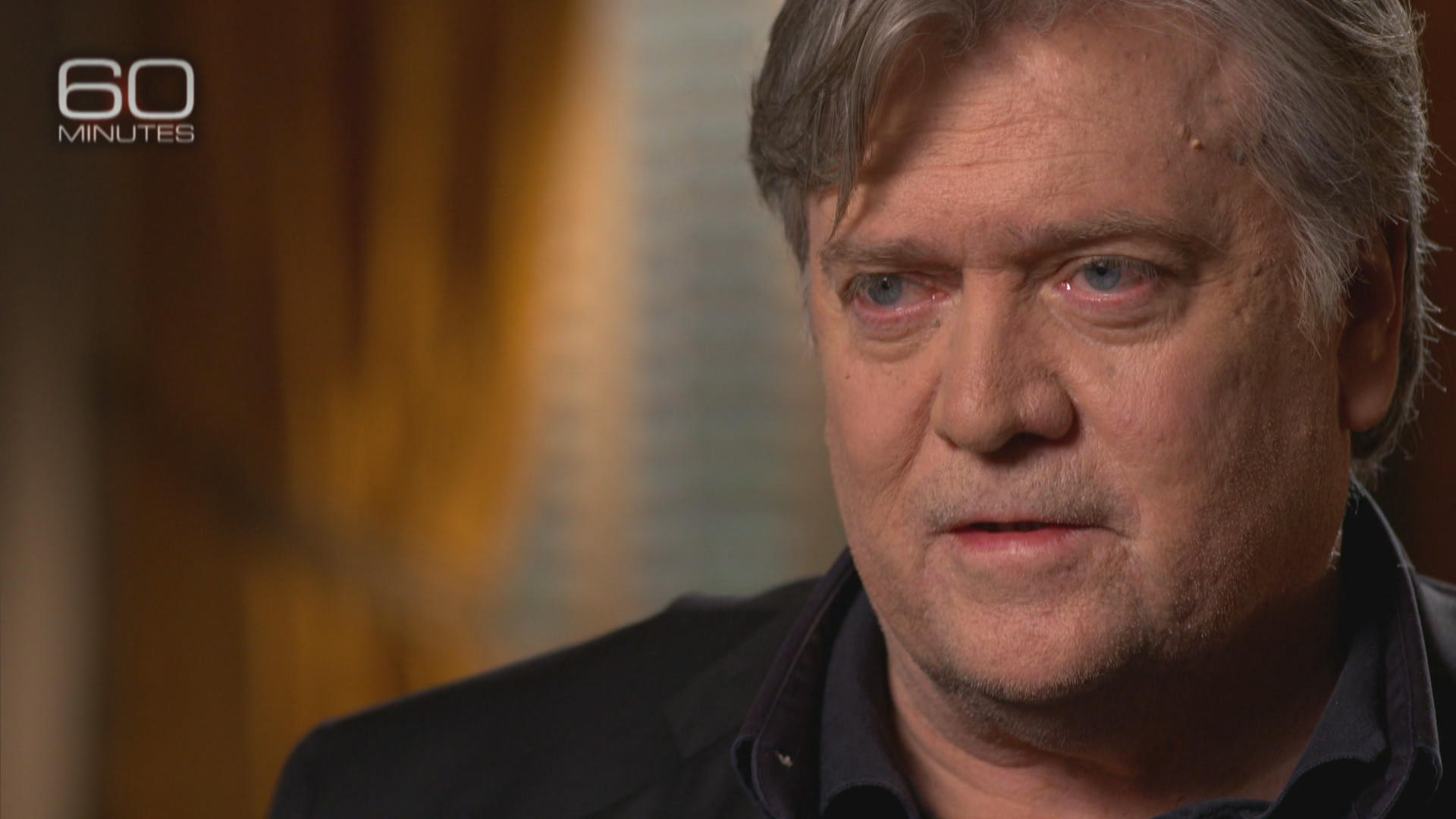 Steve Bannon interview: Trump's "Access Hollywood" tape was a "litmus test"
In his first extensive television interview since leaving the Trump administration, former White House chief strategist Steve Bannon tells "60 Minutes" about the fallout after the leaked "Access Hollywood" tape.
A few weeks before the election, a video obtained by the Washington Post showed Donald Trump talking with Billy Bush about groping women. It sent his campaign in crisis mode. The weekend after the tape release, Mr. Trump met with his team of senior advisors.
Bannon, then-RNC chairman Reince Priebus and Gov. Chris Christie discussed what steps to take next. In his conversation with Charlie Rose, the executive chairman of conservative publication Breitbart News explains how the meeting ended up costing Christie a potential job in the administration.
Steve Bannon: And – and Trump went around the room and asked people the percentages he thought of – of still winning and what the recommendation. And Reince started off and Reince said, "You have – you have two choices. You either drop out right now, or you lose by the biggest landslide in American political history." And Trump, with his humor goes, "That's a great way – that's a great way to start our – start our conversation." We went around the room. And you could tell – I could tell from the incoming of politicians and I could tell from some of the politicians that were there, is that the natural inclination of politicians are – are – are to be so overwhelmingly stunned and shocked by how the media comes on you. But Trump wasn't that. And I told him as he went around, I was the last guy to speak, and I said, "It's 100 percent. You have 100 percent probability of winning." And that's the first time –
Rose: But you seem to have done that at every point in the campaign. When he was in trouble, asking him to double down on his rhetoric, double down in terms of appealing to his base.
Bannon: Appealing to the American people and to the working class people in this country, absolutely. You know why? 'Cause – it was a winner. That's why I told him "double down" every time. And on that day, that's the first time and only time he ever got upset with me. He goes, "Come on, it's not 100 percent." I go, "It's absolutely 100 percent." And I told him why. "They don't care."
Rose: But they… they do care about respect for women. They do –
Bannon: They do, they do, but they –
Rose: I do know that.
Bannon: But they – but –
Rose: And it's not just locker room talk. I mean –
Bannon: That's locker room talk. The Billy Bush thing is locker room talk.
Rose: Did you lose confidence in anybody because they came to you at that point and said, "Look, he ought to get outta this race," other than Reince Priebus? I mean, did your attitude towards those people who said that, they were just wrong?
Bannon: Absolutely. The Billy Bush Saturday to me is a litmus test. It's a litmus test. And I said it the other day to [White House Chief of Staff] General [John] Kelly during the Charlottesville thing, afterwards. It's a line I remember from the movie. "The Wild Bunch." William Holden uses it right before that huge gunfight at the end. "When you side with a man, you side with him," okay? The good and the bad. You can criticize him behind, but when you side with him, you have to side with him. And that's what Billy Bush weekend showed me. Billy Bush Saturday showed me who really had Donald Trump's back to play to his better angels. All you had to do, and what he did, was go out and continue to talk to the American people. … People didn't care. They knew Donald Trump was just doing locker room talk with a guy. And they dismissed it. It had no lasting impact on the campaign. Yet, if you see the mainstream media that day, it was, literally, he was falling into Dante's Inferno.
Rose: Boy, you took names on Billy Bush Sunday, didn't you?

Bannon: I did. O – I gotta – I gotta – you know, I'm Irish. I gotta get my black book and I got 'em. … Christie, because of Billy Bush weekend – and – was – was – not looked at for a Cabinet position.
Rose: He wasn't there for you on Billy Bush weekend so therefore he doesn't get a Cabinet position?

Bannon: I told him, "The plane leaves at 11 o'clock in the morning. If you're on the plane, you're on the team." Didn't make the plane.
Watch Rose's full report Sunday, Sept. 10 on "60 Minutes," which airs 7 p.m. on CBS.
Thanks for reading CBS NEWS.
Create your free account or log in
for more features.