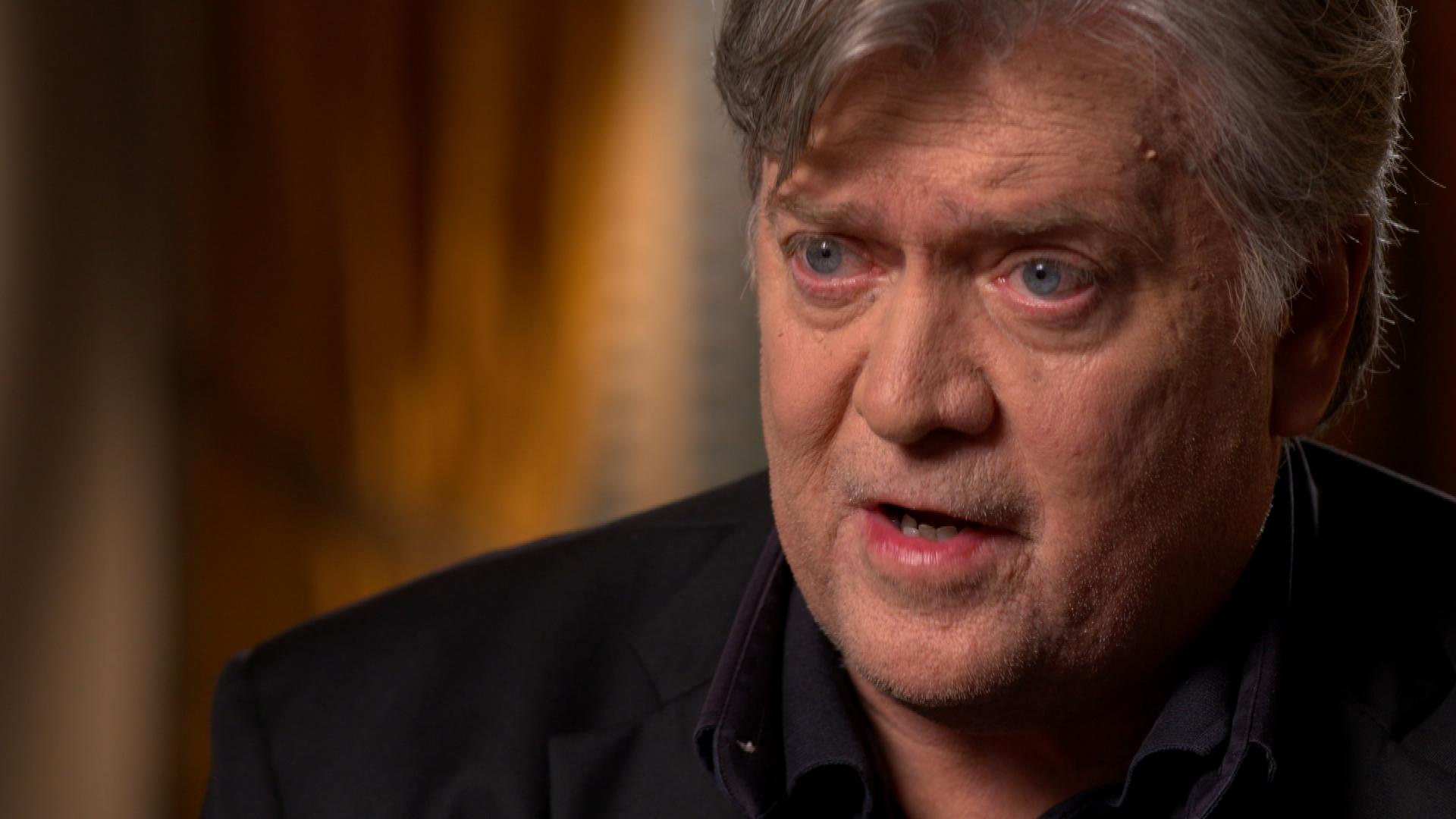 Steve Bannon says he's "a street fighter," vows to support Trump
Steve Bannon's "60 Minutes" conversation with Charlie Rose is the former White House chief strategist's first extensive television interview since he left the Trump administration.
The founding board member of the conservative publication Breitbart News was a key player in President Trump's White House. He left last month after clashes with other aides and returned to Breitbart.
Charlie Rose: So how do you want to be perceived, you today? Because you have a media image.
Steve Bannon: The media image I think is pretty accurate. I'm a street fighter.
Rose: You're more than that.

Bannon: No, I think I'm -- I think I'm -- I'm a street fighter. ... By the way, I think that's why Donald Trump and I get along so well. Donald Trump's a fighter. Great counter puncher. Great counter puncher. He's a fighter. … I'm going to be his wing man outside for the entire time, to protect --
Rose: You will not be attacking Donald Trump?

Bannon: No, our -- our purpose is to support Donald Trump. By the way --
Rose: -- And destroy his enemies?

Bannon: To make sure his enemies know that there's no free shot on goal. By the way, after the Charlottesville situation, that's what I told [White House Chief of Staff] General [John] Kelly, I was the only guy that came out and tried to defend him. I was the only guy that said, "He's talking about something, taking it up to a higher level." Where does it all go? Where does this end? Does it end -- does it end in taking down the Washington Monument? Does it end in taking down --

Rose: I tell you where many people suggest it should have gone, it should have gone in terms of denouncing specifically from the very beginning Neo-Nazis and white supremacists and people of that political view. And it should have gone there because those were people that Americans in World War II went to fight against and should have instantly have denounced them. And you didn't at first instinct. In fact, you seemed to be doubling down in terms of a moral equivalency.
Bannon: What he was trying to say is that people that support the monument staying there peacefully and people that oppose that, that's the normal course of -- of First Amendment. But he's talking about the Neo-Nazis and Neo-Confederates and the Klan, who, by the way, are absolutely awful -- there's no room in American politics for that. There's no room in American society for that. … And all Donald Trump was saying is, "Where does it end? Does it end in taking down the Washington Monument? Does it end in taking down Mount Rushmore? Does it end at taking Churchill's bust out of the Oval Office?" My problem -- my problem, and I told General Kelly this -- when you side with a man, you side with him. I was proud to come out and try to defend President Trump in the media that day.
Rose: And no exceptions in terms of siding with someone?

Bannon: You can tell him, "Hey, maybe you can do it a better way." But if you're gonna break, then resign. If you're going to break with him, resign. The stuff that was leaked out that week by certain members of the White House I thought was unacceptable. If you find it unacceptable, you should resign.

Rose: So who are you talking about?

Bannon: I'm talking -- obviously, about Gary Cohn and some other people. That if you don't like what he's doing and you don't agree with it, you have an obligation to resign.

Rose: So Gary Cohn should have resigned?

Bannon: Absolutely.
Watch Rose's full report Sunday, Sept. 10 on "60 Minutes," which airs 7 p.m. on CBS.
Thanks for reading CBS NEWS.
Create your free account or log in
for more features.