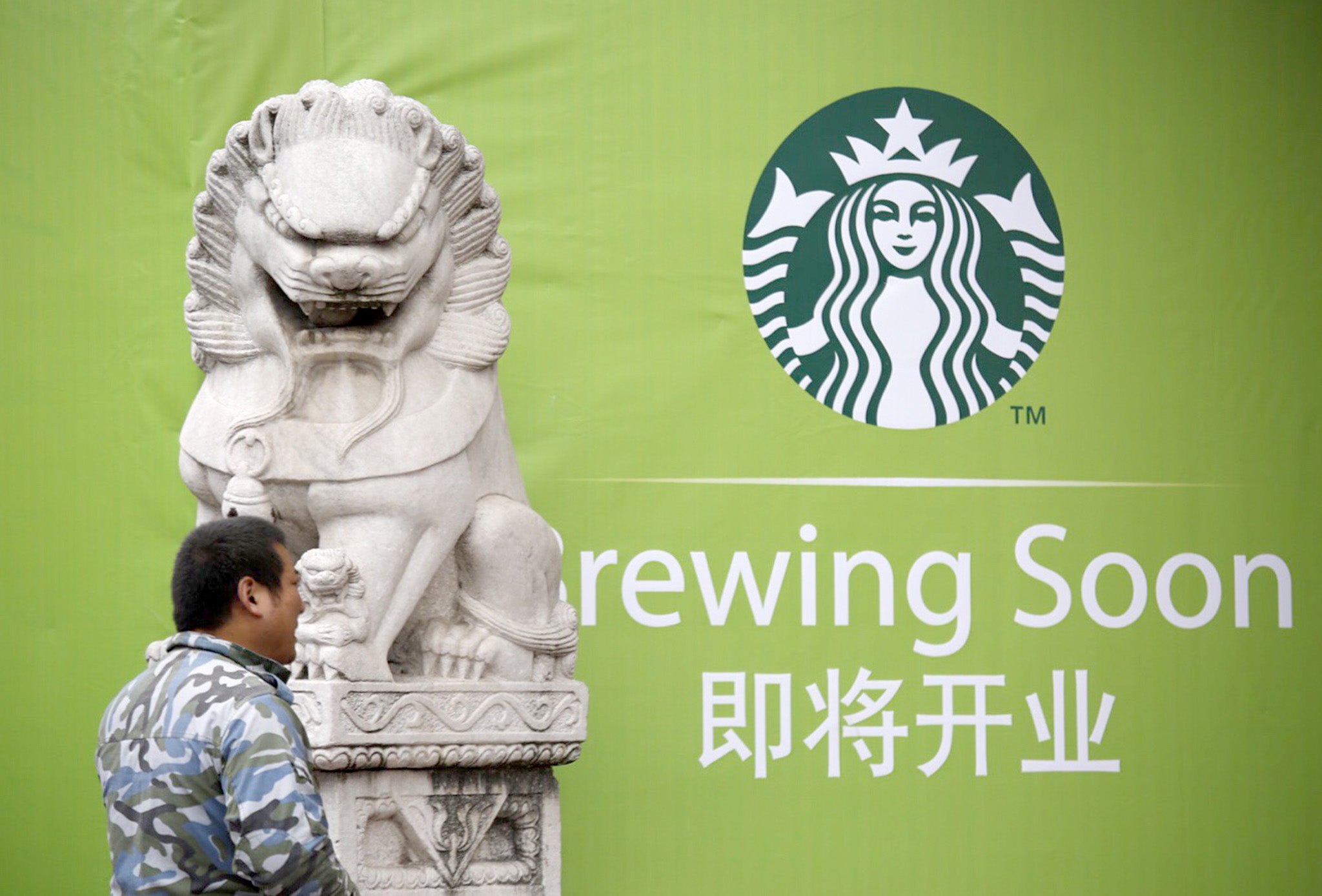 1 U.S. brand booming in China, in spite of economic woes
BEIJING -- Lately, you can't get through a day without bad news on the Chinese economy; the stock market is down, industry production is slowing, the no-longer-booming manufacturing sector is laying people off.
But not Starbucks.
Chief Executive Howard Schultz, on a visit to China this week, announced the Seattle-based coffee giant's plan to open 500 new stores in the country every year for the next five years, more than doubling the current count of about 2,000 Starbucks outlets across 100 Chinese cities.
The investment in China seems to be paying off. Revenue for the last quarter in the China and Asia-Pacific region more than doubled from the previous year. The company doesn't break down its sales by single country, but Schultz said he expects China to become Starbucks' largest market.
According to a recent Wall Street Journal article, the analysts at Euromonitor forecast Chinese coffee consumption rising 18 percent annually until 2019 -- far outpacing anticipated U.S. growth of just less than 1 percent.
The numbers are reflected in reality as you walk around Chinese cities. In shopping malls, office towers and near tourist attractions, an empty Starbucks is hard to find.
In the more developed, so-called first-tier cities, it's not unusual for a big department store to have more than one Starbucks in it, and they're all packed.
"Consumers have Starbucks as a feature of their normal daily retail life on work days," James Roy, an American analyst with Shanghai-based consulting firm China Market Research Group, told CBS News. "It could be for meetings, business, socializing or relaxing. It offers a good setting in key locations."
While China has long had the traditional tea house to fill that need for a convivial atmosphere for informal gatherings, they never fully adapted to the fast pace of modern life for China's young, fast-growing middle class.
The country has chronically lacked a "third place" -- outside of home and work -- for people to pass their time.
Steadily rising incomes have fueled the demand for leisure commodities in the country, even as the world's second largest economy faces huge uncertainty.
"Starbucks is not as exposed (to the economy) as industrial companies," explained Roy. "Low-tier cities could still bring strong growth. Consumers see it as a safe, trustworthy global brand, and the right place to go."
When Starbucks opened in less developed cities like Zhengzhou, in central China, or Shanxi, consumers lined up to get a taste of not just the coffee, but the culture.
"The popularity is not necessarily due to the drinks," said Roy, explaining that Starbucks "offers a strong experience and premium image. Unlike in the U.S., most drinks are 'drink in.' It's the right place to be seen."
But Starbucks' 17-year relationship with China hasn't been one long honeymoon.
In 2013, state television attacked the company for charging more for drinks in China than it does in other countries. Their report said a medium sized latte would set back Beijing customers 27 yuan ($4.43) - a third more than at a Starbucks in Chicago.
Schultz explained defended the pricing in an interview on "CBS This Morning," saying Starbucks' "cost of setting up the business in China and our cost of doing business in China is actually more than it's been in many other markets, so that is why we charge more money."
In 2007, a Starbucks located in the centuries-old Forbidden City was shut down after a storm of opposition started by a blog post by an anchorman with state broadcaster CCTV, accusing it of "trampling over Chinese culture."
But the company is doing just fine elsewhere. It's getting ready to open its 2,000th store in China, and Shultz recently told CNBC they plan to open a new one every day in the country going forward.
That smells like sweet java relief for the countless consumers waiting in long lines for their beverages -- and that trademark Seattle experience -- all across China.
Filed by CBS News' Shuai Zhang in Beijing.
Thanks for reading CBS NEWS.
Create your free account or log in
for more features.