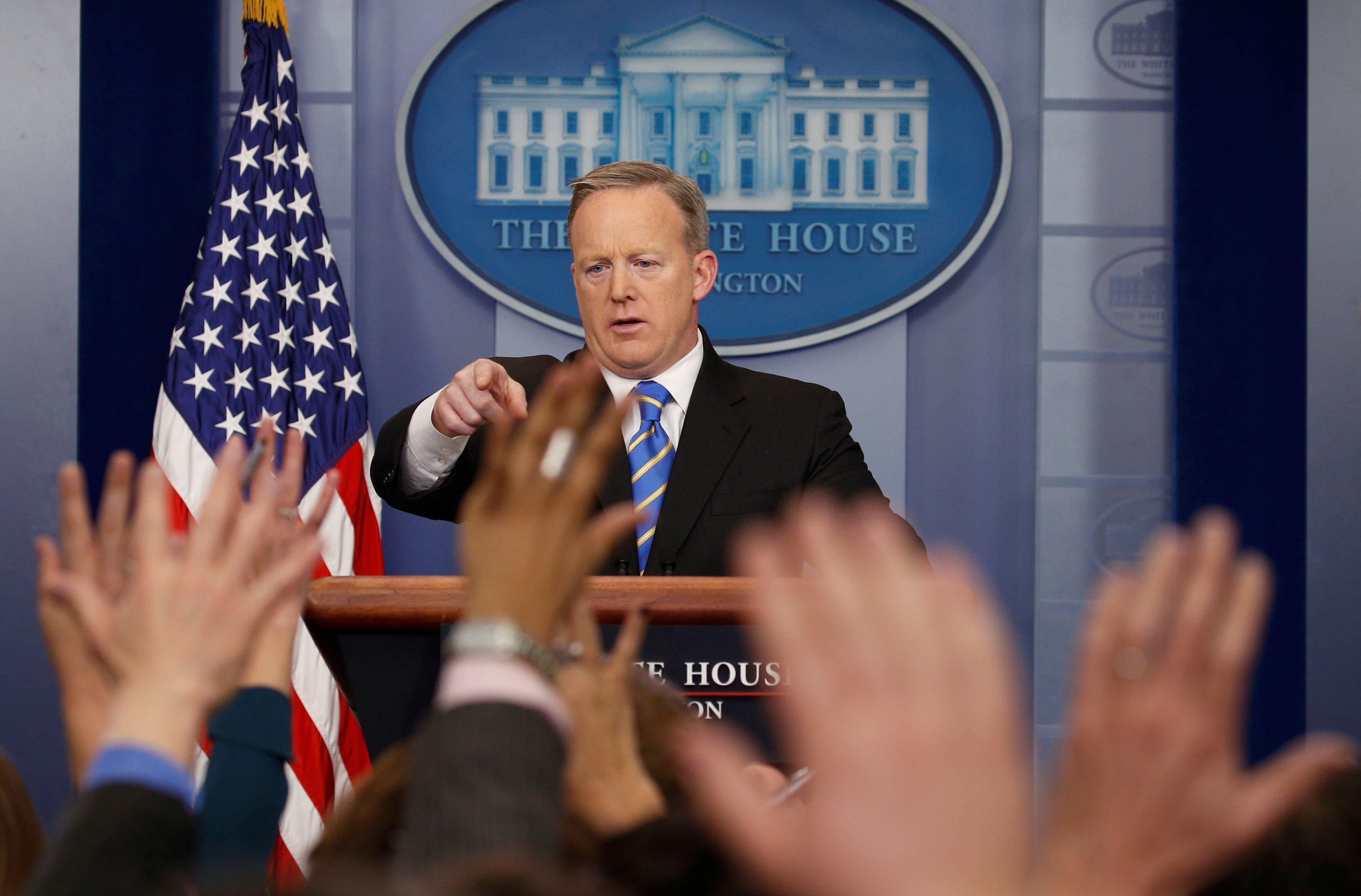 Sean Spicer press conference live updates
1:30 p.m. Spicer emphasized the president's concerns when it comes to widespread voter fraud but still provides no evidence that millions voted illegally, as Mr. Trump continues to claim on social media.
"We have to understand where the problem exists, how deeply it goes," Spicer said, referring to the president's call early Wednesday for a "major investigation" into unproven claims of mass voter fraud.
"There's a lot of people that are dead that are on rolls," Spicer said. "I think taking the necessary steps to study and to track what we can do to both understand the scope of the problem and secondly how to stop the problem is in our best interest."
1:27 p.m. Following the president's tweet late Tuesday about the violent crime in Chicago, Spicer took questions on the nature of the federal help he has offered to the city.
On "sending in the Feds," which Mr. Trump promised on Twitter, the press secretary said the president meant allocating federal resources via the U.S. Attorney's office to Chicago to help combat crime.
The White House, he said, will try to get a "dialogue" started with Chicago Mayor Rahm Emmanuel.
1:25 p.m. Spicer's response to a potential executive order restricting immigration from Muslim countries: "The president has talked extensively about extreme vetting."
He stressed that any action would only restrict "people from a country that has a propensity to do us harm."
"As we get into that implementation of that executive order, we'll have further details," Spicer promised. "But I think the guiding principle for the president is keeping this country safe."
He said the president wants to "ensure that the people who come to this country -- especially where areas that have a predisposition, if you will, or a higher degree of concern -- that we take the appropriate steps to make sure that they're coming to this country for all the right reasons."
1:23 p.m. In the briefing, Spicer says the National Park Services' account for the Badlands national park had retweeted "inappropriate things that were in violation of their policy."
Still, Spicer pushed back on reports that federal agencies have been directed to limit social media communications.
"They haven't been directed by us to do anything," he said. "That directive did not come from here."
1:20 p.m. Pressed to weigh in on DACA -- President Obama's Deferred Action for Childhood Arrivals -- Spicer said the president has yet to make a decision on the issue but that he is an understanding executive.
"He's a family man," Spicer said. "He understands, he has a huge heart and he understands the significance of this problem."
The president will talk about it in an ABC News interview Wednesday night, Spicer promised, but the focus for deportations will be those who have committed crimes.
Questioned on whether the president has whittled down his Supreme Court nominee choices, Spicer said he has not done so as far as he's aware.
He called the president's meeting with Senate leaders about the Supreme Court pick "productive and constructive."
1:16 p.m. Asked about the draft memo on interrogation practices reported by CBS News and other outlets, Spicer pushed back on the media reports.
"It is not a White House document," Spicer said. "I have no idea where it came from."
Asked what agency the draft order originated in, Spicer said, "I don't know."
Pressed on whether the president had asked for the document to be drafted in the first place, Spicer replied in the negative.
"To the best of my knowledge, he hasn't seen it," Spicer later said.
1:10 p.m. Spicer says Mr. Trump will sign two executive orders Wednesday related to immigration after he witnesses the swearing-in ceremony of DHS Secretary Kelly John Kelly at the agency's headquarters.
The first will be on border security and improvements, which will direct the building of "a large physical barrier" along the southern border.
"One way or another, Mexico will pay for it," Spicer promised. Later, he said "the president's working with Congress and other folks to figure out opportunities for Mexico to pay for the wall."
Spicer later said that President Trump and Mexican President Enrique Peña Nieto will likely discuss the wall, as well as NAFTA, in their meeting next week.
The press secretary said the second executive order will begin the process of stripping federal grant money for so-called sanctuary cities that protects undocumented immigrants from deportation. The order, Spicer said, directs agencies to "look at funding streams" and to "figure out how to defund those streams."
1:05 p.m. Spicer gives an update on Mr. Trump's pick for the Supreme Court, saying he will announce his final decision next Thursday.
Spicer also gives a readout of Mr. Trump's phone call with Prime Minister Modi of India, which Mr. Trump called a "true friend and partner."
"They also discussed security in south and central Asia," Spicer said. "President Trump looks forward to hosting Modi later this year."
The press secretary also discussed president's brief meeting Wednesday with U.S. ambassador to the United Nations, former South Carolina Gov. Nikki Haley.
12:50 p.m. White House press secretary Sean Spicer is about to take questions at a briefing, just as President Trump is calling for a "major investigation" into widespread voter fraud despite no evidence that millions voted illegally in the presidential election. Earlier this week at another briefing, Spicer defended Mr. Trump's claim saying that it was "based on studies and evidence that people have presented to him."
The briefing also comes just as Mr. Trump is expected to announce executive actions on immigration Wednesday during a visit to the Department of Homeland Security.
Late Tuesday night, the president also sent a message on Twitter calling attention to the violent crime rate in Chicago. Mr. Trump promised that he "will send the Feds" to assist the city.
Spicer will likely face questions about a draft of an executive order, obtained by CBS News Wednesday, which considers a review of how officials interrogate terror suspects. The draft also considers the possibility of reopening CIA-run "black site" prisons outside the U.S.
Tune in to CBS News' live stream on CBSN and live blog updates as it happens.
Thanks for reading CBS NEWS.
Create your free account or log in
for more features.