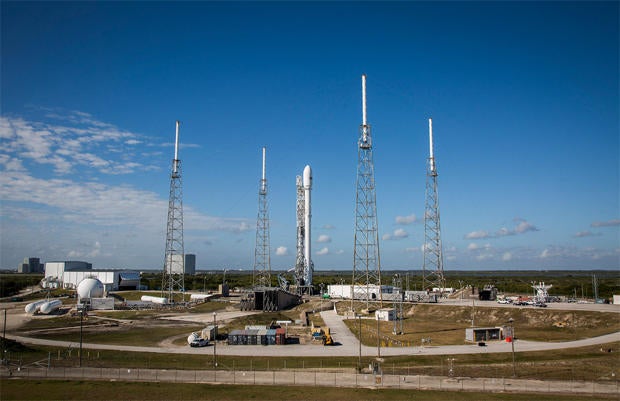 SpaceX to resume launches from rebuilt pad
More than a year after a spectacular preflight explosion that destroyed a Falcon 9 rocket and its satellite payload, SpaceX has rebuilt, strengthened and modernized its heavily damaged launchpad in Cape Canaveral, Florida, and is on track to resume flights from launch complex 40 next week, officials said Friday.
John Muratore, the SpaceX manager in charge of restoring complex 40 to operational status, said the company spent about $50 million on the project, virtually rebuilding the pad from scratch with the emphasis on safety and efficiency.
"From the very start, after we kind of dusted off ourselves after the accident, we really looked at this as an opportunity to not only rebuild the pad, but to make it better," he told reporters. "Our focus has been to make it as safe and reliable as possible. The big thing about safety is, the safer the pad is, the more operationally efficient it is."
In the wake of the 2016 explosion at Cape Canaveral Air Force Station, SpaceX rushed to complete already planned modifications to historic pad 39A at the nearby Kennedy Space Center, which the company operates under a lease with NASA, resuming flights last January.
So far this year, SpaceX has launched 16 successful missions in a row, 12 from pad 39A at the NASA spaceport and four from Vandenberg Air Force Base, Calif.
But with a $10 billion manifest, a backlog of satellites awaiting launch, upcoming piloted flights to the International Space Station and the maiden flight of a new heavy-lift rocket, SpaceX needs two operational Florida pads to meet its commitments.
And so, after months of work to repair, refurbish and upgrade pad 40 at Cape Canaveral, SpaceX plans to resume flights there on Tuesday with the launch of a previously flown Falcon 9 booster carrying an equally "flight proven" Dragon cargo ship loaded with supplies and equipment bound for the space station.
SpaceX engineers successfully test-fired the booster's first-stage engines at pad 40 earlier this week, clearing the way for launch at 11:46 a.m. EST (GMT-5) Tuesday. The first stage will attempt its second landing at Cape Canaveral after boosting the Dragon out of the lower atmosphere.
Five minutes before a pre-launch engine test-firing at pad 40 on Sept. 1, 2016, a Falcon 9 rocket suddenly exploded in an enormous fireball, destroying the rocket and its $200 million satellite payload and heavily damaging the launch complex.
Company officials later said the most likely scenario involved the catastrophic failure of a high-pressure helium tank immersed in the second stage's super-cold liquid-oxygen propellant. The rocket exploded without warning in a tremendous blast that destroyed the booster, its payload and the rocket's transporter erector. Numerous other pad systems were severely damaged.
In the wake of the failure, SpaceX changed a variety of procedures to prevent the conditions that led to the helium tank failure, and flights resumed on Jan. 14 with the successful launch of 10 Iridium NEXT satellite telephone relay stations from Vandenberg.
One month later, on Feb. 19, SpaceX launched its first mission from pad 39A at the Kennedy Space Center. That same month, after extensive environmental assessments and cleanup, SpaceX began work in earnest to rebuild pad 40.
Muratore said SpaceX went to extraordinary lengths to reinforce pad systems to protect wiring, fluid lines and hydraulic systems, covering previously exposed components with concrete and moving other systems out of the blast danger area.
SpaceX assembles Falcon 9 rockets and attaches payloads in a nearby hangar. The rocket, mounted horizontally on a transporter-erector, is then hauled a short distance to the launch mount, and powerful hydraulic pistons rotate the booster to the vertical position for launch.
The new transporter erector has been beefed up to withstand higher winds; it features heavily reinforced cable ducts and is designed to rapidly retract well away from the rocket just after engine ignition to minimize damage and speed up turnaround. A similar transporter-erector is used at pad 39A.
In addition, the pad's water deluge system has been upgraded to minimize flame damage and improve cooling, permitting longer-duration engine test firings. So-called "doghouse" structures are now in place that close over the launch mounts as the rocket takes off, again, minimizing damage caused by the Falcon 9's exhaust.
"We certainly don't ever want a tragedy like that to happen again," Muratore said of the 2016 failure. "But right now, the only thing that's really exposed is the transporter-erector itself, which holds the rocket, and the equipment that's immediately next to it. All of the other support equipment has been moved out of the area where we saw blast damage."
In the coming weeks and months, SpaceX faces a daunting launch schedule. Along with a backlog of commercial and government payloads awaiting launch, the company also is working to develop a powerful heavy-lift version of the Falcon along with a piloted version of its Dragon spacecraft to carry astronauts to and from the space station.
SpaceX now plans to launch most of its East Coast commercial and government payloads from pad 40, using the Kennedy Space Center's pad 39A primarily for the Falcon Heavy and space station missions using piloted Dragons and upgraded cargo ships. SpaceX also is building a launch complex in Texas that will be used for commercial satellites.
The Falcon Heavy features three Falcon 9 first stages strapped together, generating more than five million pounds of thrust at liftoff. SpaceX originally hoped to launch the rocket on its maiden voyage by the end of the year, but officials now say the long-awaited flight will happen in early 2018.
The human-rated Dragon spacecraft atop "single-stick" Falcon 9 rockets using upgraded engines is scheduled to debut in the summer timeframe, with an unpiloted test flight followed by a second test flight with astronauts on board. If those flights go well, operational crew ferry missions will begin in 2019.
Boeing also is building an astronaut transport ship under a separate NASA contract. The CST-100 "Starliner" will launch atop a United Launch Alliance Atlas 5 rocket from pad 41 at Cape Canaveral.
Thanks for reading CBS NEWS.
Create your free account or log in
for more features.