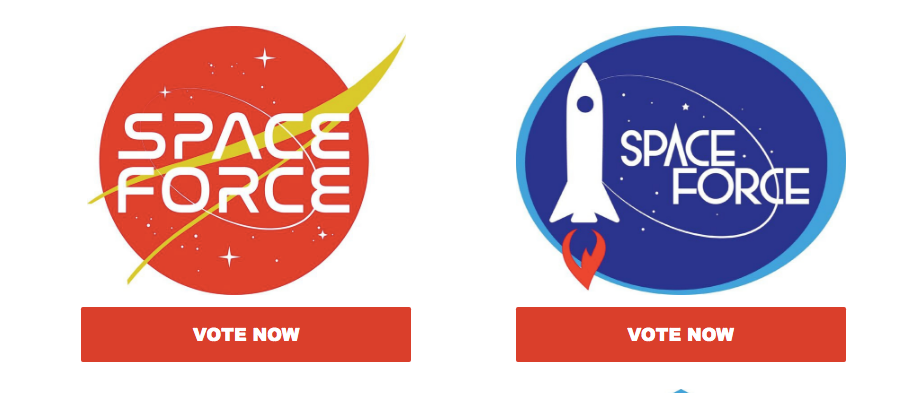 Space Force is in the market for a logo and President Trump is asking Americans to vote
It's a title reminiscent of a cheesy sci-fi movie or an '80s cartoon. An idea that conjures up images of storm troopers marching in formation and light sabers locked in battle. But Space Force is very real and it's conceptualization is now taking place at the highest levels of American politics.
In June, President Trump officially directed the Defense Department to establish a sixth branch of the U.S. military, called Space Force, stating that it would ensure American dominance in the final frontier and that it was a necessary step to defend America into the future.
"It is not enough to merely have an American presence in space," he said. "We must have American dominance in space."
Vice President Pence announced Thursday that the Defense Department will be releasing a report outlining the first stages to "implement the president's guidance and turn his vision into a reality." And just hours later, an official email went out to supporters from Brad Parscale, President Trump's reelection campaign manager, asking Americans to vote on the new Space Force logo.
There's a red circular option, criss-crossed with golden wings, that some are pointing out bears a striking resemblance to the existing NASA logo. There's a navy oval option that pictures a spaceship blasting off.
For Americans more taken with the idea of a strong interplanetary defense, there is an option shaped like a shield, and one in which the flight path of spaceship winds around a circle of stars to form a sort of protective web.
There is spaceship logo surrounded with red and navy stars. And last but not least, there is a rosy logo emblazoned with the epic words, "Mars awaits."
"President Trump wants a SPACE FORCE -- a groundbreaking endeavor for the future of America and the final frontier," the email reads. "As a way to celebrate President Trump's huge announcement, our campaign will be selling a new line of gear. But first we have to make a final decision on the design we will use to commemorate President Trump's new Space Force -- and he wants YOU to have a say."
Don't know how you could possibly decide? Just use the force.
Thanks for reading CBS NEWS.
Create your free account or log in
for more features.