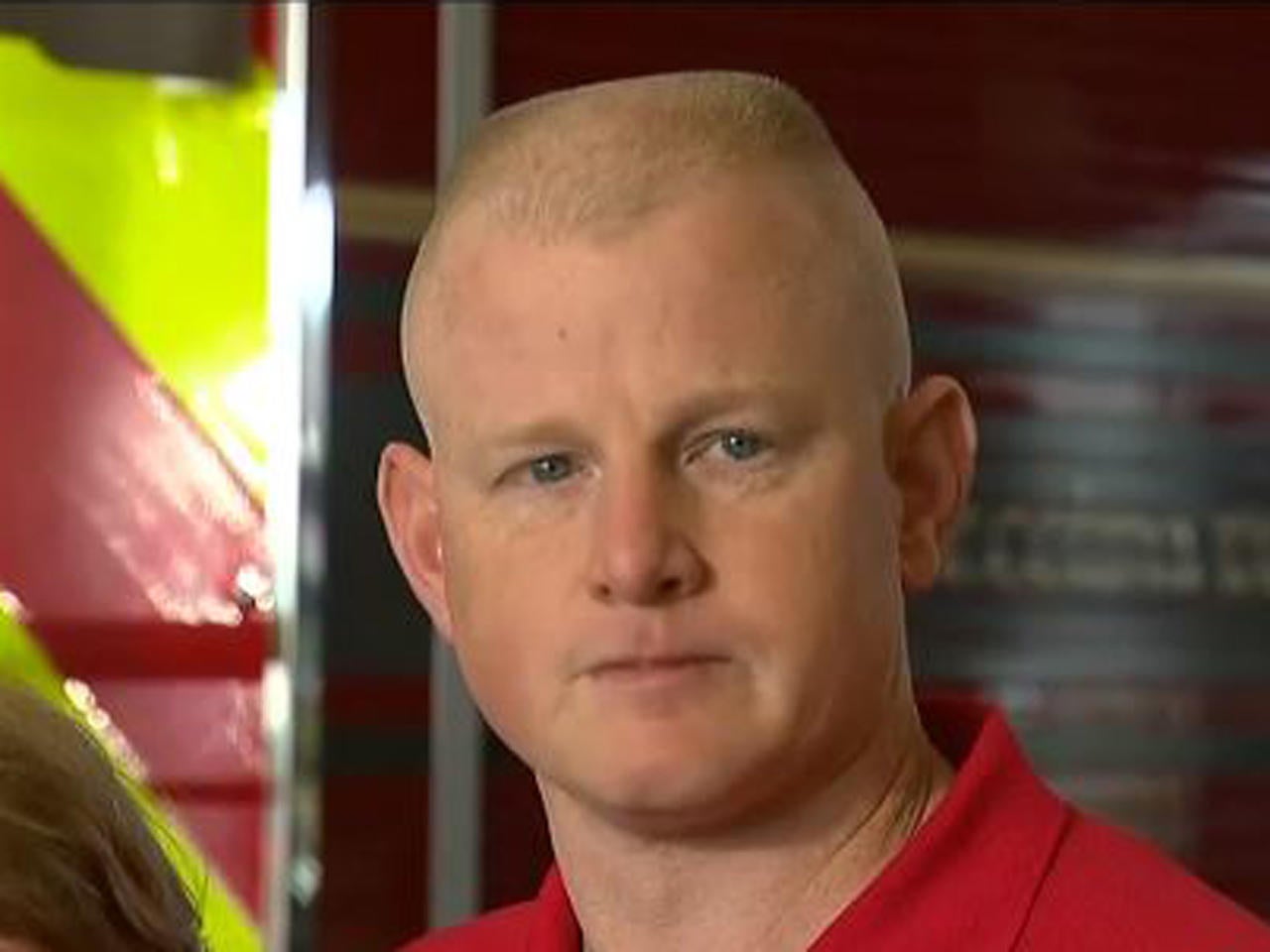 Southwest passengers describe rushing to help victim after jet engine explosion
PHILADELPHIA -- As those aboard a Southwest Airlines jet frantically started putting oxygen masks on and helping others with theirs after an engine blew Tuesday, hurling shrapnel at the aircraft and blowing out a window, passengers and crew members rushed to reach a woman in the 14th row. She was being sucked out head-first through the opening, even though she was wearing a seatbelt, according to investigators.
By at least one passenger's account, half her body was outside the plane.
A man in a cowboy hat, rancher Tim McGinty of Hillsboro, Texas, tore his mask off and struggled to pull the woman in.
"It seemed like two minutes and it seemed like two hours," McGinty told reporters, a bandage on an arm he scraped while trying to save the woman.
Andrew Needum, a firefighter from Celina, Texas, came to help, and the two of them managed to drag her back inside.
Jennifer Riordan, a 43-year-old Wells Fargo bank executive and mother of two from Albuquerque, New Mexico, didn't survive.
At a press conference Thursday in Celina, Needum, a father of two, said, "God told me to move," so he acted.
"God created a servant heart in me, and I felt a calling to get up and do something, stand up and act," Needum said. "I'm no different than any other firefighter in this country. For some reason, whatever reason that is, it was me that day, but I work with some great guys that would have, no doubt, had done the same thing."
Needum said he had just helped a young woman with an infant in her lap put on their masks when he heard some commotion behind him and he looked across the aisle at his wife Stephanie.
"I looked at her eyes, and she basically gave me the approval to go back there," Andrew Needum said. "In fact, I think she may have told me to go ... and what took place back there I'm going to leave out of respect for [Riordan's] family. I'm going to leave that alone, but I never was in fear of my life. I'm sure my family could speak otherwise, but I'm trained for emergency situations, and that's just exactly what it was."
Stephanie Needum said she was proud of her husband.
"This is a calling that he has, and he did amazing," she said.
Andrew Needum thanked McGinty and others on the plane who helped.
"People aboard that plane, God put people on that plane for a reason, and everybody acted, and everybody stood strong," Andrew Needum said.
McGinty's wife, Kristin McGinty, who was also on board, later told USA Today: "Some heroes wear capes, but mine wears a cowboy hat."
On the plane, when a flight attendant asked if anyone knew CPR, retired school nurse Peggy Phillips got out of her seatbelt, and she and the firefighter laid the grievously injured woman down. The two of them began administering CPR for about 20 minutes, until the plane landed.
"If you can possibly imagine going through the window of an airplane at about 600 mph and hitting either the fuselage or the wing with your body, with your face, then I think I can probably tell you there was significant trauma," Phillips told ABC.
The Philadelphia medical examiner said Riordan died of blunt impact trauma of the head, neck and torso.
Thanks for reading CBS NEWS.
Create your free account or log in
for more features.