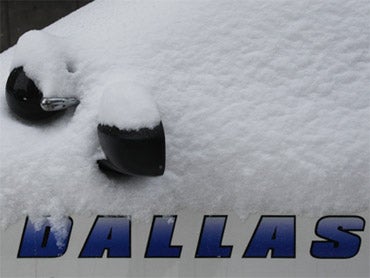 Snow Blankets Dallas 2 Days before Super Bowl
FORT WORTH, Texas - Another blast of winter weather slammed Dallas with up to 5 inches of snow Friday, making driving hazardous and prompting the cancellation of hundreds of flights as tens of thousands of football fans descended on the city for the Super Bowl.
North Texas was still struggling to recover from Tuesday's ice storm, part of a massive system that paralyzed a large swath of the country with blizzards, thundersnow and bone-chilling temperatures this week.
CBSNews.com: Complete Coverage of Superbowl XLV
The National Weather Service issued a winter storm warning Friday for Arlington, home of the $1.3 billion Cowboys Stadium where the Pittsburgh Steelers and the Green Bay Packers are set to face off this weekend.
On Friday, video showed sheets of snow and ice cascading off the stadium dome.
Super Bowl Dome Covered in Snow and Ice
Forecasters expect a mostly sunny Super Bowl Sunday with highs in the 40s, and organizers said last week that the retractable roof of $1.3 billion stadium will be closed.
Nevertheless, the weather was causing travel problems for die-hard fans Friday - which is expected to be the busiest day for travel to Dallas ahead of the game.
American Airlines and its affiliate, Eagle, cancelled more than 300 flights that were supposed to land at its main hub, Dallas-Fort Worth International Airport. City aviation spokesman Jose Luis Torres said Love Field, home to Southwest Airlines, was closed to commercial flights because of snow on the runways. The airport was expected to resume full operations by noon.
Sammy Sandu, a 32-year-old property developer from Kelowna, B.C., and his father made it to Dallas Thursday before the latest snowfall, but other members of their party weren't so lucky. Sandu's brother was still hoping to get in from Miami, while his friend essentially abandoned travel plans after an American Airlines flight from Vancouver was canceled.
Sandu had hoped to visit the JFK assassination site and attend several parties - he said his brother spent $1,500 on party tickets - but that all those plans were on hold.
"It looks like, `Oh, no, I'm back in Canada,"' Sandu said. "It's just pouring down snow. Are we still at home, or have we left? We didn't drink that much last night, did we?"
As many as 5 inches of snow have fallen in the Dallas area. Amber Elliott of the National Weather Service said subfreezing temperatures that hit the area Tuesday morning will linger until Saturday. The high Sunday is expected to be in the 40s, but that is probably not high enough to melt all the snow and ice that has accumulated, Elliott said.
Snow and slush-covered roads across the city were making driving hazardous for locals and visitors alike, and the Texas Department of Transportation said keeping them clear was an ongoing slog, with crews working all night to improve safety.
"It was a challenge to keep up when the snow kept coming this morning," said spokeswoman Jodi Hodges. "We're definitely going to have to go back over the highways we plowed."
American Airlines said it is doing all it can to ensure football fans make it to Dallas, regardless of the weather.
"We are putting extra effort to operate our flights in from Chicago today to keep the Super Bowl-oriented traffic moving," American Airlines spokesman Tim Smith said.
Smith said the airline added 12 extra flights from Pittsburgh and airports near Green Bay for people coming to the game.
Dallas was feeling the chill with the mercury resting at about 20 Friday, forcing organizers of at least one celebrity-filled Super Bowl event to move their Saturday celebrations inside. But the chilly temperatures were not expected to faze the teams competing in the real event, nor their hardy fans; The temperature Friday in Pittsburgh stood at 20, while Green Bay was a slightly lower 17.
Steelers coach Mike Tomlin said the weather hasn't bothered the team.
"We're kind of used to inclement weather," Tomlin said. "At least from my perspective, it hasn't changed how we've worked at all."
Neighboring Oklahoma, still recovering from up to 20 inches of snow earlier this week, meanwhile braced for yet more. National Weather Service meteorologist Cheryl Sharp in Norman said snow began falling about 2:30 a.m. Friday and total accumulation could reach three to four inches in southeastern Oklahoma. Roads in the area are slick and yet more snow was forecast for Sunday.
Freezing rain coated roads in North Dakota, leading to dozens of accidents. Rain and sleet also caused havoc further south, making roads across Louisiana, Alabama and Mississippi slick and leading to at least five fatal traffic accidents.
Thanks for reading CBS NEWS.
Create your free account or log in
for more features.