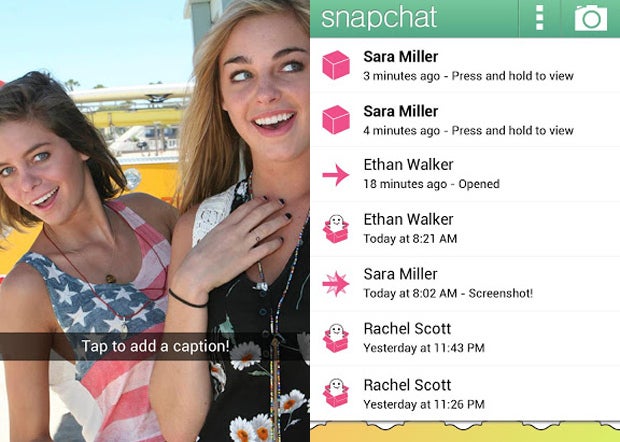 At least 100,000 Snapchat photos hacked: Report
At least 100,000 Snapchat photos that users thought would disappear as soon as they were viewed may have been scooped up by hackers who are planning to post them online, a new report claims.
Business Insider reports that hackers appear to have been collecting the photos and videos for years. It says users of the online chat forum 4chan -- one of the sites where stolen iCloud photos of celebrities like Jennifer Lawrence were posted last month -- are downloading the files and assembling them into a searchable database. 4chan users are reportedly referring to this hack as "The Snappening."
The hackers apparently obtained the images by compromising a third-party app that some Snapchat users downloaded to store their photos, which are otherwise automatically deleted a few seconds after viewing. The name of the third-party app involved was not confirmed.
Snapchat said the company's own systems had not been hacked. "We can confirm that Snapchat's servers were never breached and were not the source of these leaks," the company stated on Twitter. "Snapchatters were victimized by their use of third-party apps to send and receive Snaps, a practice that we expressly prohibit in our ToU [Terms of Use agreement]."
According to Business Insider, the trove of stolen Snapchat photos may include nude pictures of underage users. Snapchat is a popular app with teenagers; more than 70 percent of its users are under the age of 25.
Snapchat has been the target of hacking in the past. Some 4.6 million usernames and phone numbers were collected and leaked online last January.
The company has also come under fire for its handling of users' personal information. Snapchat agreed to a settlement with the Federal Trade Commission last May over charges that it misled consumers about its data collection methods and failed to tell them that others could save their messages without their knowledge.
Thanks for reading CBS NEWS.
Create your free account or log in
for more features.