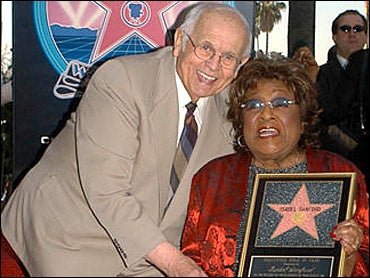 Sitcom Star Isabel Sanford Dies
Actress Isabel Sanford, best known as "Weezie," Louise Jefferson on the television sitcom "The Jeffersons," died of natural causes, her publicist said Monday. She was 86.
Sanford died Friday at Cedars-Sinai Medical Center, where she had been hospitalized since July 4, said Brad Lemack. Her daughter, Pamela Ruff, was at her side, he said.
Her health had waned after undergoing preventive surgery on a neck artery 10 months ago, Lemack said. He did not give a cause of death.
Sanford co-starred with Sherman Hemsley from 1975 to 1985 on CBS' "The Jeffersons," a spin-off of the popular series "All in the Family," in which she also appeared.
In 1981, Sanford became the first black woman to receive an Emmy for Best Actress in a Comedy Series for her work on "The Jeffersons."
"Isabel was our queen and that's what we called her on the show," said Marla Gibbs, who played the Jeffersons' maid Florence Johnston.
Gibbs said that even before the hit sitcom, Sanford's comedic talents were evident during acting auditions.
"Isabel would come in and just light up the room and start telling stories and having everybody in stitches," Gibbs said.
Sanford, a native New Yorker, was joined by "Jeffersons" creator Norman Lear and others in January when she received a star on the Hollywood Walk of Fame.
"Here with stars in my eyes — something that I dreamed about when I was 9 years old," she said at the time. "There are others that deserve it, but let everybody get their own."
She enjoyed getting fan mail from people who saw "The Jeffersons" for the first time in reruns, Lemack said.
"She was just amazed and so pleased that the show had that kind of lasting power and entertainment because she loved to make people laugh," he said.
Sanford made her feature film debut in the 1967 classic, "Guess Who's Coming to Dinner."
Recently, Sanford lent her voice to "The Simpsons" and appeared in commercial campaigns for Denny's restaurants and retailer Old Navy.
Besides her daughter, Sanford is survived by two sons, seven grandchildren and six great-grandchildren.

Thanks for reading CBS NEWS.
Create your free account or log in
for more features.