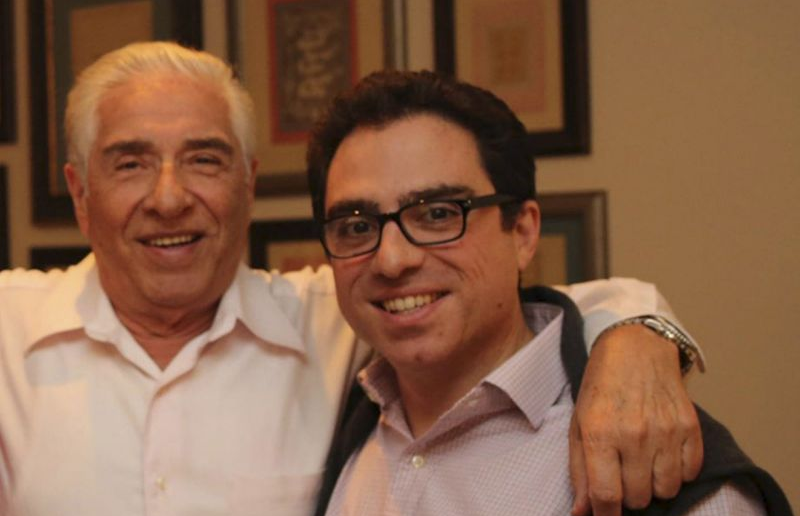 2 Americans serving 10 years in Iran lose appeal, lawyer says
DUBAI, United Arab Emirates -- An Iranian-American businessman and his father, who are serving 10-year prison sentences in Iran over their ties to the U.S., have lost a court appeal, a lawyer said Monday.
Siamak Namazi and his 81-year-old father Baquer -- who are among several dual nationals detained in Iran -- learned Sunday that the Tehran Appeals Court denied their appeal, Washington-based lawyer Jared Genser said.
Iranian officials and state media did not immediately acknowledge the failed appeal.
"I condemn in no uncertain terms the cruel and unjust decision of the Tehran Appeals Court," their lawyer, Jared Genser, said. "The Namazis are innocent of the charges on which they were convicted and they are prisoners of conscious, detained in Iran because they are American citizens. For the Appeals Court to now uphold their convictions shows unequivocally that this was just more psychological torture by the Iranian government designed to create great hope in the Namazis and then utterly destroy them."
The court's decision comes as both Baquer and Siamak suffer health problems related to their incarceration at Tehran's notorious Evin prison, which holds political detainees.
According to Genser, Baquer's health is "deteriorating rapidly." He recently underwent "triple bypass surgery, has lost 30 pounds in prison and suffers from shortness of breath, dizziness, bouts of confusion and recently lost his hearing in one year." Siamiak has spent most of his detention "in solitary confinement and has been interrogated relentlessly, beaten and tased."
"I am deeply worried about the health of both of the Namazis, which has rapidly deteriorated," Genser told The Associated Press.
The Namazi family fled after the 1979 Islamic Revolution. The younger Namazi later traveled back several times and wrote articles calling for improved ties between Iran and the U.S., urging Iranian-Americans to act as a bridge between the rival governments.
Those efforts raised suspicions among hard-liners in Iran. In May 2015, a hard-line Iranian website called Fardanews accused him of being part of a Western effort to infiltrate Iran.
Siamak Namazi was arrested in October 2015. His father, a former UNICEF representative who served as governor of Iran's oil-rich Khuzestan province under the U.S.-backed shah, was arrested in February 2016, apparently drawn to Iran over fears about his incarcerated son.
Iran does not recognize dual nationalities, meaning those detained cannot receive consular assistance. In most cases, dual nationals face secret charges in closed-door hearings in Iran's Revolutionary Court, which handles cases involving alleged attempts to overthrow the government.
In October, authorities said the Namazis had been sentenced to 10 years in prison for "cooperating with the hostile American government."
The Namazis are among a host of dual nationals and those with ties to the West held in the country after the 2015 nuclear deal with world powers.
Others include Chinese-American graduate student Xiyue Wang, who was sentenced to 10 years in prison in Iran for allegedly "infiltrating" the country while doing doctoral research on Iran's Qajar dynasty. Nazanin Zaghari-Ratcliffe, a British-Iranian woman, was sentenced to five years in prison on allegations of planning the "soft toppling" of Iran's government while traveling with her young daughter.
Iranian-American Robin Shahini was released on bail last year after staging a weekslong hunger strike while serving an 18-year prison sentence for "collaboration with a hostile government." Shahini is believed to still be in Iran.
Former FBI agent Robert Levinson, who vanished in Iran in 2007 while reportedly on an unauthorized CIA mission, remains unaccounted for.
Also in an Iranian prison is Nizar Zakka, a U.S. permanent resident from Lebanon who advocates for internet freedom and has done work for the U.S. government. He was sentenced to 10 years last year on espionage-related charges.
In the wake of the 2015 nuclear accord, Iran freed detained Washington Post journalist Jason Rezaian and three other Iranian-Americans in exchange for pardons or charges being dropped against seven Iranians. That deal also saw the U.S. make a $400 million cash delivery to Iran.
Analysts and family members of those detained in Iran have suggested Iran wants to negotiate another, similar deal with the West. "The signal has been sent very, very clearly that this is what they want to do," Genser said.
Thanks for reading CBS NEWS.
Create your free account or log in
for more features.