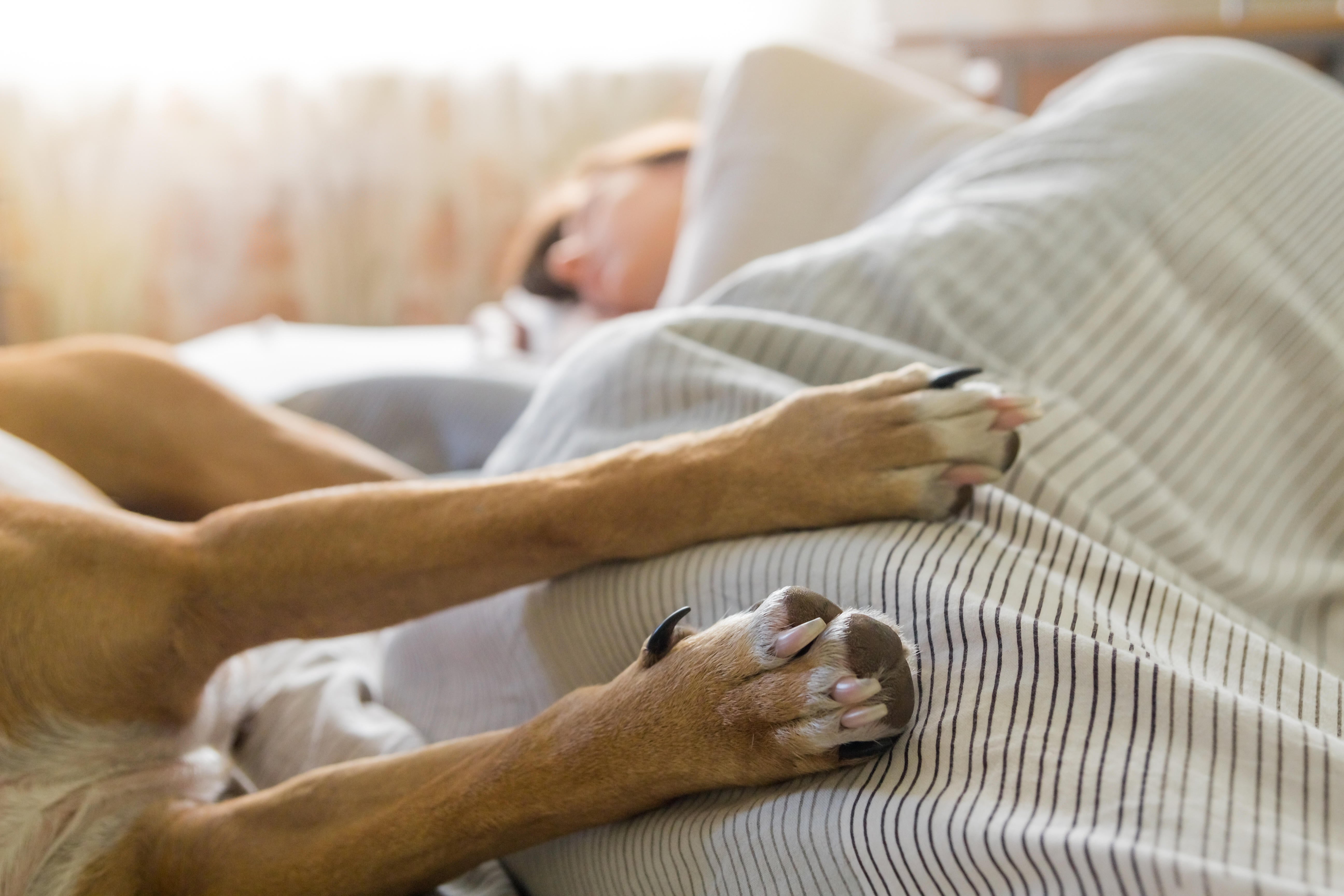 Is it a good idea to let your dog sleep in the bedroom?
Whether or not a dog is allowed in the bedroom is a highly individualized decision: Some pet owners are eager to cuddle up to their pup at night, while others banish Fido from their sleeping quarters.
Now, new research attempts to shed some light on whether letting a dog sleep the bedroom helps or hurts a person's efforts to get a good night's sleep.
A small study from the Mayo Clinic finds that sleeping in the same room with your pet does not appear to affect quality of sleep. In fact, it may actually lead to a more restful night. However, that benefit does not extend to people who actually shared their bed with their pet, which the research found may negatively affect sleep quality.
"Most people assume having pets in the bedroom is a disruption," study author Lois Krahn, M.D., a sleep medicine specialist at the Center for Sleep Medicine on Mayo Clinic's Arizona campus, said in a statement. "We found that many people actually find comfort and a sense of security from sleeping with their pets."
According to the American Veterinary Association, more than 43 million American households have dogs. Nearly two-thirds of pet owners said they consider their pooch a part of their family.
The Mayo Clinic study included 40 healthy adults with pet dogs, all of whom slept with their pet either in their bed or somewhere else in the room. Participants were evaluated over the course of five months. For one week, both the people and their pets wore activity trackers to monitor their sleeping habits.
Sleeping with their dog in the room appeared to help some people get a better night's rest – whether they were snoozing with a Chihuahua or a Great Dane. But the study also found those who snuggled up to their dog in bed sacrificed sleep quality.
"To our knowledge, this study is the first of its kind to objectively evaluate the effects of dogs in bedrooms on human sleep," the authors write. "On the basis of these results, a single dog in the bedroom does not affect human sleep to a marked degree because, on average, humans with dogs in their bedrooms were able to maintain satisfactory sleep efficiency."
Krahn notes that the relationship between people and their pets has changed over time, a likely contributor to why many people choose to sleep with their pets in their bedroom.
"Today, many pet owners are away from their pets for much of the day, so they want to maximize their time with them when they are home," she said. "Having them in the bedroom at night is an easy way to do that. And, now, pet owners can find comfort knowing it won't negatively impact their sleep."
The study was limited by its small sample size and only included dogs that were at least 6 months old, so people shouldn't expect to see the same results with energetic puppies.
And there are some exceptions. For people with asthma and pet allergies, the Centers for Disease Control and Prevention recommends keeping dogs out of the bedroom.
Thanks for reading CBS NEWS.
Create your free account or log in
for more features.