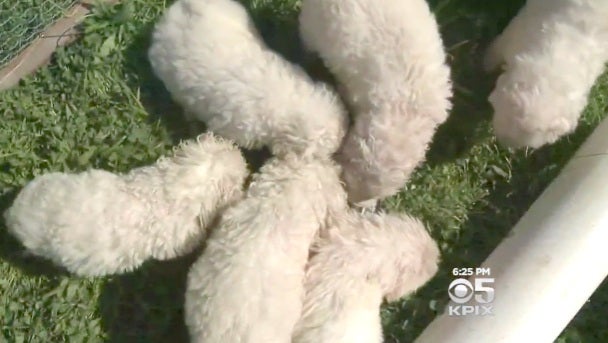 Sheepdog breaks California record for largest litter of puppies
NAPA, Calif. -- A dog who looks after the sheep and chickens at a Napa farm has broken the record for having the largest litter of puppies in California, reports CBS San Francisco.
Stella, a 3-year-old Maremma Sheepdog, bore 17 puppies. Her proud owners John and Gaby Costanzo were shocked.
"Six to eight is normal," said John Costanzo. "Seventeen is insane."
He said the vet told them on the spot Stella set a record for the state. It's also the largest litter ever recorded for her breed.
"We really were just expecting maybe 10 at the most. But once the 17th was finally coming out we realized that this was going to be a lot of work. We were going to be feeding morning noon and night," he said.
"We're not professional breeders or anything. We're just a farm and we have these dogs protecting our livestock."
The Guinness World record for the largest litter of puppies ever is 24, CBS SF reports.
All of the dogs have been spoken for; each will end up doing some very specific work on a farm of their own.
"Some of these guys are already going to farms around California, and we're just waiting to go through the rest of the interview process to put all 17 of them in different farms," said Costanzo.
Thanks for reading CBS NEWS.
Create your free account or log in
for more features.