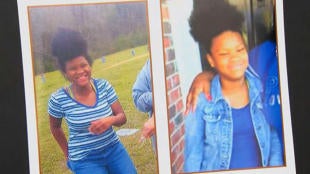 Shavon Randle case: Girl found dead after ransom call; possible motive detailed
DALLAS -- Authorities in North Texas say a 13-year-old girl missing for several days and a man were both found dead early Sunday inside a Dallas home.
FBI Special Agent in Charge Eric Jackson says Shavon Randle has been identified as one of two people dead inside the house in Dallas' Oak Cliff area.
The girl was reported abducted Wednesday from her home in Lancaster, about 15 miles south of Dallas. CBS DFW identified the man found dead as 19-year-old Michael Titus, who had been a person of interest sought in connection to her kidnapping. There has still been no word about how Randle died.
The station reports that Devontae Owens, 24, and Laquon Wilkerson, 30, are now behind bars, arrested late Saturday in relation to Randle's kidnapping. Two others are reportedly being questioned.
Lancaster police issued an Amber Alert after receiving the missing person report about the teen last week.
According to a criminal complaint obtained by the local NBC station, the girl's cousin said she received a phone call around 10:30 that night from a private number. The caller claimed to have the girl and told the cousin that "if she called police they would kill the victim."
The cousin said the caller told her, "Give us our s--- back or we're going to kill her."
The cousin told authorities her boyfriend had stolen a large amount of narcotics from a group of men at a hotel, and police said in the affidavit they were able to corroborate her account of the robbery at a Lancaster Motel 6 June 26. The FBI was called in to assist with the kidnapping investigation, and an agent made contact with an informant who said a man she knew as "Trey" told her that a man stole his narcotics and he was planning on kidnapping a child to get the drugs back.
Investigators say they identified "Trey" as Devontae Owens and say cellphone data places him near the victim's residence, according to the affidavit. Owens' cellphone and the victim's cellphone then both traveled in the same direction away from the girl's home before her cell phone was shut off, the affidavit states.
Angel Titus, the mother of Michael Titus, told CBS DFW she was "hurting with, not against" Randle's family. She maintained her son's innocence.
"My child was not responsible for this," Titus told the station. "If he was responsible for this, he would not be dead."
The area around the small one-story home was cordoned off Sunday morning. Investigators placed evidence markers around the front yard and people in hazardous materials suits could be seen entering and leaving the home.
"We didn't have the positive result we were looking for, but being able to let Shavon's family know that we've located her was our goal," Eric Jackson, special agent in charge of the Dallas FBI, said. "We're going to continue our investigation and anyone we find that were involved in this heinous crime against Shavon, we will bring you to justice and we will hold you accountable."
Thanks for reading CBS NEWS.
Create your free account or log in
for more features.