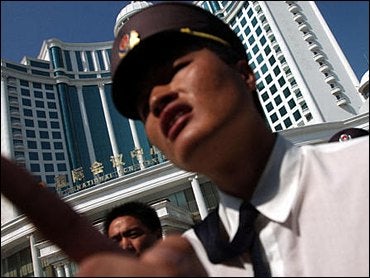 Sex Romp Organizers Get Jail Time
A Chinese court on Wednesday sentenced two people to life in prison for organizing a three-day-long sex party for hundreds of Japanese tourists that caused an uproar in China.
Twelve other people were sentenced to up to 15 years in prison, the government announced.
The incident at a hotel in Zhuhai city raised particular outrage in China because it coincided with a sensitive anniversary, Sept. 18, the date Chinese mark as the start of Japan's World War II invasion and occupation of their country.
According to earlier Chinese reports, as many as 400 Japanese men and 500 Chinese prostitutes had sex at the Zhuhai International Conference Center Hotel over a three-day period that ended Sept. 18.
Those sentenced to life were Ye Xiang, assistant to the hotel's general manager, and Ming Zhu, a prostitute, the official Xinhua News Agency said. It said they were the main organizers of the event.
Chinese authorities have issued arrest warrants for three Japanese accused of arranging the sex party and asked Japan to help in detaining them, Xinhua said. It said China asked the international police agency Interpol to circulate the warrants.
Xinhua identified the three Japanese as Isao Hirobe, Shunji Takahashi and Koji Fukunaga, employees of an unidentified construction company in Osaka, a city in western Japan. It said they arranged a business meeting at the Zhuhai hotel and "clearly requested sexual services" from its managers.
Japan has not decided how to respond to the detention request, said a Japanese Foreign Ministry spokesman in Tokyo. He said the two governments have no extradition treaty.
"These things would probably be decided on a case-by-case basis, with consideration for the legal issues of each individual case," he said, speaking on customary condition of anonymity. "But we haven't decided on a response for this case yet."
Japanese law bars the government from handing over one of its citizens to a country without such a treaty, said Kenki Okada, an official of the Justice Ministry in Tokyo.
Prostitution, though illegal, is common in China and often practiced openly in tourist hotels in major cities.
The 14 defendants — all of them Chinese citizens — were charged with prostitution, soliciting, conspiracy and other offenses, according to Chinese news reports.
The trial began Friday and ended Saturday amid tight security in the Zhuhai Intermediate People's Court. The public and nonessential employees were barred from the courthouse by officials who cited privacy concerns.
The Zhuhai hotel's deputy sales manager, Liu Xuejing, was sentenced to 15 years.
Another defendant, prostitute Zhang Junying, was sentenced to 12 years, and the 10 others received between two and 10 years in prison, Xinhua said reported.
Many of the Japanese at the party were said to be employees of the Japanese construction company.
Japan's Foreign Ministry has said the company acknowledged paying for "companions" at a reception but denies sponsoring the events that followed.
By Stephanie Hoo
Thanks for reading CBS NEWS.
Create your free account or log in
for more features.