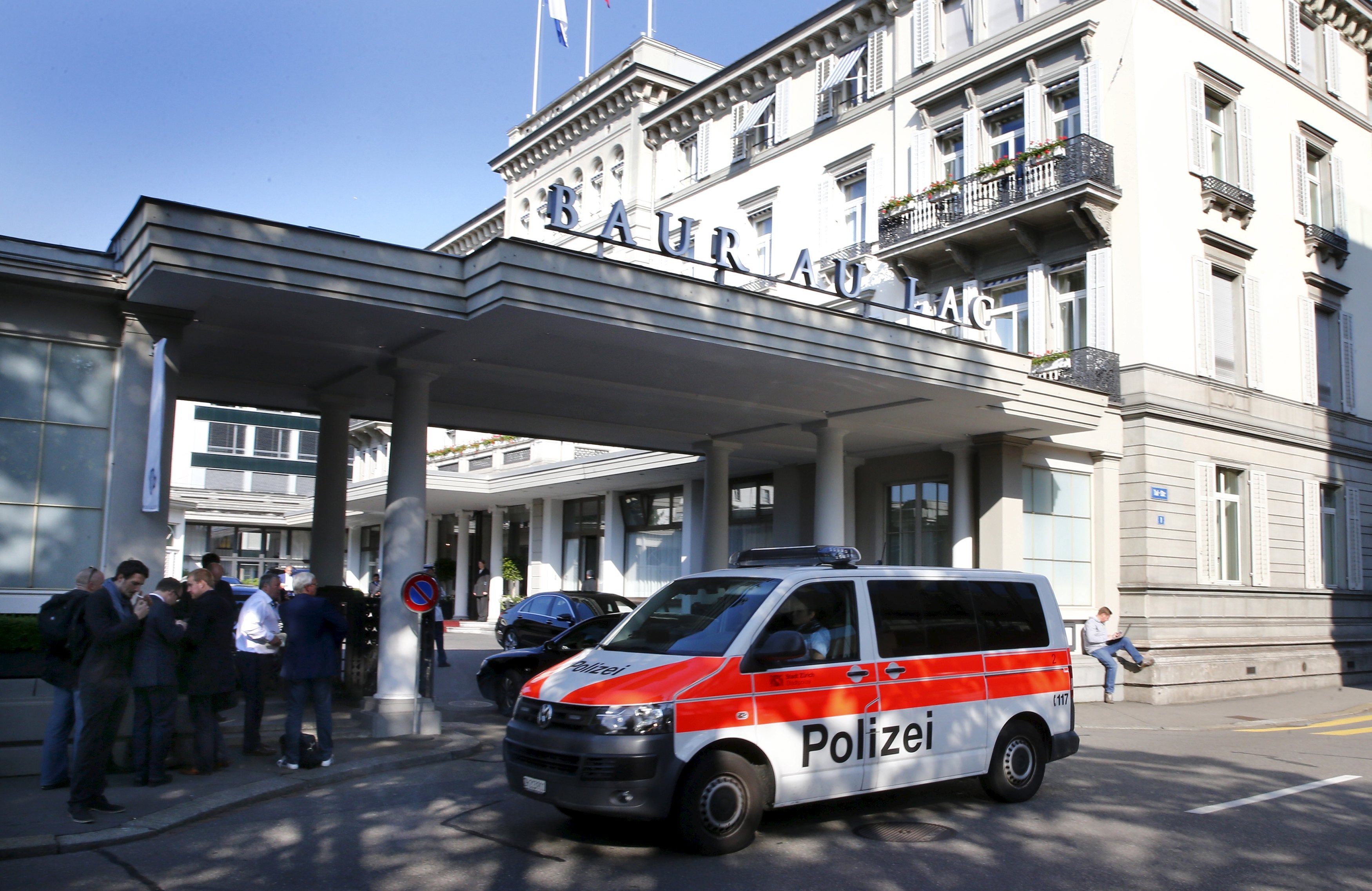 FIFA rocked by arrests on corruption charges
ZURICH -- Swiss prosecutors opened criminal proceedings into FIFA's awarding of the 2018 and 2022 World Cups, only hours after seven soccer officials were arrested Wednesday pending extradition to the U.S. in a separate probe of "rampant, systemic, and deep-rooted" corruption.
FIFA, meanwhile, said Friday's presidential election would go ahead as planned with Sepp Blatter going for a fifth term. Blatter was not named in either investigation.
FIFA also ruled out a revote of the World Cups won by Russia in 2018 and Qatar in 2022.
In a statement, Blatter said the Swiss case "was set in motion when we submitted a dossier" late last year.
"As unfortunate as these events are, it should be clear that we welcome the actions and the investigations by the US and Swiss authorities and believe that it will help to reinforce measures that FIFA has already taken to root out any wrongdoing in football," Blatter said in the statement.
He added that all the officials named in the investigations have been provisionally banned from all soccer-related activities.
New York Times reporter Michael Schmidt told "CBS This Morning" that Blatter, whose reign as head of FIFA has seen both tremendous growth in the sport, as well as a long series of scandals, could still get swept up in the larger investigation.
"I don't think he's in the clear," Schmidt said.
Investigators are likely to wait to see what comes of the indictments of these senior FIFA officials, and later "look back and assess and see who they can go after," Schmidt said.
"For FIFA, this is good. It confirms we are on the right track," FIFA spokesman Walter de Gregorio said at a news conference Wednesday at FIFA headquarters, stressing that the organization would cooperate with the investigations. "It hurts, it's not easy, but it's good."
The Swiss prosecutors' office said in a statement they seized "electronic data and documents" at FIFA's headquarters on Wednesday as part of their probe. And Swiss police said they will question 10 FIFA executive committee members who took part in the World Cup votes in December 2010.
The Swiss investigation against "persons unknown on suspicion of criminal mismanagement and of money laundering" again throws into the doubt the integrity of the voting.
"FIFA is fully cooperating with the investigation and is supporting the collection of evidence in this regard," FIFA said in a statement.
The Swiss announcement came only hours after 14 people were indicted in the U.S. for corruption. Seven of them were arrested and detained by Swiss police at the request of U.S. authorities after a raid at a luxury hotel in Zurich.
The U.S. Department of Justice said in a statement that two current FIFA vice presidents were among those arrested and indicted, Jeffrey Webb of the Cayman Islands and Eugenio Figueredo of Uruguay. The others are Eduardo Li of Costa Rica, Julio Rocha of Nicaragua, Costas Takkas of Britain, Rafael Esquivel of Venezuela and Jose Maria Marin of Brazil.
All seven are connected with the regional confederations of North and South America and face up to 20 years in prison if convicted.
The Swiss Justice Ministry said six of the seven FIFA officials arrested in Zurich in a U.S. corruption probe plan to fight being extradited to the U.S.
"The indictment alleges corruption that is rampant, systemic, and deep-rooted both abroad and here in the United States," Attorney General Loretta E. Lynch said in the statement. "It spans at least two generations of soccer officials who, as alleged, have abused their positions of trust to acquire millions of dollars in bribes and kickbacks."
Nine of the 14 that were indicted by the Justice Department are soccer officials, while four are sports marketing executives and another works in broadcasting. Jack Warner, a former FIFA vice president from Trinidad and Tobago, was among those indicted.
Warner, 72, said Wednesday in a statement: "I have been afforded no due process and I have not even been questioned in this matter. I reiterate that I am innocent of any charges. I have walked away from the politics of world football."
Warner was expected to spend Wednesday night in jail after surrendering when police issued an arrest warrant at the request of U.S. authorities.
A judge read 12 charges against him during a court appearance and then granted him $2.5 million bail on certain conditions, including that he surrender his passport and report to police twice a week. Warner did not enter a plea and is scheduled to appear in court again July 12.
The Swiss prosecutors' office said the U.S. probe was separate from its investigation but that authorities were working together.
Four men have already pleaded guilty in the U.S. soccer corruption investigation involving bribes totaling more than $100 million.
Chuck Blazer, for nearly two decades the most senior American official at FIFA, the world soccer body, was among those whose guilty pleas were unsealed Wednesday by U.S. authorities. Blazer had pocketed millions of dollars in marketing commissions and avoided paying taxes. He has been a cooperating witness for the FBI since leaving soccer in 2013 and has forfeited almost $2 million.
U.S. officials say guilty pleas were also given by Warner's sons, Daryan and Daryll; and Jose Hawilla, an executive of the Brazil-based sports marketing firm Traffic Sports.
U.S. officials say Hawilla has agreed to forfeit over $151 million.
They face maximum jail terms of incarceration of 20 years for "the RICO conspiracy, wire fraud conspiracy, wire fraud, money laundering conspiracy, money laundering and obstruction of justice charges."
Russian Sports Minister Vitaly Mutko, who is also a FIFA executive committee member, told The Associated Press "we've got nothing to hide."
"We're prepared to show everything," Mutko said in a telephone interview. "We've always acted within the law."
Qatari soccer officials declined to comment.
The U.S. case involves bribes "totaling more than $100 million" linked to commercial deals dating back to the 1990s for soccer tournaments in the United States and Latin America, the Swiss Federal Office of Justice said. The Justice Department said the corruption is linked to World Cup qualifying matches and the Copa America - South America's continental championship.
Dozens of soccer officials are in Switzerland for the FIFA congress and presidential election, where Blatter is widely expected to win re-election at the helm of the governing body of world soccer.
Blatter had been scheduled to attend a meeting of the Confederation of African Football in a different downtown Zurich hotel, but he canceled his appearance.
Blatter's only opponent in Friday's presidential election, Prince Ali bin al-Hussein of Jordan, said it was "a sad day for football," but declined to comment further.
The arrests were made at the lakeside Baur au Lac Hotel in downtown Zurich, long favored as a place for senior FIFA officials to stay. It was the stage for intense lobbying for votes ahead of the 2018 and 2022 World Cup hosting decisions in December 2010.
In Florida, a small group of agents from the FBI and IRS executed search warrants at CONCACAF headquarters in Miami Beach.
Neither agency offered comment on the investigation.
The North American regional body, known as CONCACAF, reported itself to U.S. tax authorities in 2012. Then based in New York, the organization had not paid taxes over several years when its president was Warner and secretary general was Chuck Blazer of the United States.
Warner left soccer in 2011 to avoid FIFA sanctions in a bribery scandal during that year's presidential election. Blazer left in 2013 and has pleaded guilty to charges, the Justice Department said in Wednesday's statement.
Warner's successor as CONCACAF leader and FIFA vice president is Webb, who was staying at the Baur au Lac this week.
The Swiss Federal Office of Justice said in its statement that U.S. authorities suspect the arrested officials of having received or paid bribes totaling millions of dollars and that the crimes were agreed to and prepared in the U.S., and payments carried out via U.S. banks.
"The bribery suspects - representatives of sports media and sports promotion firms - are alleged to have been involved in schemes to make payments to the soccer functionaries (FIFA delegates) and other functionaries of FIFA sub-organizations - totaling more than USD 100 million," the FOJ statement said.
A statement in German added that the probe involved tournaments in the United States.
International media gathered at the street entrance of the Baur au Lac in scenes reminiscent of the World Cup votes won by Russia and Qatar more than four years ago.
Then, former President Bill Clinton was inside meeting FIFA voters who later rejected the American bid in favor of Qatar, and Britain's Prince William was part of the losing English bid team.
Suspicions of vote-buying and wrongdoing in those bidding contests have dogged FIFA ever since.
Meanwhile, Nike says it is cooperating with authorities in the U.S. probe. The athletic wear company is not an official FIFA sponsor, but it pays to have the Brazilian and other countries' national teams wear its shirts and other gear.
This is the first time it has acknowledged that it has been contacted in the investigation. Nike did not address anything specific in the investigation. It said it is "strongly opposed to any form of manipulation or bribery."
Some official sponsors including McDonald's also said Wednesday they are in contact with authorities.
Thanks for reading CBS NEWS.
Create your free account or log in
for more features.