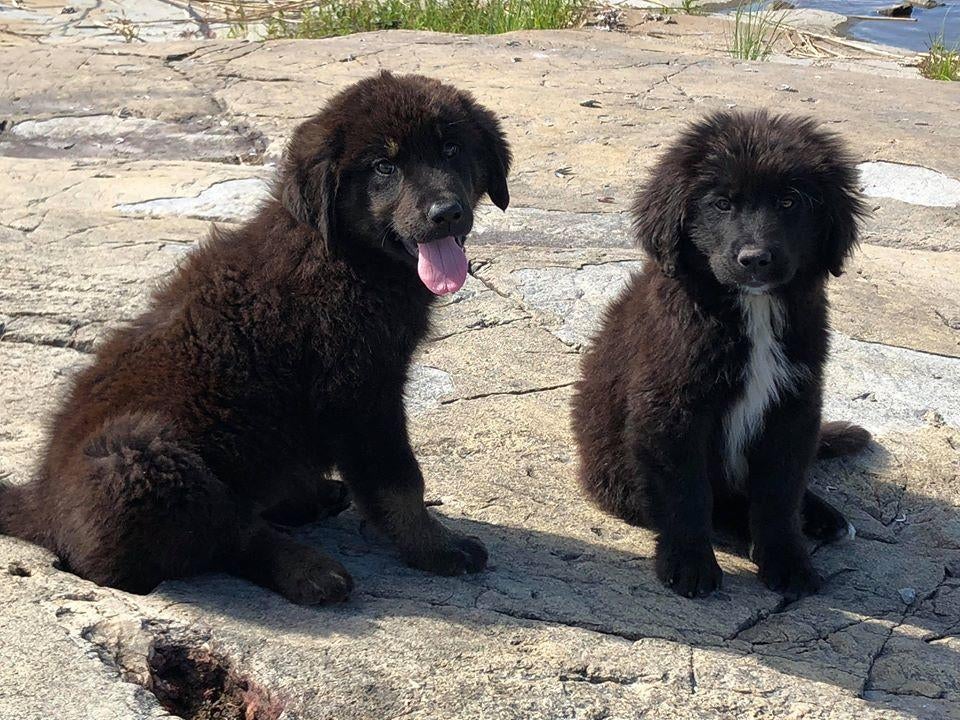 Seven puppies found on remote island rescued, named after "Gilligan's Island" characters
Two men fishing near Cross Lake in Manitoba, Canada, came across a small island with some peculiar castaways on Monday. JR Cook and his friend, Leon, were boating by the island when they heard what sounded like crying. They weren't sure who – or what – it was, and it was getting too dark to investigate. So the two fishing buddies went back the next day, and saw some movement in the brush.
They thought it might be wolves, but what emerged was a much smaller, more playful canine. In all, seven black puppies were traipsing around the remote island, which was otherwise completely uninhabited. Cook says he has no clue how they got there, but he knew the dogs needed help.
"They randomly found them there," Jessica Boeckler, who works with Norway House Animal Rescue, told CBS News. No one knows how the puppies ended up on the island, or where their mother is.
After the discovery, the men took their boat to the mainland, where they got dog food and spoke with a volunteer at Norway House Animal Rescue. Cook coordinated with the organization to transport the puppies off the island and take them to a shelter, but it was going to take a few days.
"They went back three times a day to take care of them," Boeckler, the adoption coordinator for the organization, told CBS News.
Boeckler says Norway House Animal Rescue works very closely with the community and gets calls about strays and abandoned dogs frequently. "There is in Manitoba an abundance of stray dogs in the communities. We bring them in, get them properly vetted, sometimes other rescues take them in if we're full," she said.
The rescued puppies are waiting for Deb Vandekerkhove, director of the animal rescue, to pick them up and bring them to a shelter in Winnipeg, where they will be put up for adoption. "And they'll be adopted right quick in no time, I'm sure," Boeckler said. She says the dogs are a Labrador cross-breed.
For now, the dogs will be put in a foster home near the lake where they were found. The volunteer who is fostering the pups, along with Cook, came up with creative names for all of them. Since seven puppies were stranded on the deserted island – much like the seven characters on "Gilligan's Island" – the pups were named after the famous TV castaways.
But unlike the gang on "Gilligan's Island," whose misadventures continued for years on the popular 1960s sitcom, these puppies were saved pretty quickly. They'll be available for adoption in three to four weeks, and "we have adoption applications already," Boeckler said.
So, the pups named Gilligan, Skipper, "and all the rest" will be picked up by Norway House Animal Rescue this week and will be placed in forever homes soon.
Thanks for reading CBS NEWS.
Create your free account or log in
for more features.