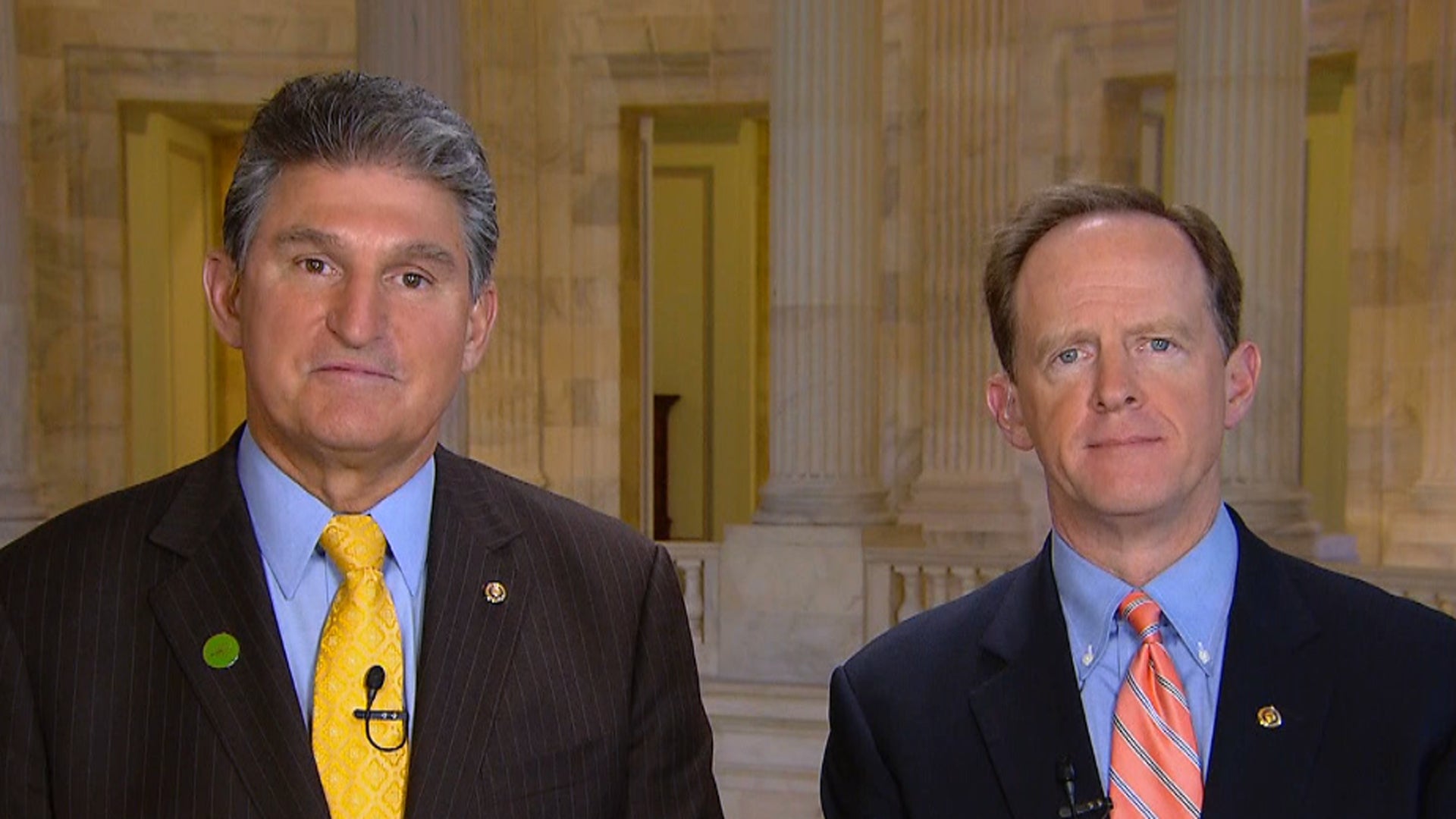 Sens. Manchin and Toomey: Newtown families happy with gun law momentum
(CBS News) The Senate is expected to block a Republican filibuster and begin the debate on tougher gun laws Thursday. A bipartisan effort on background checks led by Senators Joe Manchin and Pat Toomey -- who have both received A-ratings from the National Rifle Association -- added momentum to the push for more restrictive laws.
Manchin met with several family members of victims of the Sandy Hook elementary school massacre and told "CBS This Morning," he was overwhelmed by the notion that "they can endure and be so strong and come up there." He added that after a "very emotional" day, the families were pleased with the progress toward more restrictive gun laws.
"They are rational. They're reasonable, they're practical and they said listen, 'This is a great step. We closed down the loopholes on gun shows, we've stopped any so-called loopholes on Internet sales.' We've really gotten a hold of what we've done and we've done it right," he said, before again praising the courage of the Newtown families. "If you don't grow from their strength, I don't know what you can grow from."
First vote set on Senate gun bill amid GOP resistance
Senators announce bipartisan agreement on gun bill
Toomey took on critics who have said the measure is weak compromise that will have little to no effect on gun violence in the U.S. The proposed legislation does not address an assault weapons ban or a curb on high-capacity ammunition magazines, like the one used by Adam Lanza, the Sandy Hook killer. Toomey claims that the expansion of the background checks system will address a critical factor of gun violence.
"The problems that we have are not law-abiding gun owners like Joe and myself," Toomey said Thursday on "CBS This Morning." "We don't need ... to put restrictions on what law-abiding people can do."
"What we need to do is try to keep guns out of the hands of criminals and dangerously mentally ill people. That's the problem and that's what our bill will make some progress on."
While he admitted "there's no panacea here," Toomey insisted that a "measure that helps make it harder for violent criminals and the dangerously mentally ill to get guns. I think that's just common sense."
Toomey acknowledged the "wide range of opinion" on gun control among Republicans, but remains optimistic about the likelihood that his bipartisan measure will pass. "I think we'll get there," he said.
Thanks for reading CBS NEWS.
Create your free account or log in
for more features.