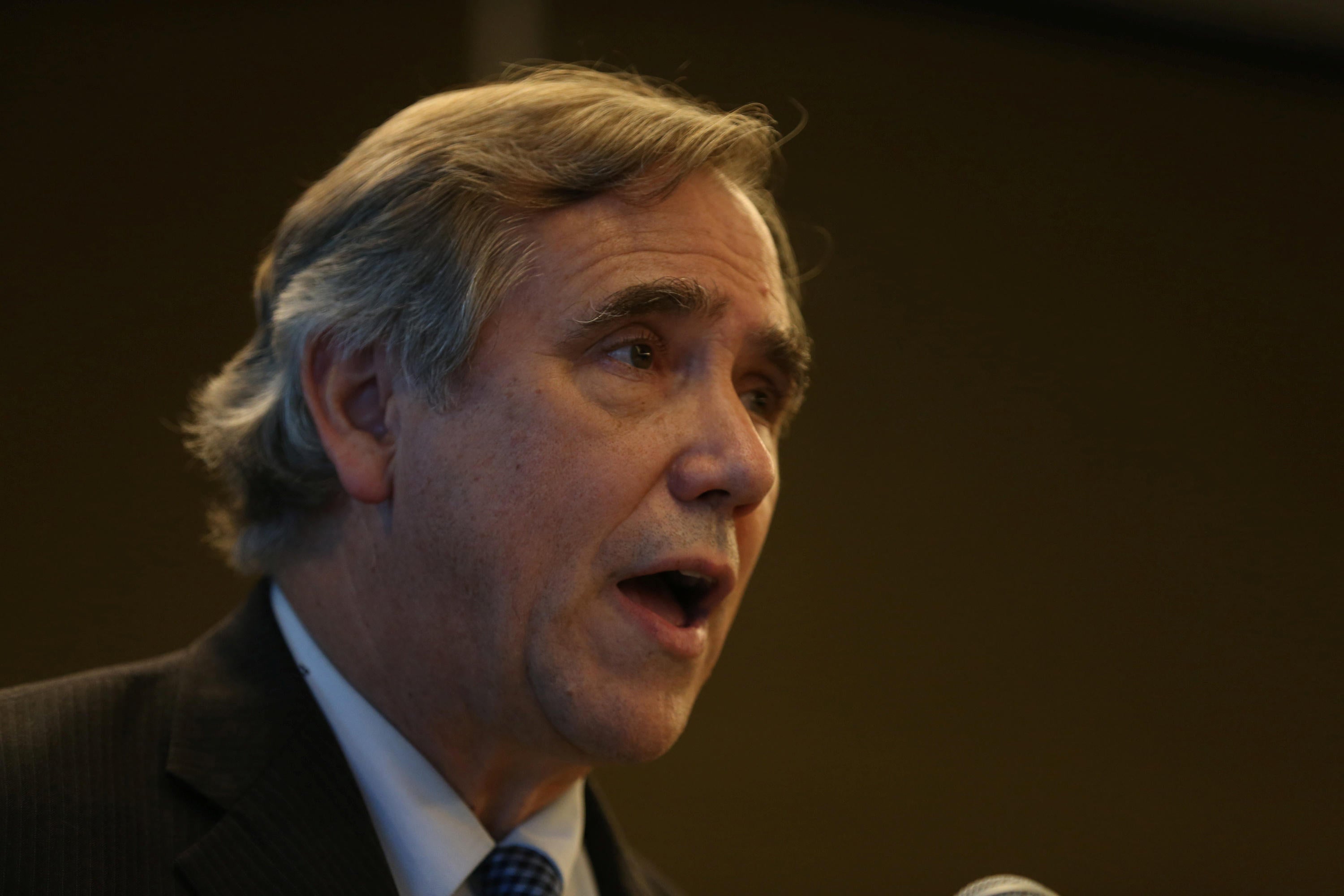 Sen. Jeff Merkley denied entry into one migrant detention facility, claims he saw kids caged in another
Democratic Sen. Jeff Merkley tried to visit an immigration detention facility in Texas over the weekend, but was soon denied access into the building. This prompted questions about what's going on behind closed doors at some of the country's detention facilities amid concerns about the separation of children from their parents who have attempted to cross the border illegally.
Merkley live-streamed his arrival at a detention facility run by the Office of Refugee Resettlement in Brownsville, Texas on Sunday, which he said was housing children who had been separated from their families at the border. During Merkley's live stream, the senator introduced himself to guards outside the building, identifying himself as a member of Congress and asking for permission to enter. The windows at the facility appeared to be blacked out.
"I was barred entry," Merkley said. "Asked repeatedly to speak to a supervisor -- he finally came out and said he can't tell us anything. Police were called on us," he added in a tweet.
"I wanted to be able to visit the facility where apparently upwards of 1,000 children are being held in that massive building, a former Walmart, and the federal government, President Trump and team, Attorney General Sessions, Homeland Security, they do not want members of Congress or the public to know what's going on," Merkley later told CNN in a phone interview on Monday.
Merkley's colleague, Sen. Bob Menendez tweeted in response to the senator's story, saying he shared a similar experience in being barred from gaining access to a detention facility. He said that Homeland Security Secretary Kirstjen Nielsen "owes us answers."
Remarking on the administration's "zero-tolerance" policy that allows border security agents to separate undocumented children from their parents when they're detained crossing the border, Merkley added, "This is not zero tolerance. This is zero humanity. It's damaging children, putting them through a horrific experience in a land where they know no one, and they don't know where they're being sent and they don't understand why they're being sent."
In a statement, the press secretary for the Department of Homeland Security said: "DHS follows the laws passed by Congress and processes alien children safely and humanely. Contrary to any misinformation campaign, the safety of children is paramount for DHS. I encourage Senator Merkley to work with the administration to fix the underlying loopholes that act as a pull factor for illegal immigration and place these children at risk from smugglers and human traffickers.
"At 2pm on a Friday, the Senator asked to visit a secure DHS facility over the weekend where children are present and we worked with him to provide him access. This presented obvious and serious privacy concerns – not to mention disrupting operations. He was able to visit the facility on Sunday."
The president has repeatedly held Democrats responsible for what he slammed as a "horrible law," but critics say there is no such law requiring families to be split up.
And amid uproar over the treatment of children who make it into the U.S. after being forced to part ways with their families, Merkley claimed in his interview with CNN that he witnessed kids in cages at a separate facility in McAllen, Texas.
"When I was at the center at McAllen Border Station, this is the processing center, earlier and I was admitted there and I did see the people, hundreds of children locked up in cages there at that facility," said Merkley, claiming that the federal government was "whitewashing" the challenges of the entrance system.
He added, "They have big cages made out of fencing and then wire and nets stretched across the top of them so people can't climb out of them."
Merkley's description sounds similar to images shared on social media which sparked recent outrage over the administration's treatment of migrant children. It was later revealed that the images being shared were not current and were taken during the Obama administration.
According to U.S Customs and Border Patrol, the McAllen Station facility is currently responsible for patrolling 53 miles the Rio Grande.
"The mission of the McAllen Station is to protect and defend the homeland from terrorists and weapons of mass effect and the goal of operations is to gain operation control of our nation's borders. McAllen Station operates out of newly constructed 68,000-square-foot state of the art facility," CBP says on its site.
Thanks for reading CBS NEWS.
Create your free account or log in
for more features.