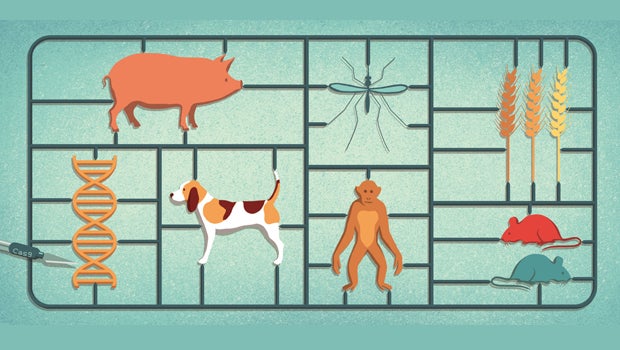 Science magazine unveils 2015 "Breakthrough of the Year"
Science magazine has unveiled its 2015 "Breakthrough of the Year" and the winner is a gene-editing technology that experts say will change life as we know it -- potentially revolutionizing medicine, basic science, and agriculture.
The gene-editing tool called CRISPR -- derived from a bacterial protein -- lets scientists cut and paste specific portions of DNA, offering a path to new treatments or cures for genetic diseases.
Science managing news editor John Travis said while the technique was first developed in 2012, CRISPR came into its own this year and has begun to transform science and spark public debate, making it the most outstanding scientific development of 2015.
It's an "unprecedented selection," Travis told CBS News. CRISPR has appeared twice before as a Science "Breakthrough" runner-up. It's the only runner-up to later be elevated to "Breakthrough of the Year" status.
CRISPR nudged out this year's Pluto space mission for the top vote, Travis said. In July, NASA's New Horizons spacecraft sent back images of ice mountains, nitrogen glaciers, and an array of tumbling moons.
The selection process is a careful one, Travis said. "Throughout the year, we try to keep track of major developments and then after Labor Day, we collect a short list of 40 to 45 possibilities and begin a winnowing process," he said.
Discussion and debate ensues until the top ten choices are made.
"As the year went on, CRISPR had done so many new things that were profoundly affecting how science is conducted and profoundly affecting how society is going to have to have to deal with CRISPR that in the end we felt we couldn't deny its elevation to the top choice," said Travis.
He said this year was special for CRISPR for a number of reasons. In the December 17 issue of Science, Travis highlights two stand-out examples: the creation of a long-sought "gene drive" that could eliminate pests or the diseases they carry, and the first intentional gene editing of DNA in human embryos, controversial work by Chinese researchers who used nonviable embryos from a fertility clinic.
The embryo work spurred a gene editing summit, convening top experts from around the world in Washington, DC, in early December.
"The summit confronted a fraught -- and newly plausible -- prospect: altering human sperm, eggs, or early embryos to correct disease genes or offer 'enhancements,'" Travis wrote in his article.
This year, researchers were also able to conduct a CRISPR-driven deletion of 62 copies of a retrovirus' DNA in the pig genome, which could have major implications for humans who need organs, Travis said. The Science paper was published in early November by Harvard researchers.
CRISPR's ability to deliver a gene to precisely the right location, compared to the techniques that came before it, and its affordability and relative ease of use in the lab, make it a desirable tool, scientists at the summit said earlier this month.
"It's only slightly hyperbolic to say that if scientists can dream of a genetic manipulation, CRISPR can now make it happen," Travis said.
"We -- the world, science, patients and our descendants -- need gene editing to be pursued and if possible, to be made safe enough to be used in humans," said John Harris, professor of bioethics and director of the Institute for Science, Ethics and Innovation in the School of Law at the University of Manchester. Harris spoke at the gene editing summit earlier this month.
In an accompanying editorial in Science, Marcia McNutt, editor-in-chief of the Science family of journals, said, "In two years' time CRISPR will have brought to many diverse fields in biology the enduring level of excitement and optimism that immunotherapy has brought to cancer patients."
CRISPR research has already begun in somatic (non-reproductive) cells. "The earliest ones are going to be somatic interventions with various kinds of blood stem cells," Pilar Ossorio, professor of law and bioethics at the Morgridge Institute for Research at the University of Wisconsin-Madison, told CBS News at the gene editing summit in Washington, DC.
"For instance, if you wanted to try and increase somebody's pancreatic islet cells' production of insulin, you might want that gene editing, or 'gene therapy,' to go right to the pancreatic islet cells," Ossorio said. Theoretically, the therapy could help people with certain types of diabetes whose pancreas cells don't make enough insulin.
"You'll see a bevy of CRISPR uses in editing the DNA of cells that have been taken outside of the body and then returned to a person," said Travis.
And CRISPR will be used in agriculture as well, he predicts. "The ease with which we can manipulate plant DNA with it -- we are going to see a lot more genetically modified plants and there's going to be controversy about how to handle them in the regulatory sense."
Science readers had the chance to weigh in and vote in a separate people's choice "Breakthrough" poll, and Pluto won its moment in the sun, taking first place with 35 percent of the popular vote. CRISPR came in second with 20 percent of the public's vote.
Thanks for reading CBS NEWS.
Create your free account or log in
for more features.