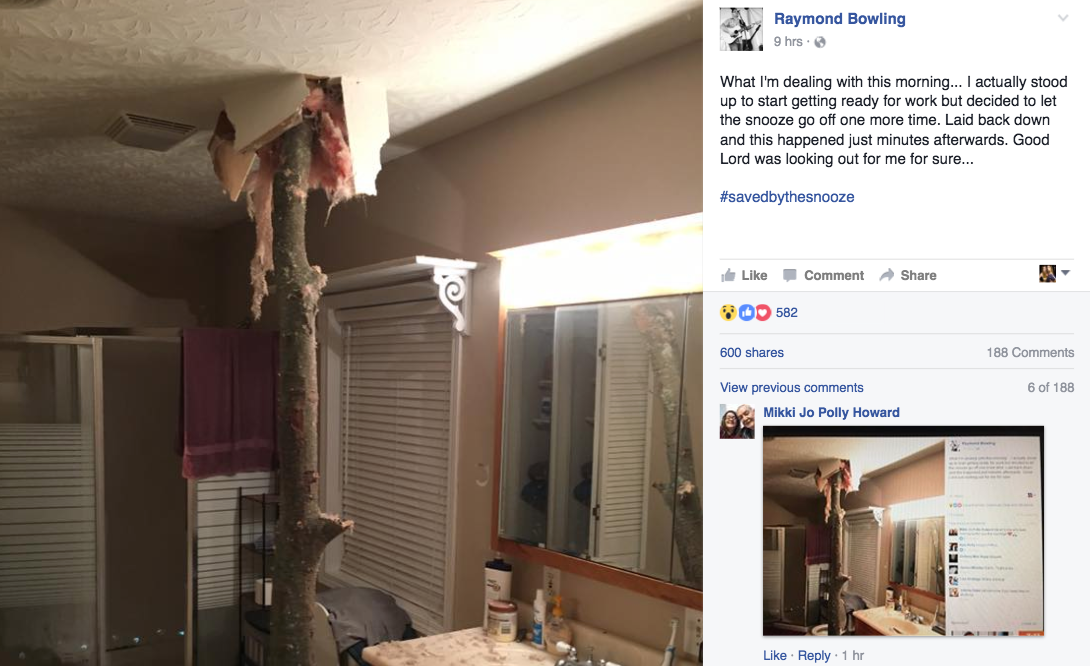 "Saved by the snooze": Man turns off alarm, tree falls through roof minutes later
Thunderstorms kept Raymond Bowling of Austin, Indiana, tossing and turning most of the night. He barely slept.
So when his alarm buzzed at 5:30 a.m. on Wednesday, Bowling did something a little out of character — he hit snooze. And now he's saying that decision may have ended up saving his life.
"I'm a creature of habit, always," Bowling told CBS News. "I never ever do that, but this morning I dozed back off."
Minutes later, Bowling heard a huge crash that jolted him wide awake. He searched his dark room for a sign of anything that fell, then he walked into his bathroom and saw something strange: a huge tree limb poking out of his ceiling.
"If I had got up at that second, didn't hit snooze and went to the bathroom, I would have been standing right in that spot brushing my teeth," Bowling said. "It was like divine intervention."
The tree limb fell from a 40-foot-tall pin oak tree, which towers over his home on Oak Street.
"The way it speared through, it must have had a lot of force," Bowling said.
A violent storm system spawned severe thunderstorms and tornadoes in the Midwest Tuesday. The Storm Prediction Center said 45 million people from Texas to Ohio faced some risk of bad weather. The highest threat level in effect, warning of a "moderate risk" for severe weather, covered the area from southwest Missouri into Indiana.
Two blocks away from his house, on Interstate 65, Bowling said a semi-truck was blown over due to high winds. But he didn't realize how bad the storm really was until he woke up.
"There's been a lot of damage here and out east of town, too," he said.
Luckily, Bowling said his insurance company referred him to a company that specializes in cleanup. Within two hours, the branch was removed from his roof.
Though the bathroom will still need further repairs, Bowling is just glad he and his 15-year-old son are safe.
"The good Lord was looking out for me for sure," Bowling said.
Thanks for reading CBS NEWS.
Create your free account or log in
for more features.